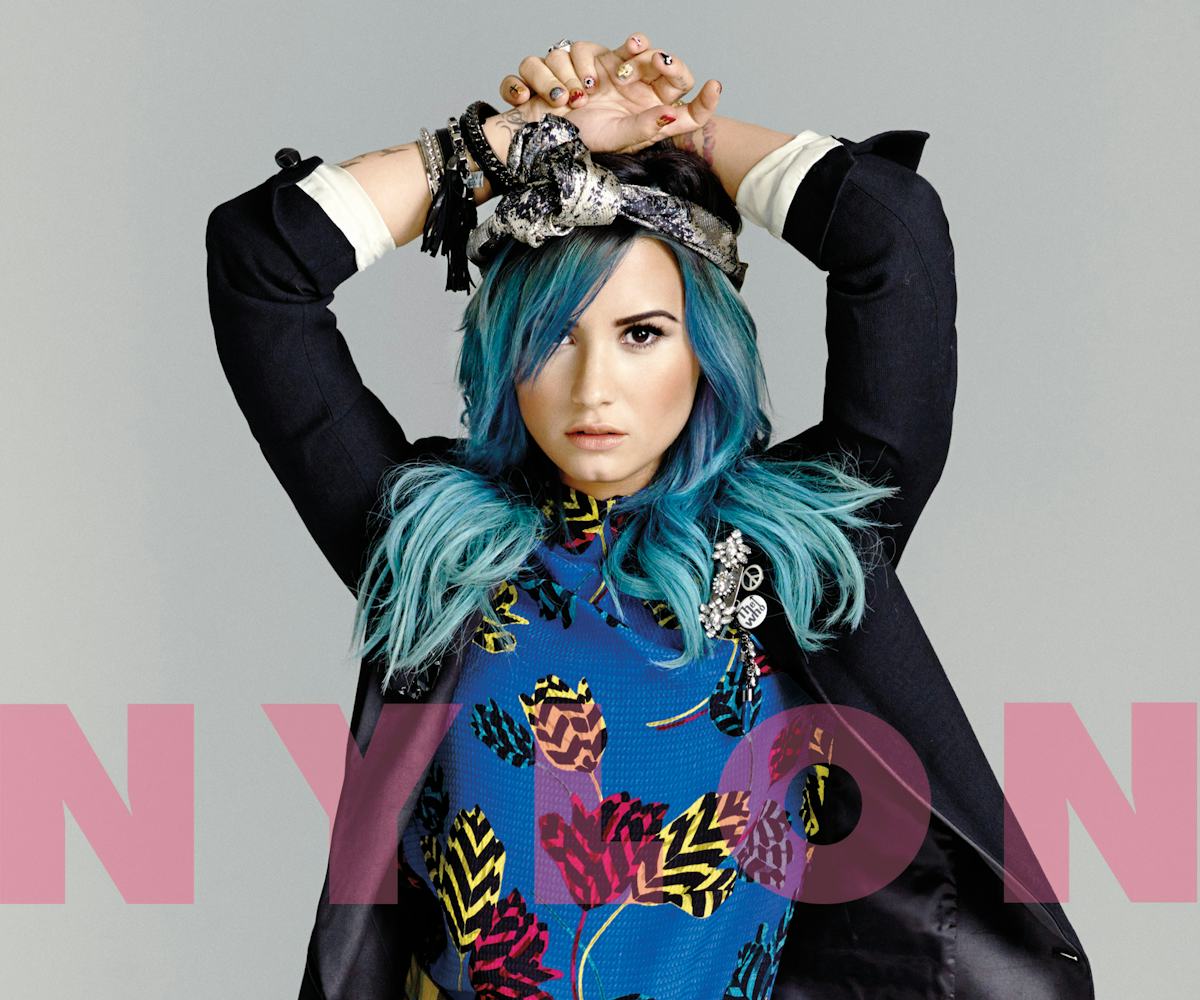 photo by marvin scott jarrett
nylon x demi lovato
the singer, tv star, and author is our december/january cover girl!
There are pop stars, and then there is Demi Lovato. In just this year alone, the multi-hyphenate released her fourth album (the double platinum 
Demi) 
a new book, and a nail art collaboration with The New Black--all in addition to her current gig as a judge on Fox's music competition 
The X-Factor,
where she regularly spurs on Simon Cowell and injects a welcome dose of energy into the TV show
.
Oh, and did we mention that the singer-actress, who got her start on
Barney
, is just 21 years old? So it's only fitting that the music powerhouse cap off her truly epic year by gracing the December/January issue of NYLON. 
Inside the issue, which officially hits newsstands tomorrow, the teal-haired mogul fills writer Kate Williams in on her troubled past and how her well-publicized private struggles have shaped her long list of accomplishments today. Despite her jam-packed schedule and overflowing ambition, it's refreshing to see that the Texas native remains just as grounded and honest as ever. You'll have to wait until Tuesday to buy the issue on newsstands--but in the meantime, check out our sneak peek, including exclusive only-see-them-here photos, below! 
On Multitasking:
"I look at my life and think, 'There's not enough time.' I co-directed my last two videos, and I have this dream of being behind the camera and one day directing my own movie. I want to host my own show and be a younger Oprah. I want to write songs for other artists. I want to be an author. I want my own makeup line, and my own skincare line. I want to do a lot more philanthropy work, and for a while there I thought I wanted to go to law school."
On Staying Honest With Fans:
"When I went into rehab, I deleted my Twitter...I didn't want to force anything. My parents came to visit, and I asked if people knew yet, and they said, 'Yeah, it's everywhere.' And they were like, 'How do you want to handle this? We can say it's a personal time and we don't have to tell them what you're in here for, or we can just be 100 percent honest and show them that you can get through it and other people can get through it, too.'"
On Finding Her Own Look:
"When I was on the Disney Channel, I wanted to get my nose pierced in the middle, so that I could flip it up during filming, and flip it down at night to let the wild child side come out. Turns out, I didn't need the nose ring."
Jacket by Emporio Armani, T-shirt by Wildfox, earrings by Alexis Bittar, necklaces by Joomi Lim.
Blazer by Boss, shirt by Patrick Matamoros for Chapel NYC, collard shirt by Preen by Thorton Bregazzi, jeans by Marciano, hat by Eugenia Kim, cross rosary by Pamela Love, spike necklaces by Joomi Lim, silver stacked bracelets by Jennifer Fisher, chain bracelet by Alexis Bittar, silver bracelet on left hand by Cartier, Lovato's own gold necklace and bracelets on left hand.
Blazer by Isabel Marant for H&M, shirt and pants by Marc by Marc Jacobs, shirt around waist by Equipment, headpiece by Cult Gaia, stacked black leather bracelets by Ben-Amun, cuff with spikes by Joomi Jim, silver bracelet and ring on left hand by Cartier, Lovato's own gold bracelets, stylist's own pins.