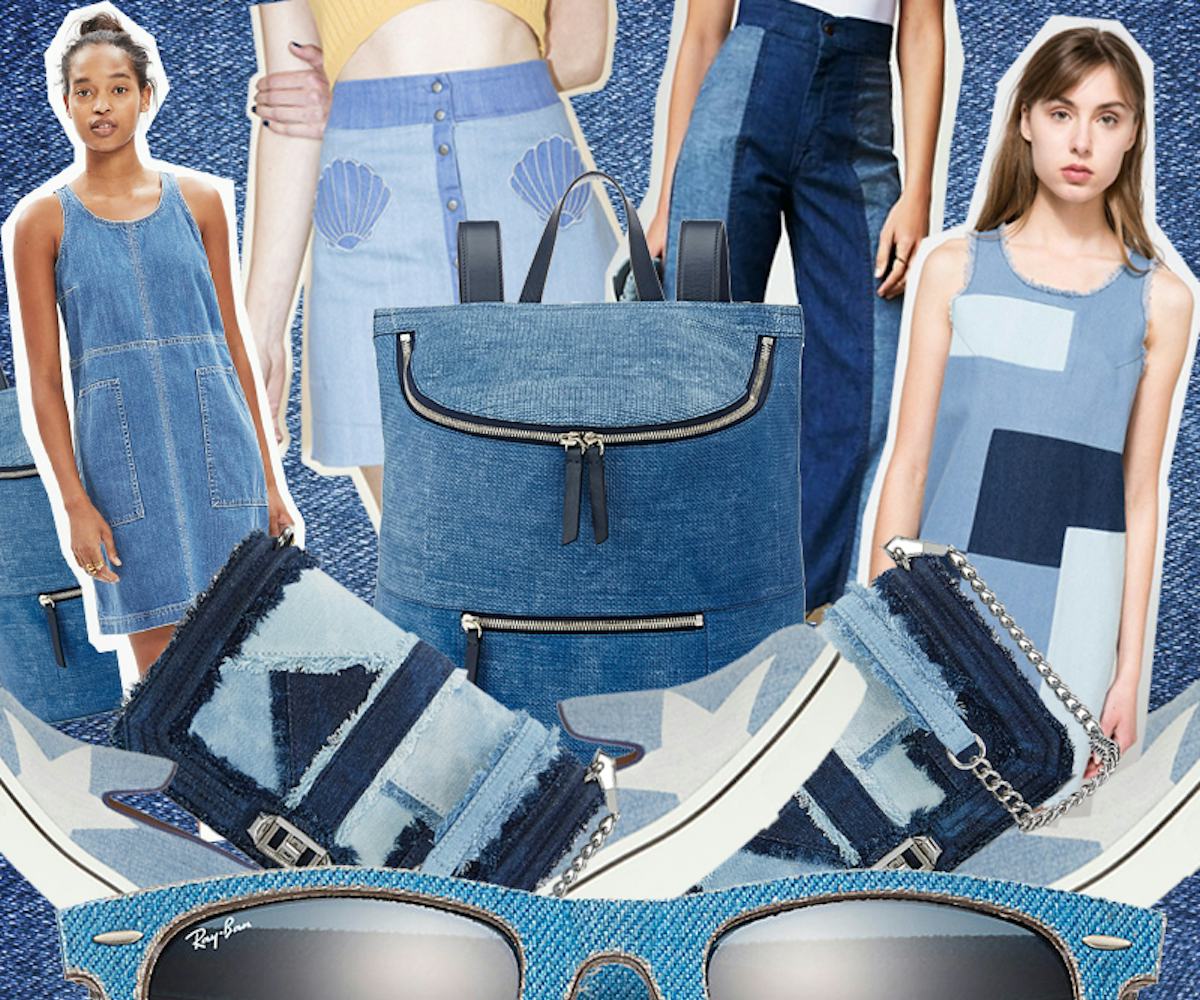 20 Spring Denim Pieces That Go Beyond Your Jeans
Your blue jeans are being reinvented
As the weather gets warmer and the colors in our daily wardrobe begin to lighten and brighten, denim tends to become our go-to fabric. While jeans for spring may not seem like a new or revolutionary idea, this season's trends shine an entirely new light on the textile.
While we don't suggest a full-on Canadian tuxedo (unless you really want to), try incorporating denim statement pieces more subtly into your wardrobe. From frayed edges to color-blocked prints, denim this season certainly goes beyond a typical pair of jeans, especially when you throw in a couple patches. It's not just a casual staple anymore, either. Shown nowadays in a variety of more elegant silhouettes, like cool boxy dresses and fashion-forward culottes, jean apparel is more sophisticated than ever.
We rounded up our favorite pieces that are anything but your average pair of skinnies. From seashell-pocketed skirts to sporty bikinis and wayfarer sunglasses, these denim items are sure to become your favorite items of the season.
Click through the gallery below to check out our picks.
Rachel Comey, Scribe Dress, $426, available at Finefolk.   
Zara, Denim Culottes, $29.90, available at Zara.
Lazy Oaf, Body Building Shirt, $95, available at Lazy Oaf.   
J.Crew, Button-Front Midi Skirt, $88, available at J.Crew.
Farrow, Patchwork Denim Dress, $68, available at Need Supply Co.
Holding Horses, Strapless Denim A-Line, $148, available at Anthropologie.
Lisa Marie Fernandez, Genevieve Denim High Waisted Bikini, $385, available at Opening Ceremony.
Madewell, Denim Utility Shift Dress, $118, available at Madewell.
Valfre, Shelly Skirt in Blue, $65, available at NYLONshop.
Pixie Market, Denim Lace Up Top, $48, available at Pixie Market.
Alice & UO, Hermoine Denim Off-The-Shoulder Mini Dress, $69, available at Urban Outfitters.
The Fifth, Downtown Shorts, $80, available at Fashion Bunker.
House of Cards, Polka Dot Denim Halter, $85, available at NYLONshop.
Free People, Vintage 1970s Flared Jeans, $298, available at Free People.
A.P.C., Jane Combishort, $310, available at A.P.C..
Derek Lam 10 Crosby, Mercer Backpack, $795, available at Barneys.
ASOS, Milan Pointed Denim Flat Shoes, $33, available at ASOS.
Stella McCartney, Denim Platform Slip-On Sneakers, $565, available at Net-A-Porter.
Rebecca Minkoff, Love Crossbody, $295, available at Rebecca Minkoff.
Ray Ban, Original Wayfarer Denim, $165, available at Ray Ban.