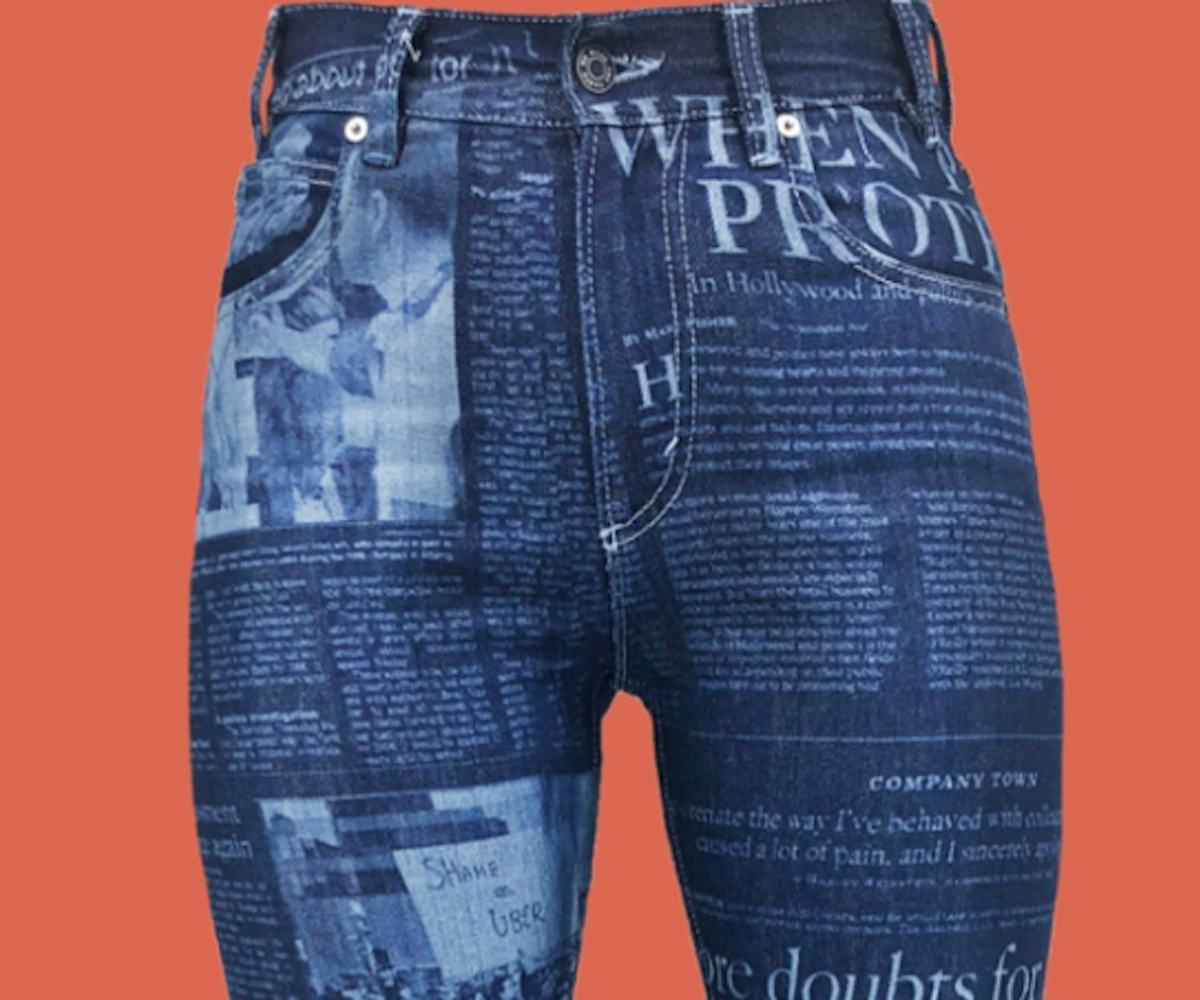 Photo via Instagram/@denimcratic
These "Woke Jeans" Only Go Up To A Size 10
Turns out, the resistance is only for people of a certain size
A new denim brand is being criticized for attempting to commodify the Women's Movement with a pricy, limited-edition line of denim that comes in a very limited sizing range.
Earlier today, a New York Times article on the release of a #MeToo-themed capsule collection from recycled denim brand Denimcratic was published. However, the line's jeans quickly came under fire for marketing themselves as "woke" jeans, yet only going up to a size 10. Dubbed We Wear the Pants, the line includes a denim jacket ($375) and pair of jeans ($250) laser-printed with "30 news reports from The Los Angeles Times, The Chicago Tribune, The Washington Post, The New York Times, and The Boston Globe, all detailing stories about sexual harassment in the workplace."
"The question was: How can we make these issues that mean so much to us into a wearable garment that people want to buy that doesn't marginalize them in any way, but is respectful and thought provoking at the same time," Denimcratic founder Gabriella Meyer said, before explaining that using denim—"the fabric of revolution," which "started out as very much a man's uniform"—is meant to also "open a dialogue."
"There has been a lot of news regarding hostile work environments and gender inequality, and we want to make sure that people don't forget it," she said, before adding that, "Conceptually, it made sense for us to utilize laser engraving, as the designs will naturally fade with the indigo dye over time, like a regular pair of jeans. Our hope is that as the garment ages and the text fades, so do the issues we face with gender inequality and sexual harassment."
And that's cool and all, especially seeing as how Denimcratic donates 10 percent of the capsule's sales to the Time's Up fund. That said, Twitter isn't impressed by an "empowered" line that only caters to women with relatively deep pockets who are a waist size 30 or smaller—and, to be honest, we have to agree. Check out some of the reactions, below.