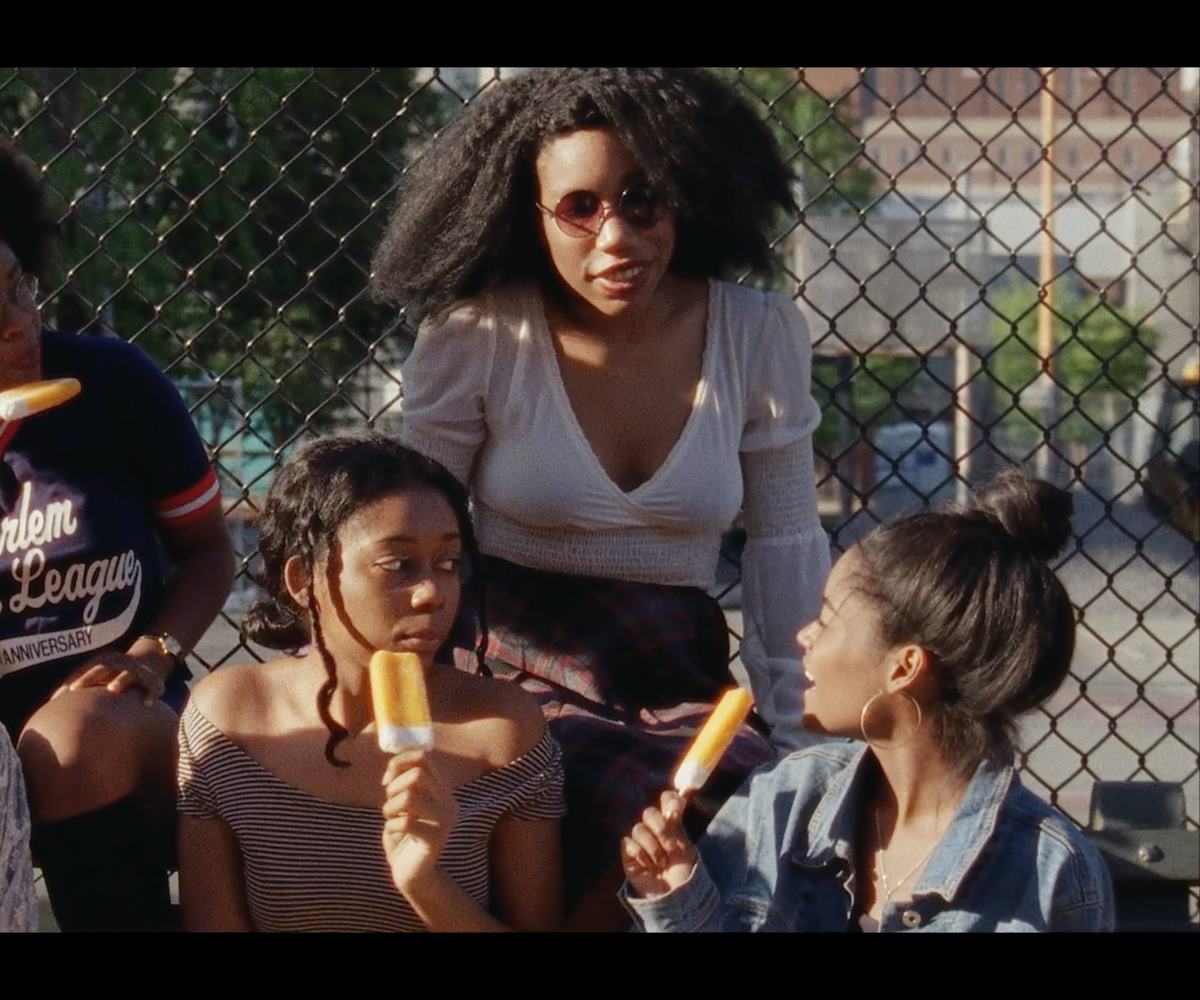 Meet the Girl-Power Duo Behind Destiny's Amazing New Music Video
young girls, patrons of the earth
Tracy Antonopoulos and Asli Baykal met in a film class at NYU where they were among the last generation to use 16-mm cameras. They loved each other's work and filmmaking so much that shortly after graduating, they co-founded Tank Productions, the New York-based operation that has worked with everyone from Nasty Gal to Gia Coppola and Peroni. Antonopoulos and Baykal's success in the world of video ads, short films, and music videos is far from coincidental—they are both self-described film nerds with a passion for all things impossible in filmmaking. At the event of their music video for Destiny Frasqueri's (FKA Princess Nokia) new single, "Soul Train," which premiered on Dazed earlier this week, we met up with the director-producer duo to talk about BTS of the video, their process, and the future.    
Congratulations on the new video! You are big on collaborating on ideas and working with people. How did you cook up the concept with Destiny Frasqueri?
Asli Baykal: Our friend India Menuez liked Destiny's post about searching for a music-video director on Instagram, on a very lazy afternoon when I was trolling on it, I came across that and reached out to Destiny. She got back to me with this concept of a block party she has been wanting to do—she wanted to do a portrait of her neighborhood reflecting on her culture. Her new song was disco, which was perfect for me, because all my friends know that I'm obsessed with disco.
Where was the video shot? What was it like working on this project?
AB: It was shot in the East Village. Destiny has family living in the block where we shot—and they welcomed us like family. Everyone was helping us to get the best shots. Tracy was getting people in the mood while Deering (our director of photography) and I were shooting portraits in one corner. Suddenly, I turned around and realized that everyone was dancing on the street. It became a real block party that we were documenting.
I feel like most of Tank's works have a vintage-y feeling, referencing pre-Web 2.0 times. What cinematic inspirations did you have for "Soul Train?"
AB: I don't think we necessarily go for a particular look every time, but we are big film nerds and we love referencing our favorite directors and artists. For "Soul Train," I looked at Agnès Varda, Les Blank, and Wiseman documentaries. In documentary-style shoots where you want to create that spontaneous feel, it can be hard to be in the moment and still create an editable music video. So, I wanted to get some ideas for compositions and feel for creating the characters. 
So—about how you got where you got—what did you guys do after film school?
AB: Our backgrounds working in New York for the past eight years definitely prepared us for this journey. I was interning for people like Darren Aronofsky ,Todd Solondz and Martin Scorsese, whereas Tracy's has her very own artistic background. She was working with Ryan McGinley.
How did you first come up with the idea for Tank?
Tracy Antonoupoulos: It felt like we had so many friends who were talented and from the right areas and from film school, who may or may not have had the contacts to get the opportunity to do something. Also we just started to help friends with their projects, because we all always helped each other, anyway. It felt like we could create this body of work together. And with Stephen Spielberg, Martin Scorsese, Francis Ford Coppola—if you look back at their old movies, if they're not directing, they're producing their friends' [films]. I think it's really important for you to have a community, there's so much work.
What does the name Tank stand for?
AB: We're huge fans of Blur, and we love their album, Think Tank. But we also love Tank Girl, and I think she represents us.
There is so much cinematic quality to all your work, be it an ad or a music video. What's your process like?
T.A: It's a lot of referencing. And with every project—whether we're directing it or producing, we want to make sure we're bringing something different, a very unique voice to the project.
What are the biggest challenges you face as young creators on a day-to-day basis? 
T.A: The kind of budgets that you get at our age are very low. You really have to build up a name. So, it's very hard to make money—you have to figure out how to work with a low budget—and also survive and eat.
AB: I feel like as a young filmmaker and young producers, you also get really excited about possibilities. You watch a film, you read a book, or you see something on the street—you run and take notes and say, "Oh, this is a great short story idea," and you have this notebook full of ideas. But you need to step back—it gets overwhelming.
What other projects do you have coming up?
AB: We've just worked on a short film with Tonstartssbandht and Mac Demarco. And we have a couple of other very exciting projects—but we can't mention them yet.