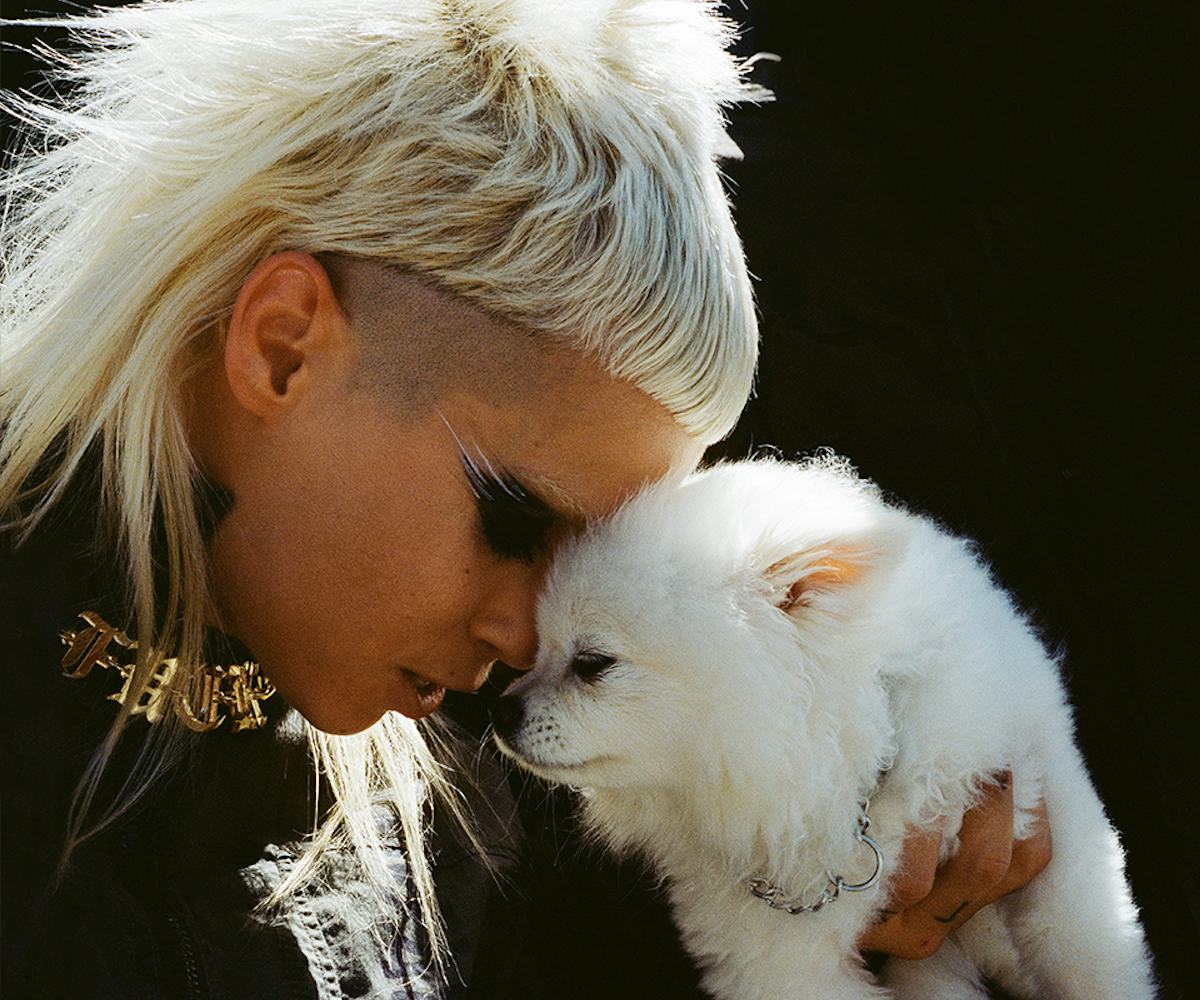 Die Antwoord Celebrates Their Fourth Album
Yo-Landi Visser, Ninja, and their daughter, Sixteen Jones, rock fall styles at their California compound
The following feature appears in the October 2016 issue of NYLON.
On a sleepy, white-picket-fence-lined street in Southern California, a mother and father take their daughter out for a morning stroll, coffee mug in hand, blunt in mouth, goat on leash. Yes, goat. His name is Fred, and he's been rented for the day to honor The Black Goat, aka Cypress Hill's DJ Muggs, their musical mentor and influence behind their new album, Mount Ninji and da Nice Time Kid. Like anywhere else they might show up, the South African rave-rappers look like they've just dropped down from Mars, or, as Ninja says about his partner, Yo-Landi Visser, "like something that fell out of heaven, got a little lost, and wound up in hell, unscathed."
Click through the gallery to read the rest of the feature.
Jumpsuit by G-Star Raw, necklace by Melody Ehsani. 
The comparison feels apt as today's fiery temperature is pushing 100 degrees. But Visser, clad in a red robe, matching bubble-gum pink shorts and crop top, and ankle socks dotted with avocados (no shoes beneath them on the scorching pavement), doesn't seem to mind. Back at the Die Antwoord compound, she's more preoccupied with how Fred is faring, asking his handler if she can introduce him to her "micro teacup fluffy puppy" Boojie, who's running around in a red-and-white gingham dress. (No, unfortunately she can't. Fred likes to headbutt).
Visser, with her nymphlike stature and jagged haircut making her strong jawline seem all the more chiseled, is also worrying about her daughter, Sixteen, who's actually 13 and is the spitting image of her mom if Visser let her stick-straight blonde hair grow out and wore jeans and T-shirts. Sixteen reassures her mom that she's fine, in between posting to Die Antwoord's Snapchat and streaming Friends, a show Visser also "loves." "They only talk in punch lines," she tells me later over email.   
Shorts by Jackson, hat by Popular Demand, necklace and bracelet by Melody Ehsani, socks by American Apparel, Ninja's own sneakers.    
The two rules I'm given today are: 1) Don't ask Visser anything (she's not a fan of in-person interviews—as Ninja explains, "She's quite private and standoffish, but she's a real heavenly creature"), and 2) Don't pull out my phone inside the compound, which is actually DJ Muggs's studio but also Die Antwoord's home away from South Africa.
The latter directive is quite hard to follow, as the building's inhabitants have transformed the space into an Instagram-friendly palace, painting every inch of it pitch black and covering the walls with the Richard Ballen-inspired graffiti that has been their signature since releasing the video for their breakthrough song "Enter the Ninja." For Die Antwoord, every aspect of their lifestyle is art. "The music bleeds over to how we dress, how we think, our cars, how our studio looks," as Ninja puts it.
On Ninja: Shorts by Jackson, hat by Popular Demand, necklace and bracelet by Melody Ehsani, socks by American Apparel, Ninja's own sneakers. On Visser: vintage robe by Pierre Cardin, crop top by Scrap City L.A., Visser's own shorts and socks. 
When they emerged six years ago as a lightning rod for conversations about authenticity (Were they playing characters? Did it matter?) and racial appropriation (How should we process their references to African culture and white nativism?), they did so with a fully formed perspective. "Be Zef" is spelled out in blue neon on their kitchen counter. Zef, an aesthetic Urban Dictionary describes as "wearing high heels with a tracksuit," is a term the pair transformed from "the dark underbelly of Bible-bashing white South Africa that everyone tries to kick aside" into a "dope thing," Ninja says. "Zef is our religion now, and it means pure originality."
That philosophy carried over into selecting their stage names. "As a joke we started fucking around, thinking of the worst names," recalls Ninja. "Yo-Landi is the most normal, nerdy name in South Africa. Then she was like, 'Ninja.' I was like, 'Jesus that's bad—a grown man that calls himself Ninja. It's amazing.' And then we started fucking with a style that's so bad it became cool." It also became who they are. "My actual self became super boring to me—now my daughter and mom call me Ninja. It's almost like I was reborn." As Visser concurs later, "All days are off days for me."
From left, on Visser: faux fur jacket by Adrienne Landau, ring by Melody Ehsani; on Jones: top by Stampd, chain face mask by Cornelia Webb, gloves by Majesty Black; on Ninja: necklace, ring on ring finger and pinky finger by Melody Ehsani, three-finger ring by Armature.
While mastering the art of trolling the music industry, Die Antwoord came out of a bidding war with a record deal at Interscope, a legal team that represented Michael Jackson and Steve Jobs, and one of the most notorious agents in the biz, Ari Emanuel—the real-life inspiration behind Entourage's Ari Gold. "We didn't know anything about how the music industry works in America," says Ninja. "All of this infrastructure came around us. We thought Interscope was going to be like Eminem, Snoop Dogg, and Marilyn Manson, and it turned out to be Lady Gaga, Black Eyed Peas, and Far East Movement."
The group—who "co-exist by standing out," as Ninja says—wanted nothing to do with that world and boldly wired back the $1.2 million advance Interscope sent them for their second record. Instead, they started their own label, Zef Records, and managed themselves with help from Muggs. "Money comes and goes," says Ninja, braiding his rattail into pigtails. "South Africa is this third-world terrain, and it's fucking hard to break out of that hole. Now, we go back and it's this gorgeous, dark beautiful place. We're blessed to be able to move in and out.… Muggs taught us how to be more punk musically and on the business side to be more masterful."
Jumpsuit by G-Star Raw, necklace by Melody Ehsani, ring by H and H.
Anyone wondering who Die Antwoord really are need look no further than their new album. The ADD-paced LP skips between operatic singing ("We Have Candy"), spaghetti western ("Shit Just Got Real"), trap ("Fat Faded Fuck Face"), show tunes (the Jack Black-led "Rats Rule"), and skits. They're a shot of originality in a landscape where regurgitation is the artistic norm, basically a walking think piece. Regardless, Die Antwoord have built their own empire that spans across music (including Visser's first solo album on the way), art, film, and, soon, their own reality show, which captures the making of the album. Never mind that Visser says, "I hate reality TV—it's fucking boring."
Jacket by Represent, hat by Popular Demand, necklace by Melody Ehsani. 
"Our reality is a little different than the Kardashians," says Ninja, recalling the time Kim's husband, Kanye West, invited him over to collaborate. "He asked me to come to his house and speak about music. I'm trying to talk to him and he's watching ass porn and Star Wars and getting a massage, and taking me next door to play basketball at Drake's house. We beat Drake's team and he got sulky and walked off into the sunset. He didn't say goodbye or anything. Anyway, there wasn't any animosity, but it was like a fucking fashion show. I've blocked his number."
On Ninja: shorts by Jackson, hat by Popular Demand, necklace and bracelet by Melody Ehsani; on Visser: vintage robe by Pierre Cardin.Styling: Marjan Malakpour for Theonly.agency. Hair and makeup: Anthony Nguyen.