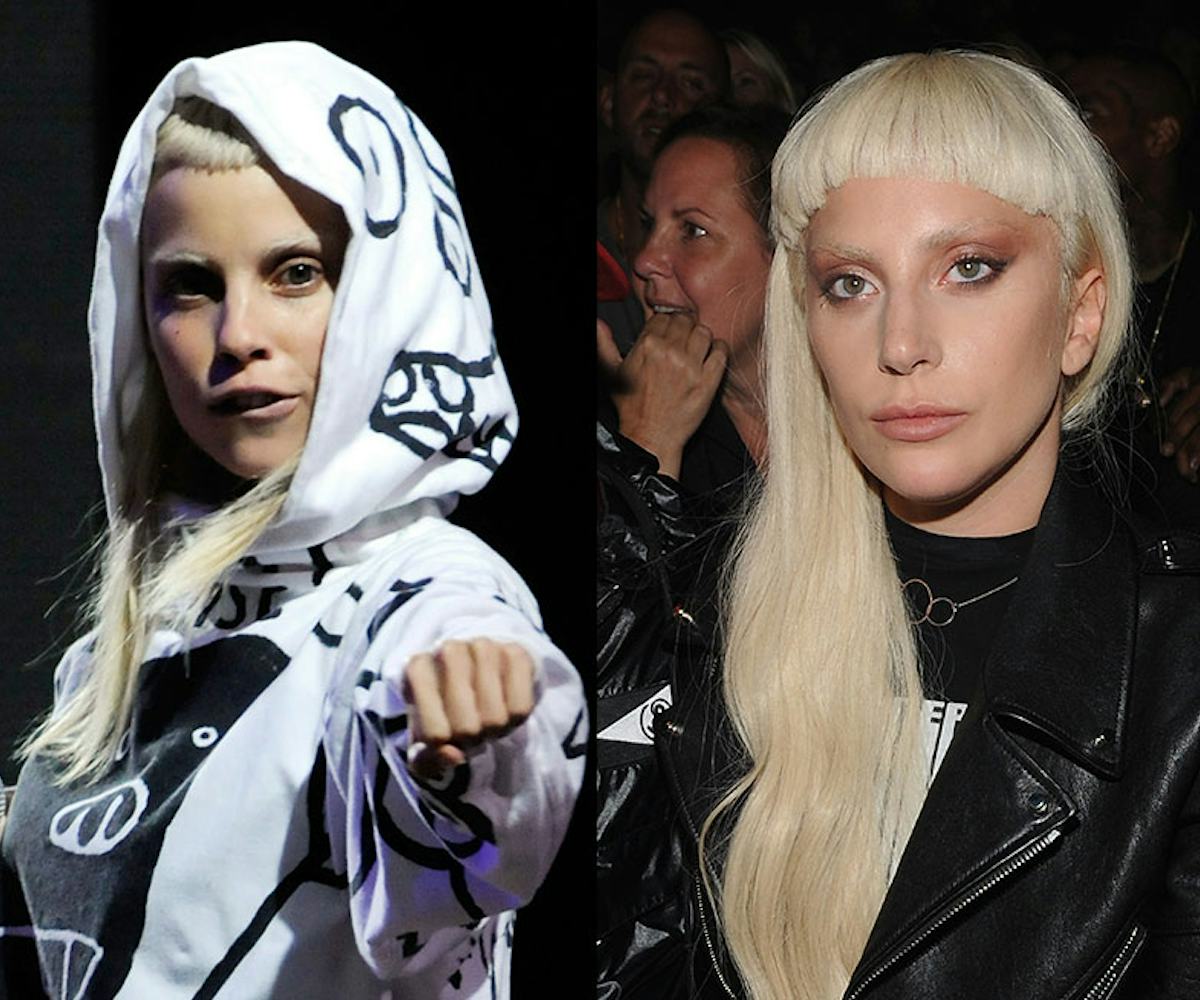 Photos Michael Tullberg/Craig Barritt//Getty Images
die antwoord's yolandi totally shades lady gaga for biting her style
was gaga's look all on purpose?
If you've seen shots of Lady Gaga making the rounds at New York Fashion Week, you might have noticed that her current hair/eyebrow/makeup game is—how shall we say this—strikingly familiar. Die Antwoord's Yolandi Visser, certainly noticed because, um, Gaga looks exactly like her.
Just check out Visser's totally legitimate response on Instagram:
Her bandmate, Ninja, was somewhat less subtle/shady with his response: 
Honestly, as much as we dig Gaga and her many looks, it's hard to see how she would have just naturally come across this particular mix of blonde Vulcan hair, sculpted, bleached brows, and very particular contouring without looking in the mirror and saying to herself, "Oh, hey, I look totally like Yolandi in just about every respect." We mean, Gaga has been known for incorporating bits and pieces of Grace Jones, Madonna, and many, many, many others into her arsenal—but those are usually tributes to and samples of longstanding icons, not acts less popular than herself.
So what could have inspired this?
Read more.
Yolandi, Ninja, and, oh, Rihanna at Alexander Wang's FW 2014 Fashion Show in NYC. Photo: Craig Barritt/Getty Images
Well, let's, remember that Gaga once asked Die Antwoord to open for her on tour. Apparently, Yolandi and her bandmate Ninja turned the superstar down. That's were the bad blood started.
From there, it went on to this video in which the South African band drops a half ton of smack on Gaga via the appearance of a very unflattering clone.
For her part, Gaga tweeted this, soon after: 
Basically, there have been quite a few shots fired between the two acts.
So, could Die Antwoord's cold shoulder and hot video have inspired Gaga to open wide and bite a big ol' chunk of Yolandi's signature look (which Facebook commeter reminded us was itself inspired by an Alexander McQueen look)? Was this all a way of signaling her dominace over them? Dunno. Let's just say it's really hard to see how Gaga could have thought this would go unnoticed when surrounded by the most aware fashion editors, stylists, and photographers in the world. If nothing else, she knows people are watching and talking.
Whatever the case, we are so enjoying this.
Related Links:
the first 'american horror story: hotel' trailer: gaga, glam, gore
grace jones slams nicki, miley, beyoncé, gaga, and more