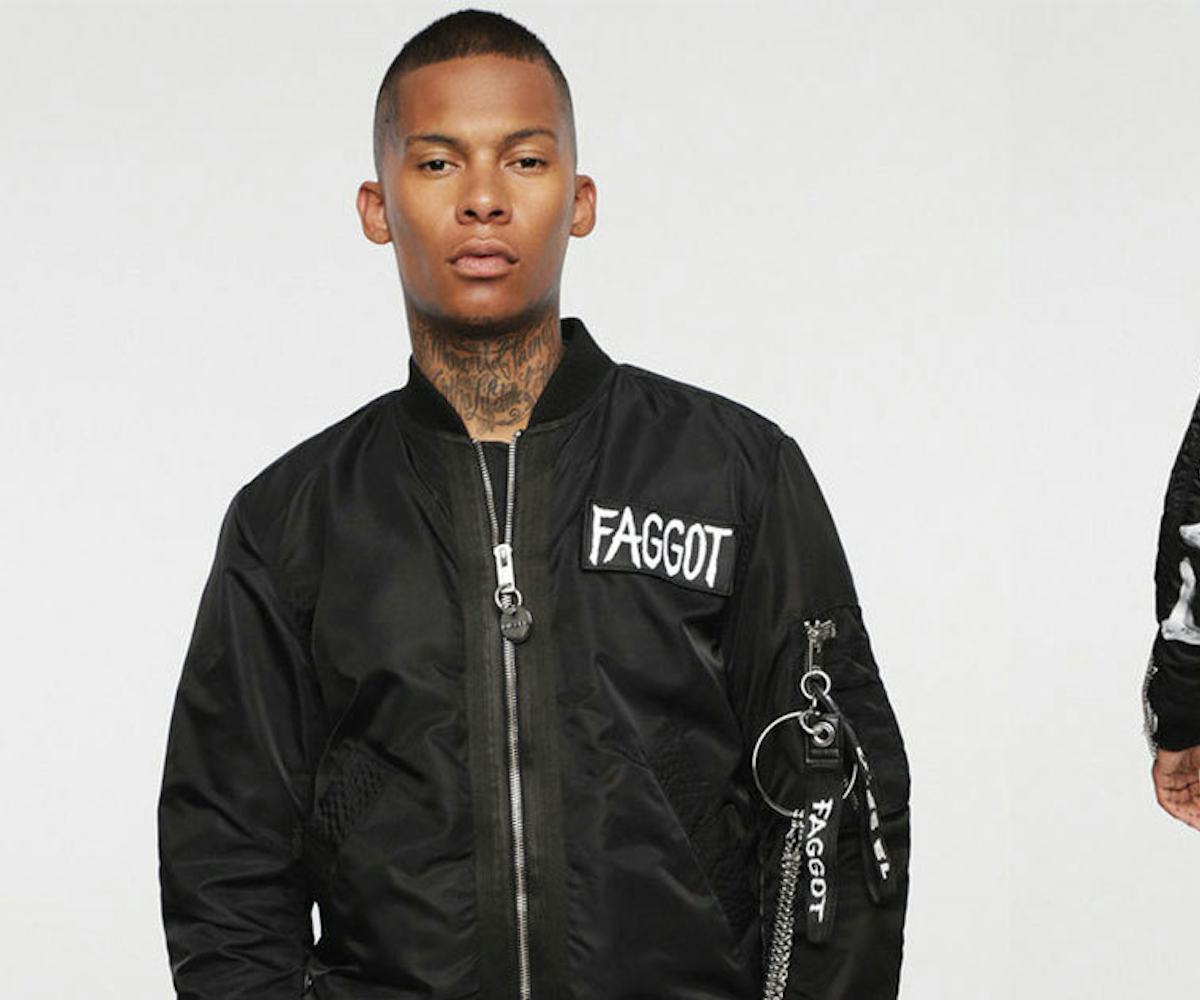 Photo Via Diesel.
Diesel Is Selling A Jacket With A Homophobic Slur Printed On It
For £350 (or about $457), people can purchase a Diesel jacket with hate speech printed across it.
The item, which appears to only be available on the brand's U.K. site at the moment, is a satin bomber with a homophobic slur that appears on both the front and back. The description explains: "This bomber jacket is crafted from shiny technical satin. It features gathered sleeves, a quilted interior lining and two straps which allow you to wear it like a backpack. It's embellished with a canvas stripe on the front with the comment 'FAGGOT' and with an all-over print and a removable label on the left shoulder with the same comment."
The piece is part of the brand's "Ha(u)te Couture" line which was revealed back in September. Celebrities and personalities "who have received hate in their lives" like Bella Thorne, Gucci Mane, and Nicki Minaj were tapped to tell their story and spread the message of the campaign, which is: "The more hate you wear, the less you care." You can check out the video below which shows Tommy Dorfman from 13 Reasons Why wearing the jacket, Thorne wearing a shirt that reads "slut," and model Barbie Ferreira wearing one that reads "fat." According to AdAge, some of the proceeds from the collection go to the anti-bullying foundation Only the Brave.
Despite Diesel's attempt to "reclaim" the term, some people on Twitter are still flagging it for being offensive. "This is a word that LGBT people are called while being murdered and oppressed and you think it's acceptable to profit off of that?" One user wrote. "You've got to be fucking kidding me!"
The user continued: "If you want to reclaim the word faggot then a £350 jacket approved by a bunch of rich straight cis white men in suits in an office is not that way to do it !!! my view would be different if it was created by a small independent queer artist."
We've reached out to Diesel for comment and will update the post when we hear back.