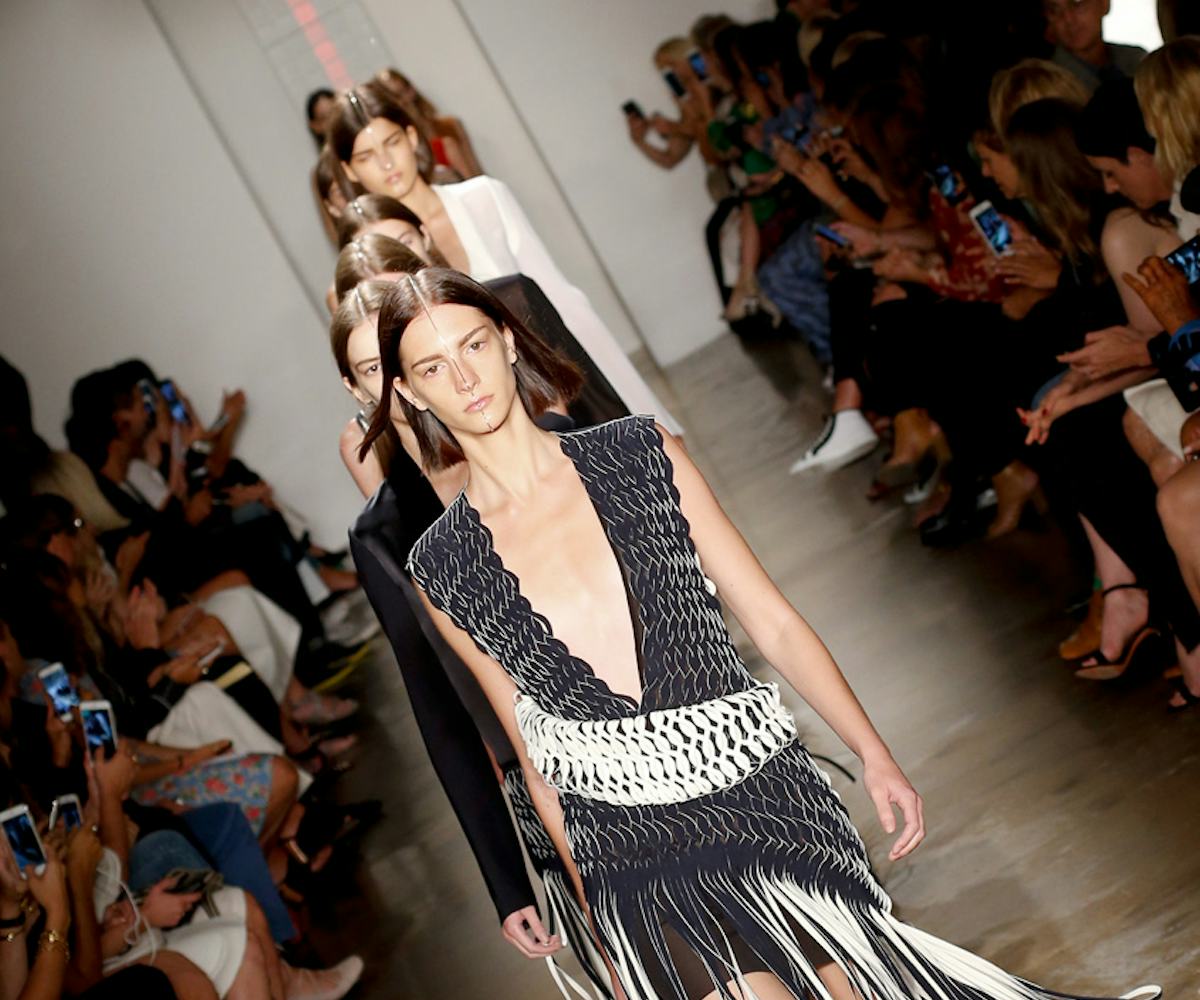 Photos by Brian Ach / Getty Images
dion lee continues his winning streak
It's only Australian designer Dion Lee's second year showing at New York Fashion Week and the sixth year since the label's inception, but this season's offering continues in the same stellar vein of all his previous ones. Beyond being "one to watch," Dion now begins to cements himself as young designer with a sophisticated eye for form, color, and silhouette.
Lee's spring/summer 2016 collection was highlighted by woven neoprene gowns and form-fitting red carpet-ready dresses, perfectly offset by slouchy, feminine suits. His signature tailoring with unexpected cutouts make a welcome reappearance, catering to the type of woman unafraid to take risks, while maintaining herself well—someone truly in the category of chic and unique. Dion also manages to insert a fierce color statement with vibrant and muddy reds existing harmoniously alongside black, navy, and beige hues. The collection is modern, cohesive, and refined—yet still with a refreshing and effortless vibe. A thin strip of metal custom fit to each model's profile hinted to a tribal, cyborg undertone to the collection.
Amy Schumer, Rita Ora, Cara Delvgine and Michelle Dockery are a few celebrities who have worn Dion Lee pieces recently, and his designs seem reserved for the luxe, modern woman.
In Australia, Dion is one of the country's most celebrated fashion talents; a newish but very well-respected designer who has developed many strengths in his short career. In his leap into the U.S. market (he claims to be looking to expand to the U.S.—potentially a retail space in L.A. this year), Dion is making an impression. And if he continues on this trajectory, he could place as one of Australia's most cultivated fashion exports.
More to come from this talented young man.