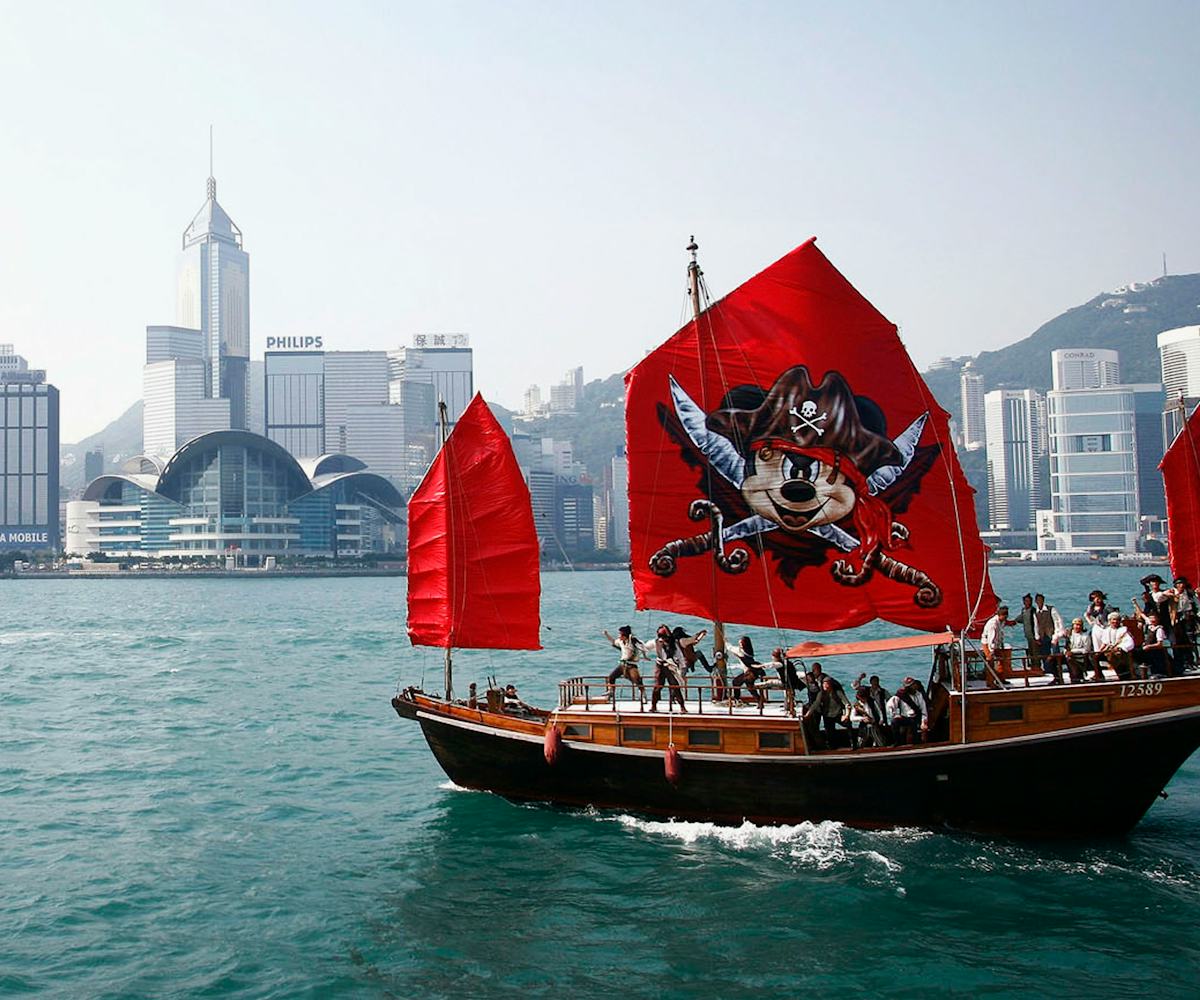 Photo by Getty Images
Disneyland To Remove Totally Sexist Aspect Of 'Pirates' Ride
Although more contemporary feminist thinkers and mental health experts have characterized Disney's particularly insidious brand of princess culture as harmful to girls, it does seem like the Mouse House writ large is taking a few steps forward when it comes to keeping up with the times. Take, for example, some re-designs being implemented in the Pirates of the Caribbean ride. The attraction has a maintenance shut-down scheduled for 2018, but when it reopens there will no longer be a scene in which "wenches" are sold off as commodities. Instead, the redheaded woman from the scene will be reincarnated as a pirate, herself.
According to Variety, a scene which had a sign that read "Auction, Take a wench for a bride" will be changed. The sign will soon read "Auction, surrender yer loot," instead. The woman offered as a prize to the pirates will be recast as a swashbuckler and a voiceover that screamed, "We wants the redhead!" will be removed.
"Our team thought long and hard about how best to update this scene," said Kathy Mangum, SVP, Atlantic Region Executive, Walt Disney Imagineering. "Given the redhead has long been a fan favorite, we wanted to keep her as a pivotal part of the story, so we made her a plundering pirate! We think this keeps to the original vision of the attraction as envisioned by Marc Davis, X Atencio, and the other Disney Legends who first brought this classic to life."
The OC Register notes that this isn't the first alteration to a scene in the ride. Previously, pirates could be seen chasing women, but Disney changed it so that the women would be holding food (much better...) and the men would be seen as gluttonous instead of lustful. Another scene which at one point showed a pirate driving a woman out of her home was altered to show the woman defending her property.
"Pirates of the Caribbean has always represented great Disney Park storytelling; it has set the standard for the theme park industry for half a century! But it's a story you can continue to add fun to, with great characters in new 'performances.' That's what the Imagineers have done with this new auction scene—it's like a theater show with a new act," said Imagineering Ambassador and Disney Legend Marty Sklar.
The changes to Pirates will be implemented in Disney World and Disneyland Paris, as well.