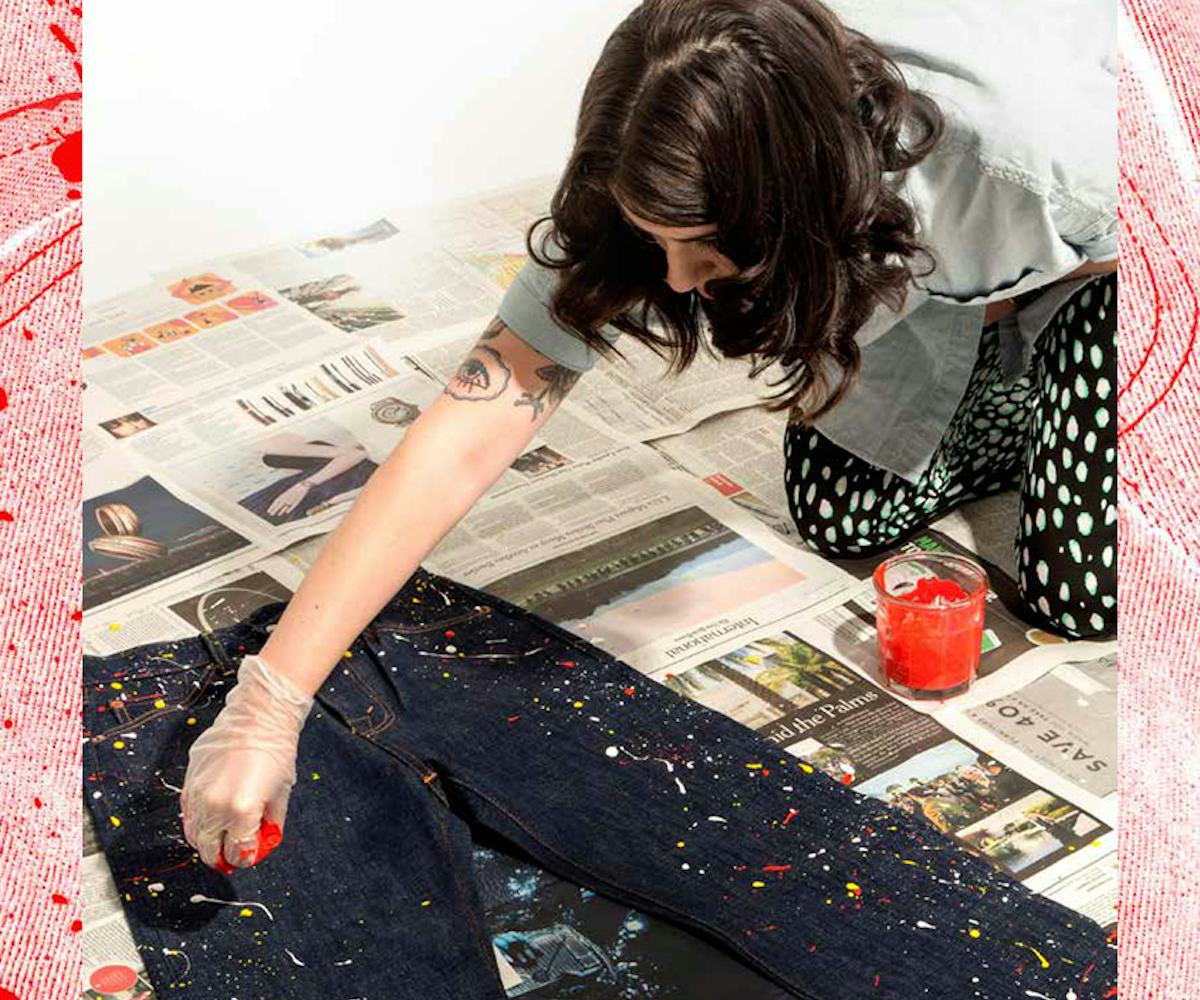 photographed by eric helgas
get your hands dirty in the name of diy denim
learn from nylon market editor, marissa smith
Fashion market editor Marissa Smith shows you how to complete this season's easiest DIY denim look.
As a fashion editor and DIY enthusiast, I love to create my own take on trends. Multi-colored paint-splatter jeans have been on my mind for a while now, especially after seeing Denim & Supply Ralph Lauren's version again this season. So, I decided to make a pair, and it turned out great. Here's how it's done.
This is a good project for all different kinds of denim styles and washes, but keep your intended look in mind. I went with a dark-denim, wide-leg jean because I wanted to use lighter paint colors. I also planned on putting the paint toward the sides of the jean, so a wider leg gave me more surface area to play with. 
2. SET UP YOUR WORK AREA 
Lay out newspaper or another protective covering over your floor. Get latex gloves and a bowl or container that has an opening big enough to fit your hand.
3. GET THE PAINT 
I went to Blick by the NYLON offices in NYC and picked up Jacquard Textile paints. One half-ounce bottle of each color will be perfect if you want to re-create my project. If you're going for a more paint-heavy look, I'd suggest getting two bottles. When choosing colors, it's really all up to your imagination! I picked hues I knew would match most of what I wear, but neon or metallic paints are fun, too!
4. DIP YOUR GLOVED HAND INTO THE CONTAINER OF PAINT
Put your hand in deep enough to make sure all of your fingers have paint on them, but aren't dripping.
5. SPLATTER
Make a fist, then gently and slowly flick your fingers out. If you want bigger paint splatters, go closer to the jeans; if you want smaller ones, flick from farther away.
6. REPEAT
Do the same with each desired color.
7. DRY
After you've let the paint air-dry, blow-dry or iron over the splatters. This will set them and make sure they stay put when washed. 
The finished product!