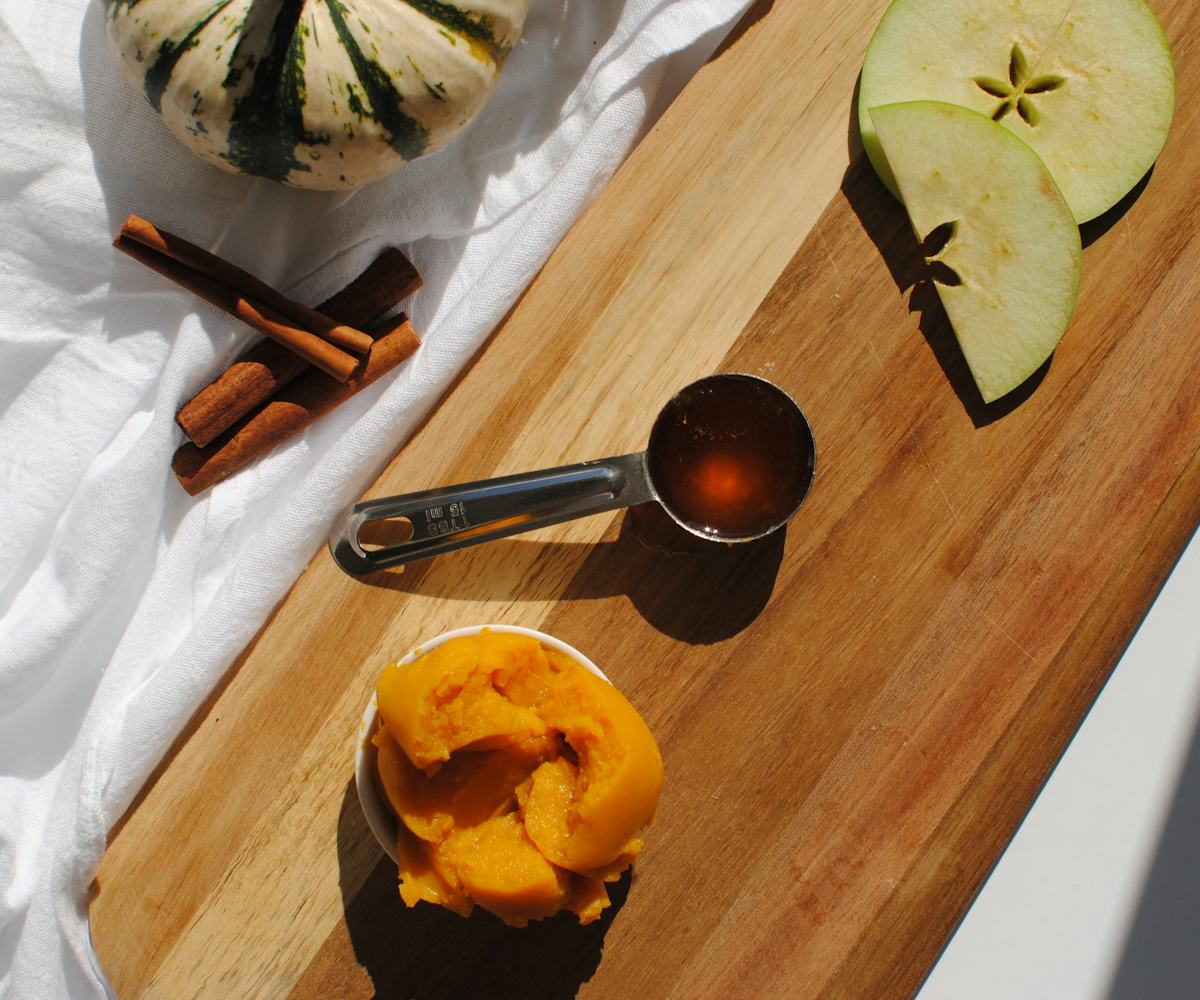 Photo courtesy of Birchrose + Co
3 Recipes For The Ultimate Spa Day At Home
While fall activities normally entail pumpkin picking, gazing at the slowly turning leaves, and sipping spiked cider, we can't deny that we see many days spent cozied up at home in our future. 
When it's just too cold or gloomy outside, we all get that urge stay in and snuggle up with a good book (well, okay, Netflix too), wearing our fuzziest socks and warmest sweaters. But, if we're going to spend the day indoors, we should all engage in a little self-care while we're at it. And what could be better than some DIY action?
We turned to Beckah Jackman, the brains behind Birchrose + Co and a self-proclaimed DIY enthusiast, to come up with some amazing at-home spa recipes that are both easy and luxurious—and, of course, inspired by the crisp autumn weather around us. Being that she creates her own line of luxuriously simple and aromatic skin-care products (I mean, have you smelled her Pumpkin Scrub?) using only natural and recognizable ingredients, we figured she'd have a couple of go-tos up her sleeve that were simple enough for anyone to whip up.
Jackman created three easy DIY recipes so that we could turn our lazy Sundays into full-on pampering sessions this fall: a face mask, a hair mask, and a bath soak—all with ingredients you probably already have in your pantry. This way, you can have a spa experience without having to put on anything more than your pajamas.
The bonus? All three recipes can be used together at the same time. Jackman suggests applying both the hair mask and face mask, then hopping in the tub to enjoy the soak for 15 minutes for the ultimate speedy spa treatment.
Click through the gallery below to read on.
Coconut and cinnamon bath soak
"Coconut milk powder is ultra-moisturizing and softening, while baking soda is a quick natural remedy to soothe itchy winter skin," says Jackman. "Avocado oil is rich in omega-3 fatty acids and vitamins A, D, and E, which provide the skin with deep moisture. Cinnamon naturally aids in the removal of toxins from the body, while elevating your mood, which explains why for centuries cinnamon baths have been used for spiritual purification in many cultural traditions."
Ingredients:
1 cup baking soda (aluminum free)
1/2 powdered coconut milk
1 cinnamon stick
2 tablespoons avocado oil
Directions:
Add baking soda and coconut milk to warm running bath water, disperse through the water with hands. Drop the cinnamon stick in the water, then add avocado oil. Soak and breathe in the therapeutic aromas.
Banana and yogurt hair mask
"Bananas are an ideal treatment to keep your locks soft and to protect their natural elasticity," says Jackman. "Avocado oil is rich in vitamins and good for moisturizing dry, brittle, or damaged hair while nutmeg promotes hair growth and adds sheen."
Ingredients:
1 ripe banana
2 tablespoons avocado oil
2 tablespoons Greek yogurt
1/4 teaspoon nutmeg
Directions:
Mash up banana, then add in the avocado oil, greek yogurt, and nutmeg and mix well. Massage into your hair, concentrating on your ends, and let sit for about 15 minutes. Wash and condition your hair as usual.
Pumpkin and honey face mask
"Pumpkin delivers vitamins A, C, and E, beta-carotene, zinc, potassium, and antioxidants, which can help eliminate redness, as well as fine lines and wrinkles," says Jackman. "Honey is naturally antibacterial, making it an ideal application for acne treatment and prevention. It's also full of antioxidants and extremely moisturizing and soothing, so it's the perfect solution for cooler weather skin issues."
Ingredients:
1/4 cup organic pumpkin puree
1 tablespoon raw honey 
Directions:
Combine pumpkin puree with honey to create a smooth paste. Apply to already cleansed skin, and allow the mask to set for 15 minutes. Gently wash off mask with comfortably warm water.