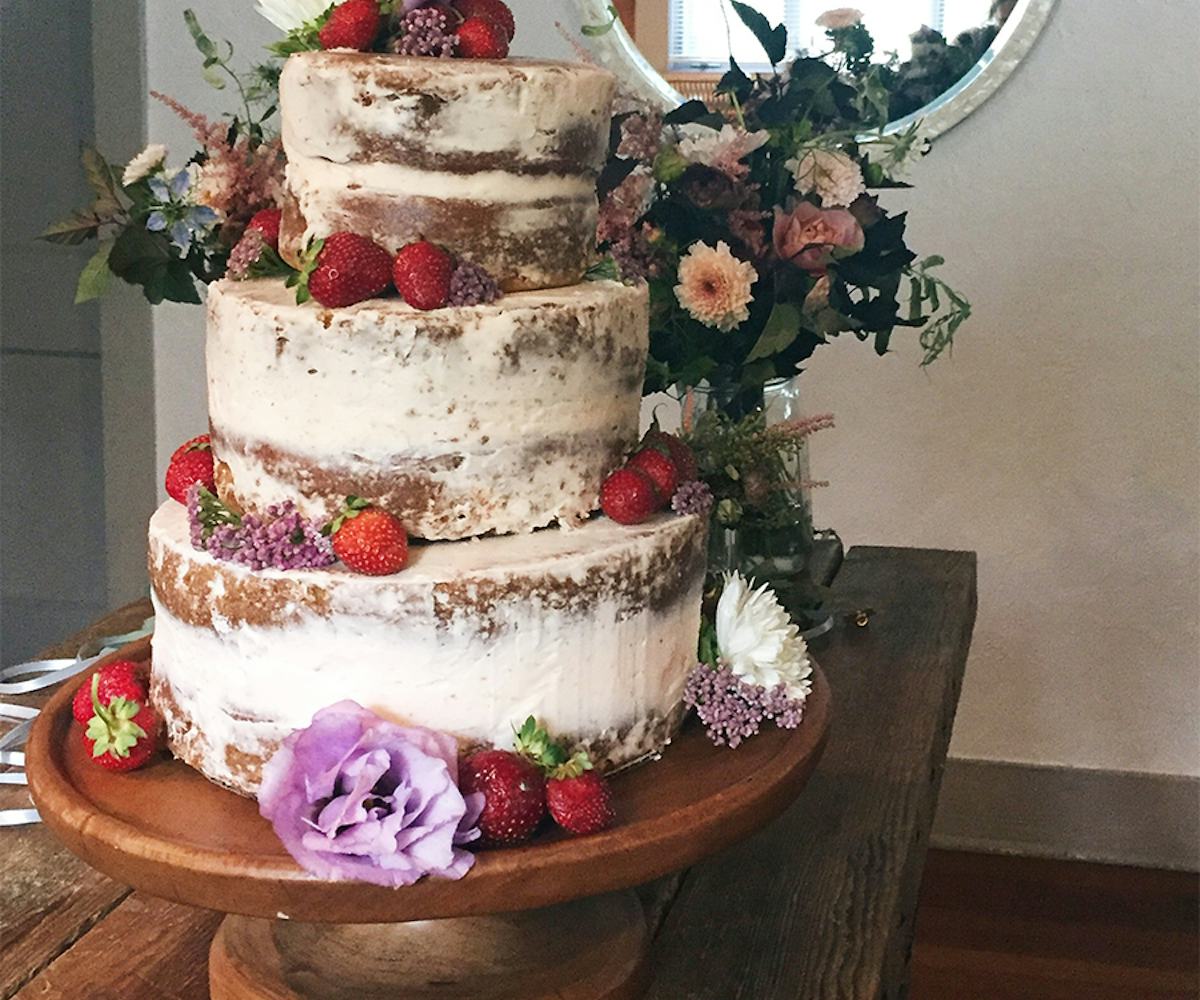 How To Save Money And Make Your Own Wedding Cake
Have your cake and nuptials too
It was 8pm, and I was on my ninth hour of frosting tutorial videos, hypnotized by offset spatulas, waving buttercream over crumby cakes like the many wands transforming a girl in rags into Cinderella. A stack of cookbooks hovered over me like a haunting tower of textbooks during finals week. There were many techniques to read, a multitude of recipes to try, numerous proportions to study, and hundred of ways to eff up a three-tier wedding cake—the kind of which I had agreed to make a friend.
A flower crown is a hair accessory popular in boho fashion. A flour crown is when your head turns gray from committing to baking a wedding cake; like, when you accidentally turn the stand mixer to high and a fog of flour envelops your face. This kind of home baking is not a task simply placed and crossed off of your weekly to-do list. But, as I found out, it can be conquered and even enjoyed.
Building a cake is exactly that—construction. It's mathematical and requires planning. You're not only a baker here, you are now a dessert architect. Thankfully, you don't need to remember anything from your high school physics class since we're talking sugar and cardboard rounds here, not steel beams. Still, you might want to sketch out a blueprint of the batter.
Accomplishing the biggest cake you'll ever stack is completely achievable. It'll lower the astronomical wedding planning payments for your celebration or a friend's. Just make sure you have plenty of refrigerator space and follow these tips:
1. Make a schedule and stick to it. Home baking means sharing limited kitchen and counter space with roommates or family three times a day. Remain respectful to the kitchen traffic and find a time that will allow you to crank out the cakes in peace. You can always bake the layer cakes in advance and freeze them, wrapped tightly in three layers of Saran wrap and one layer of tinfoil. Having a schedule in place will keep the mood calm. Know when to bake, thaw, and frost the cakes, and what time to deliver for a smooth and professional operation.
2. Do your research. The couple you're baking for probably has an idea of what they want their cake(s) to look like and what flavor they'd like. Pull out old cookbooks or make a trip to your local bookshop to scan the pages of trusted bakers. How much does one batch yield? For a tiered cake, you may need to make the batter twice or three times. Watch approximately eight hours of YouTube videos and read message boards where other home bakers discuss and sometimes debate the best ways to go about certain issues you might stumble upon or questions you may have.
3. Test your recipes. Even if you're following a recipe word-for-word, it's so so crucial to allow yourself a day to mess it all up. Maybe your baking soda and baking powder are too old, which will affect how the cakes rise. Perhaps you get a case of giddiness and open the oven before the cake has set, causing a sad deflated crater in the center. Or maybe you're adapting a recipe and adding a bit more of something for extra flavor. This is the time to see if you've added too much or too little. If something goes wrong, you can also figure out what needs adjusting. Build a sample cake on this day too. My first attempt at stacking led to results that were not unlike the Leaning Tower of Pisa. Except this edible leaning tower would not be as celebrated and photographed, nor could it even pass as whimsical. Bottom line: Test, test, test.
4. Understand the weather and temperature. Winter wedding? Your cakes are in luck! But traditional wedding season takes place while the flowers are at their peak bloom from May through September. Which means humidity and heat waves. If your kitchen isn't graced with the taken-for-granted blessing of central air, you'll want to set up a fan to keep the room as cool as possible. For the cakes' sake and your own. When delivering cakes, crank that AC until you're reminded of what a polar vortex feels like to avoid melted frosting and wedding planner's fainting.
5. Have the right tools. Your shopping list should look like this: offset spatula, scraper, cake pans, dowel rods, turntable, pencil sharpener, cardboard cake plates. When stacking a wedding cake, there needs to be support to hold up the weight of the layers on top. This is where dowels come in. Sharpen the dowel that goes through all tiers for an easier time piercing through cardboard cake plates. These cake plates are essential for stacking and transporting. The turntable will add "Cake DJ" to your job title. Spin that cake as you frost for a smooth application. Check out and compare prices online and at your local baking supply shops.
6. LET THOSE DAMN CAKES COOL. If you try to remove a cake from its pan too early, suffer the tragedy of a cake crumbled and lost. It needs at least 30 minutes on a cooling rack in the pan before being released. Allow cakes to cool completely before wrapping and freezing to avoid condensation that'll compromise the cakes. While we're on the topic of cake pans, make sure they're greased well and evenly. Don't skip on the parchment paper part. It's the greatest assistance in hassle-free removal.
7. Befriend the crumb coat. If your couple is into the rustic naked cake, congratulations, you won't be dealing with too much frosting. If they want it semi-naked or completely manicured, congratulations, you get to enjoy the soothing and satisfying task of smoothing frosting. Either way, you'll be applying what is known as the crumb coat. It's the first layer of frosting that acts as glue to keep stray crumbs in place. After the crumb coat, pop cakes in the fridge to set for at least ten minutes, and then apply the final coat(s) of frosting for a beautifully clean, crumb-free cake display. Having a turntable here really helps with a seamless application.
8. Avoid decorating your cake with toxic flowers. Fresh flowers are all the cake décor rage on Pinterest. Planting a garden on top of chocolate soil looks great but nobody wants to find an inch worm in their served slice. Make sure flowers are organic and not sprayed (a florist should be able to help you with that). A chemical cake won't be delectable. Wash fresh flowers and inspect for insects. Buy flowers from the market for the best price the day before decorating so they stay alive and vibrant. There are also a range of beautiful herb flowers and edible flowers that are safe to actually consume if you're worried about tarnishing cakes. Be careful not to insert stems into the cake to avoid altering the flavor and making it a little too rustic.
9. Just have fun. Baking a wedding cake may feel like a massive amount of pressure with the whole slicing of the cake ceremony, but eyes will be on the blissed-out couple. Turn up your favorite baking playlist, put your hair up, let your apron get dirty, and remind yourself that this is all about the love you put into it.
Naked Vanilla-Almond Yellow Cake with Strawberry Buttercream
Adapted from Bon Appetit
Ingredients:
For the Cake
3 ¾ cups cake flour
2 tsp baking powder
1 ½ tsp baking soda
1 tsp salt
2 tbsp crushed almonds
1 ½ cups buttermilk
½ cup vegetable oil
1 ½ tsp vanilla extract
1 tsp almond extract
1 cup unsalted butter, softened
½ cup light brown sugar
1 ½ cup granulated sugar
5 egg yolks
2 large eggs
For the Strawberry Buttercream
1 cup unsalted butter, softened
3-3 1/2 cups confectioner's sugar
10 large strawberries, pureed
1 tsp vanilla extract
Directions:
To prepare the cake:
Pre-heat oven 350 degrees F. Set a rack in the middle. Prepare and flour two 9-inch cake pans with baking spray and parchment rounds.
With a whisk, sift cake flour, baking powder, baking soda, salt, and crushed almonds together until there are no lumps.
Combine buttermilk, vegetable oil, vanilla extract, and almond extract.
With a handheld or stand mixer, whisk softened butter, brown sugar, and granulated sugar together on a medium speed until fluffy and no lumps remain, about 2 to 3 minutes.
Add eggs and yolks, one at a time, to the beaten butter and sugar, and mix at a medium speed until the mixture has doubled, about 5 minutes. Using a rubber spatula, scrape sides of bowl down to get every last speck of ingredient in on the action.
If using a stand mixer, reduce to the lowest speed to avoid over-mixing. Add 1/3 of the sifted flour until almost thoroughly combined. Following with ½ of the buttermilk mixture, mixing until combined. Scrape down sides of the bowl. Add the next 1/3 of sifted flour until combined and then the last half of the buttermilk mixture. With a whisk, combine the last third of sifted flour until no lumps remain.
Pour batter into prepared cake pans. Bake for 45 to 50 minutes.
To prepare frosting:
Whisk softened butter with a handheld electric mixer or in the bowl of a stand mixer until broken up, about 30 seconds to a minute.
Add two cups of confectioner's sugar, a cup at a time, until combined.
Add strawberry puree and vanilla extract to thin out the frosting.
Mix in the remaining cup and a half of sugar, combine until smooth.