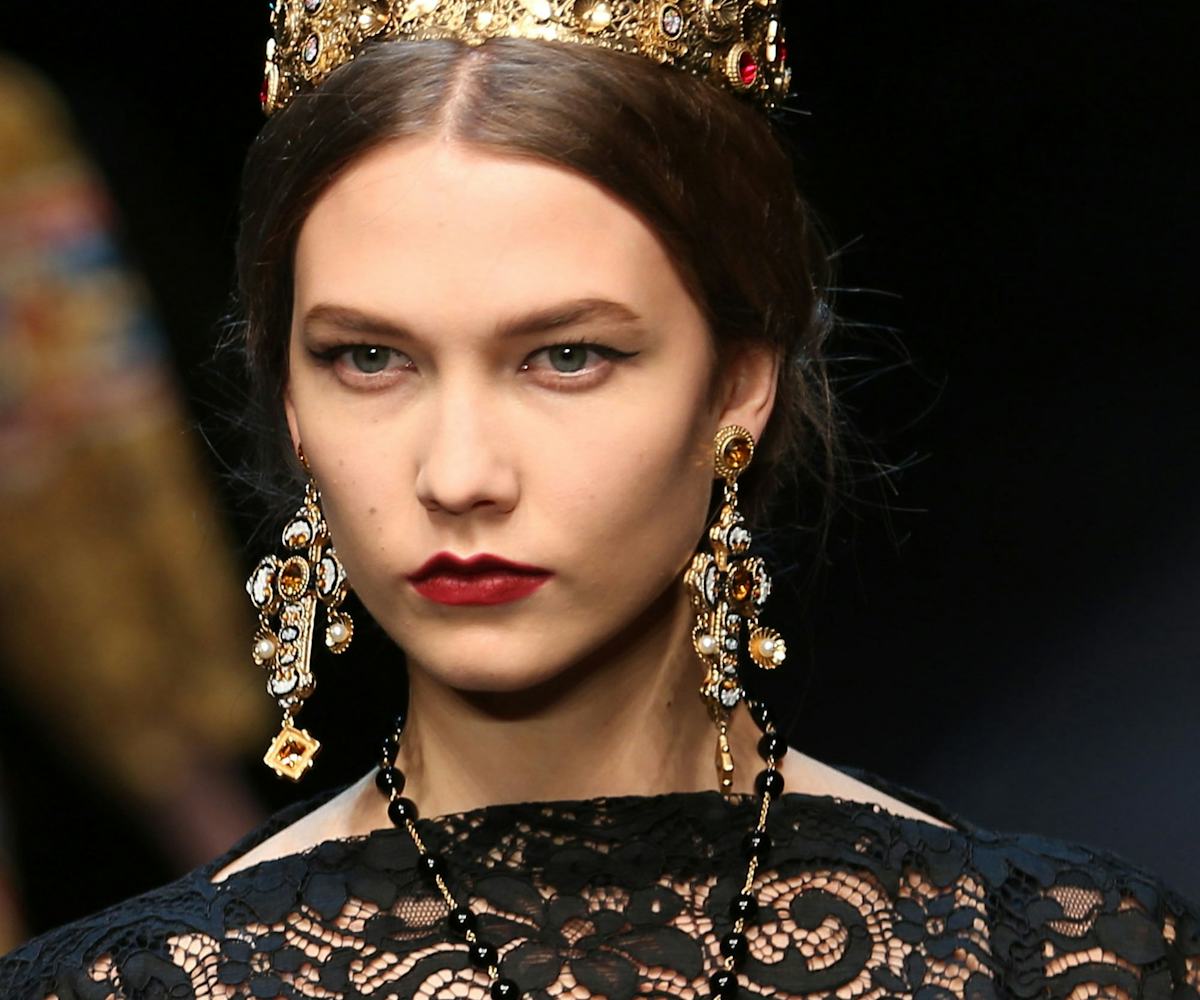 photo by getty images
get the look: dolce& gabbana
yes, we can be royals for the holidays.
Lorde may sing, "And we'll never be royals," but we've figured out a way to look like ones this holiday, no Cristal or Maybach needed--just a little inspiration from the Dolce & Gabbana fall '13 show. Karlie Kloss & Co. took to the runway like they were princesses visiting from Verona, crowns perched above flawless skin, regal cat eye flicks, and Bordeaux lips (all dreamed up by makeup artist Pat McGrath).
Whether you're headed home for Christmas or have a New Year's Eve dinner party on the books, it's a look that doesn't require time travel back to the Byzantium era to pull off. We had Donald Simrock, makeup artist to the likes Lady Gaga, Shirley Manson, and Pink, break it down so that you can spend a little less time in front of the mirror and a little more time enjoying your holiday vacation.
SKIN
"Rather than a hard, dry, matte finish, go for something more approachable by creating a natural, eggshell finish. This all begins in your prep: Use Temptu's Smooth and Matte Primer ($35) before your foundation for a perfect finish. You will also need to turn a blind eye to the use of blush or contour here; let perfected skin with amazingly smooth texture do the talking."
BROWS
"This look starts with the brows, which regally frame the final product. The idea is to have a fuller, manicured brow that boasts strength and authority. Make sure to clean up strays before beginning this look. Then try Anastasia of Beverly Hills' Brow Wiz ($21). It comes in virtually every shade for a perfect match. This pencil  allows you to fill in with hair-by-hair precision."
EYES
"For a perfect liner, start by working Urban Decay's Glide-On Eye Pencil in Perversion ($19) into the base of the lash for extra richness and depth. You can then use the same pencil to map out the perfect line before moving in with your liquid liner. Once you are ready, try Dolce & Gabbana's Glam liner in True Black ($34), and finish the eyes with several coats of a rich mascara that is creamy in texture--I'm crushing on Givenchy's Noir Couture Mascara in Black ($32)."
LIPS
The trick again is to create the right balance of velvety smoothness without appearing dry. After filling in the lips with a good matching lip liner, try Rouge G De Guerlain L'Extrait in Colere or Luxure. These are liquid mattes that apply easily, look flawless, and last for hours."