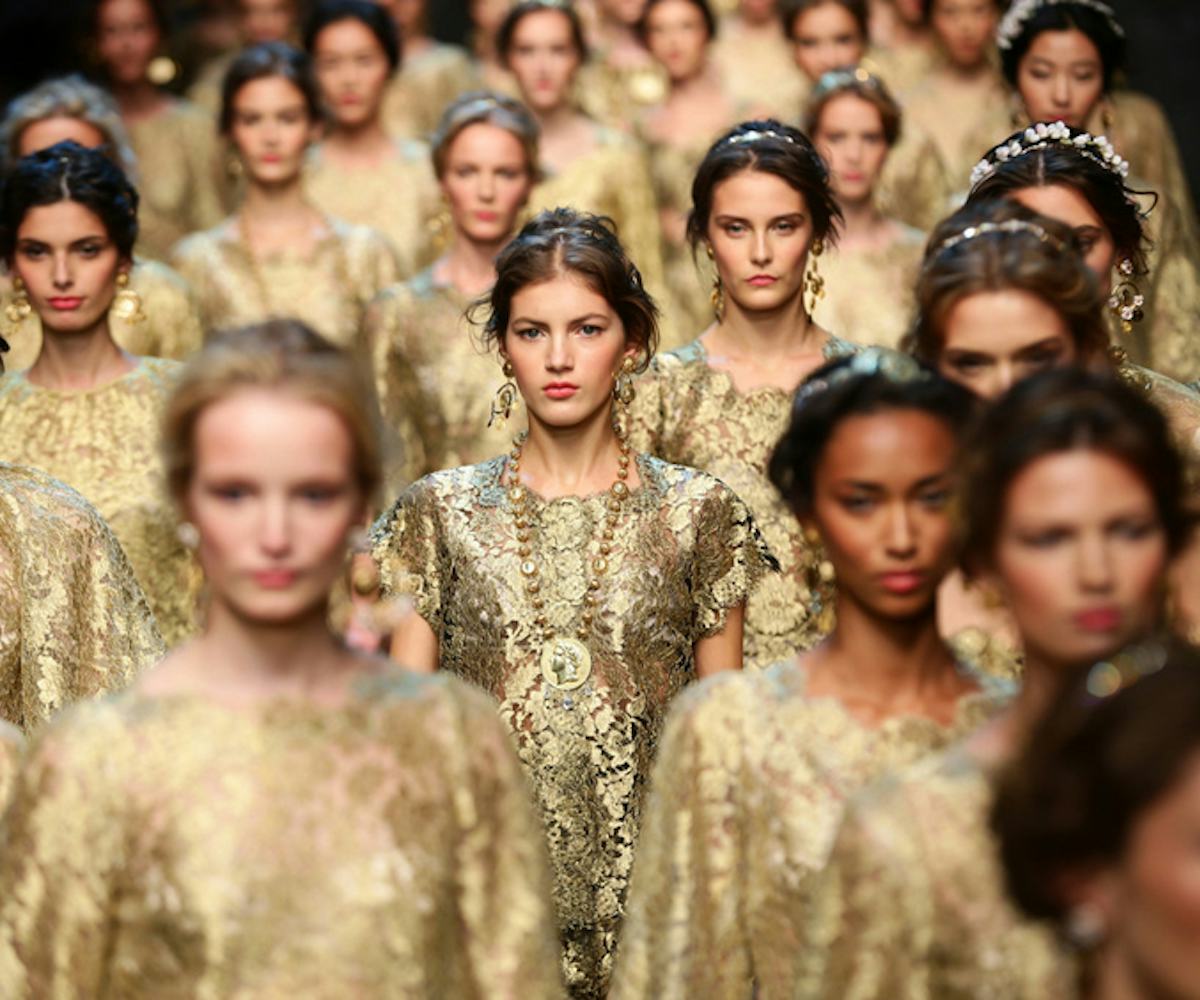 the face: dolce and gabbana
who needs a trip to sicily when you can get the look in 10 minutes?
Although the spring '14 Dolce & Gabbana show was inspired by ancient Sicily, the beauty look was anything but dead. Instead, makeup artist (and Creative Advisor) Pat McGrath made the models look like they just came back from a day wandering ancient ruins and doing a little sightseeing. The key was using a combination of "warm golden tones" and "rich red accents."
You don't need to book a ticket to Italy to get a bit of that glow; here's how McGrath did it:
1) First McGrath applied Dolce & Gabbana Make Up Perfect Luminous Liquid Foundation, starting with a small amount on the forehead, nose, cheeks, and chin, before blending it out with a brush. 
2) For a bit of coverage (plus extra illumination) she used Dolce & Gabbana Make Up Perfect Luminous Concealer, with extra focus under the eyes. 
3) To get what they call "a veil of perfection," McGrath dusted Dolce & Gabbana Perfection Veil Pressed Powder (not available until spring '14) on models' noses and chins.
4) The cheeks were a blend of three Luminous Cheek Colour blush shades--Rosebud, Apricot, and Peach--plus just a little bit of the Dolce & Gabbana Smooth Eye Colour Duo's Fortune shade smudged along the cheekbone and temples for a little bit of sculpting.
5) For the eyes, McGrath used shadows from the Smooth Eye Colour Quad in Golds and Desert before applying the Crayon Intense liner in Chocolate and Nude to the upper and lower eyes, respectively.
6) Apply Dolce & Gabbana's Intense Liquid Eyeliner in Baroque Bronze on top of the lash line for a nice gilded touch, before applying layers (that's right, you need more than one here) Passioneyes Duo Mascara in Terra.
7) To finish the look off, McGrath used Dolce & Gabbana's Classic Cream Lipstick in two spring '14 shades, Bellissima and Traviata. (Unfortunately, you'll have to wait until next year to nab these.)