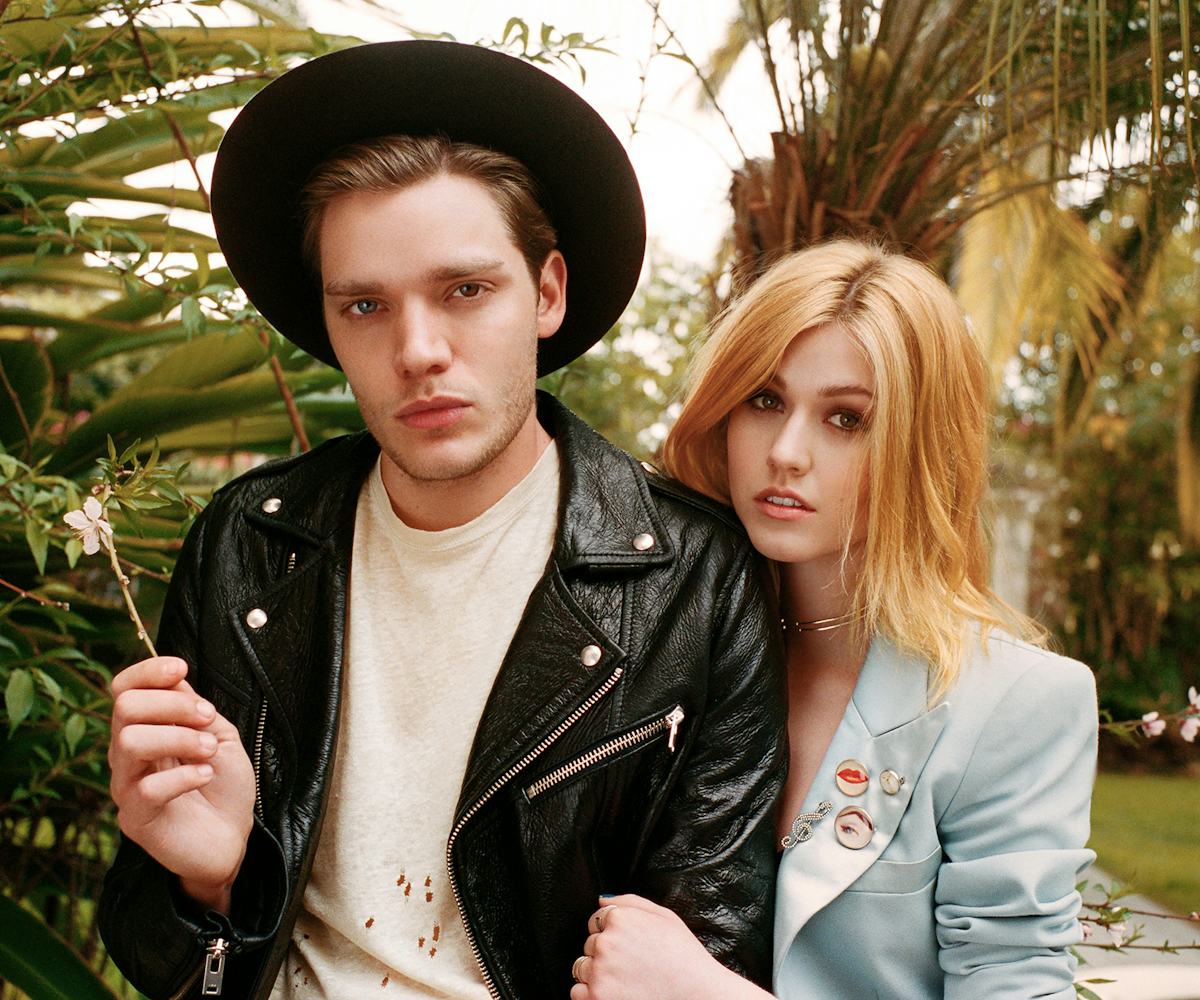 Photographed by Felisha Tolentino. Styled by Dani Michelle. On Sherwood: jacket and shirt by Iro, hat by Worth & Worth by Orlando Palacios. On McNamara: jacket and pins by Marc Jacobs, choker and ring on pointer finger by Luv Aj, ring on ring finger by Ao
Meet The Two TV Stars Who've Been Taking Down Demons Every Week
Check out Dominic Sherwood and Katherine McNamara's Young Hollywood profiles
The following feature appears in the May 2016 issue of NYLON. 
Every year, we round up the brightest rising stars in film for our Young Hollywood Issue. Check in every day to get to know the actors and actresses who are set to take over the industry.
DOMINIC SHERWOOD
Dominic Sherwood won hearts the world over when his chiseled cheekbones—and, um, abs—stole the spotlight in Taylor Swift's dreamy       "Style" video. So it's no surprise he's taken—by another Hollywood star, Modern Family's Sarah Hyland. But the 26-year-old U.K. native (who goes back and forth between Los Angeles, London, and his hometown of Kent, England) has proven he's more than just a pretty face with film roles in Not Fade Away and Vampire Academy, and now as demon-fighting half-angel Jace Wayland on Freeform's Shadowhunters: The Mortal Instruments, which will return for a second season early next year. But before that, you can catch him in Take Down, a thriller with Ed Westwick and Phoebe Tonkin. 
From very young, I knew acting was what I wanted to do. My mum is very good at bringing up embarrassing stories of how I used to sit my family down and re-enact The Blues Brothers or pretend to be Michael Jackson. 
I'm actually not an extrovert. I keep my thoughts to myself. But in those five minutes when I'm in the [audition] room, and I need to prove to these people that I can do it, I'm finely treading that line between confidence and arrogance.
Bring on the Shadowhunters stunts. I want to be doing as many stunts as possible—even though the bottom half of one of my teeth got kicked out while rehearsing a stunt recently. Then a couple of weeks later, the replacement got knocked out, too! All I wanted to do was continue, but the director was going, "Well, continuity-wise, it doesn't really work anymore, because you're missing a tooth." 
KATHERINE MCNAMARA
"I definitely feel like I'm an old soul," Katherine McNamara says between a morning boxing session and a walk with her Maltipoo, Sophie. "Maybe it's because I grew up watching old black-and-white movies from the '40s and '50s." Or maybe it's because the 20-year-old's list of accomplishments puts most of us to shame. Growing up in Missouri, McNamara (who's kept her Southern congeniality, though she now calls L.A. home) graduated high school at 14, college at 17, and is now working on a master's degree in literature. That's on top of her acting career, which spans from Broadway (she played opposite Catherine Zeta-Jones in A Little Night Music) to her current role as Clary Fray, the super-smart badass keeping the world's unseen demons at bay on Shadowhunters: The Mortal Instruments. She's also reprising her Maze Runner role in the upcoming third installment of the film series, and is flexing her songwriting skills on an EP she hopes to release soon. "Sleep is overrated," she declares. 
I was a huge math nerd growing up. I took math as electives in both high school and at university. I even subscribed to The Economist as an eight-year-old.
The cast of Shadowhunters calls me "Grandma." I carry a big purse, so I always have the hand sanitizer, cough drops, Listerine strips, and whatever else anybody may need. 
My mom put a quote on my wall when I was a kid: "What is right is not always popular, what is popular is not always right." I didn't really know what it meant then, but as I got older it inspired me to stay true to myself. 
Hair: Johnnie Sapong for Leonor Greyl at Jed Root. Makeup: Tamah at The Wall Group. Manicurists: Reina Santos for Formula X at Nailing Hollywood and Brittni Rae for Formula X at Nailing Hollywood.