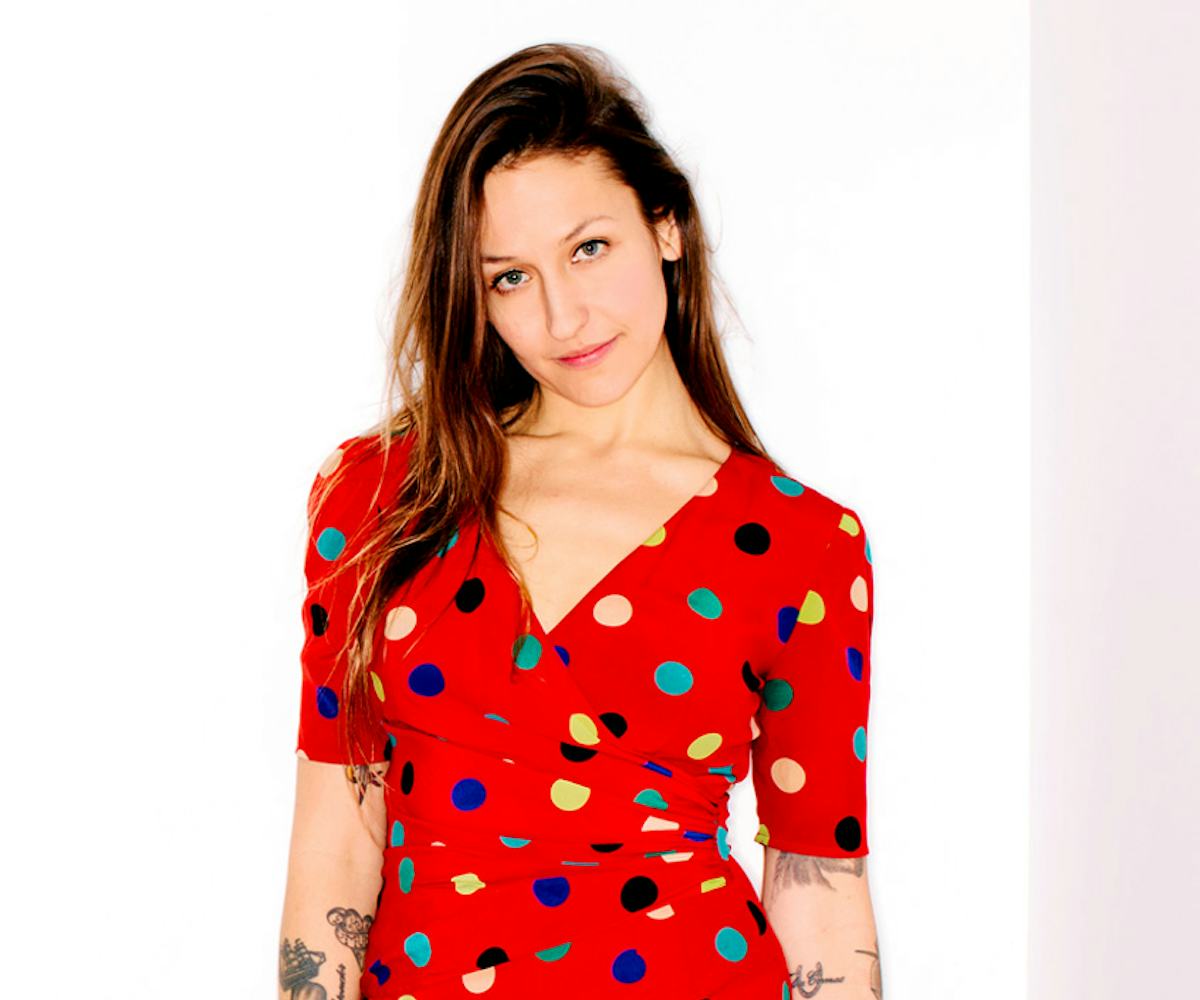 Photos by Atisha Paulson
domino kirke is your favorite songwriting/birth expert
jemima's big sis has got the chops
Though it wasn't exactly the way Domino Kirke planned it, she has found herself in the business of creation, in a truly literal sense. Art runs in her family, for one. Firstly, her father famously drummed in British bands Free and Bad Company, and you may have heard of her two sisters: Lola, the rapidly rising actress who stunned us in Gone, Girl, and middle sister Jemima the artist, though you may be familiar with her other,more accidental project. Domino herself is a musician, but after she became a mother at the (atypical, in the Brooklyn creative community, at least) age of 24, she found inspiration in motherhood—for herself and other women—as a doula. Briefly putting her career on hold, Domino started Carriage House Birth, a service for women who are looking for a more personalized approach to birth.
Photos by Atisha Paulson  
"My family realized I was going to do birth work and then music they were like, 'What's a doula? This is not what you were meant to do!' And I was like, 'Everyone thinks they can only do one thing.'" However, Domino's open approach to motherhood actually brought her closer to her family, specifically Jemima, who is a mother to two children. "We're both moms and we're both quite busy and I think we're able to be there now for each other in a way that we weren't when we were younger." (Despite, of course, Jemima's busy schedule: "I saw how overwhelming it was and I saw how she struggled initially to kind of get on board with the train and now I think it helped us out, we're closer because of it.")
Photos by Atisha Paulson 
The transition from being a musician, standing on stage and entirely self-absorbed, to focusing on the primal and entirely personal nature of birth was a whole mind-shift, says Domino. "I moved to Williamsburg when I was 19, and all my friends were musicians, all we did was wake up, have a coffee and write songs, and go out that night and get shitfaced," she admits. "My day-to-day was extremely predictable and I did it with a band of people, a tribe. No one had kids—we were just so selfish for so long. I mean, the minute I had him, my son, I realized that I had to just time manage in a way that I never had to before."  
Photos by Atisha Paulson 
Now that her doula business is burgeoning and her son is growing older, Domino is returning to her musical roots with a new album called Independent Channel. Written in collaboration with Here We Go Magic's Luke Temple, the album shifts away from Domino's original organic sound to something subtly dance-friendly. "I think this is a lot more painful… a lot more experimental for me. Everything before used to have such a structure and design, and this was a lot more me just meeting up with Luke and playing with him." The result has Temple's spacey vibe with Domino's dreamy vocals, which, together is endlessly listenable. 
Photos by Atisha Paulson 
The whole experience is new for Domino, who is clearly no stranger to the industry. "It's weird. I went so far away from music that I had to re-invent music again. I had to come back to music. I had to put music with an agenda down, and at least write for my son, write to keep writing, but the idea of having a music career had to go away for a while." But now, the singer is able to balance better, even though her two jobs are on vastly different ends of the spectrum. "It's two different brains. The mom brain that's like self-less and ego-free and the on-stage 'Look at me, like listen to my song, hope you like it.' There, it is all ego. I think I struggled trying to find both, and then hanging out with Luke made me get excited about creating a new sound so I could kind of be a beginner again."
Photos by Atisha Paulson