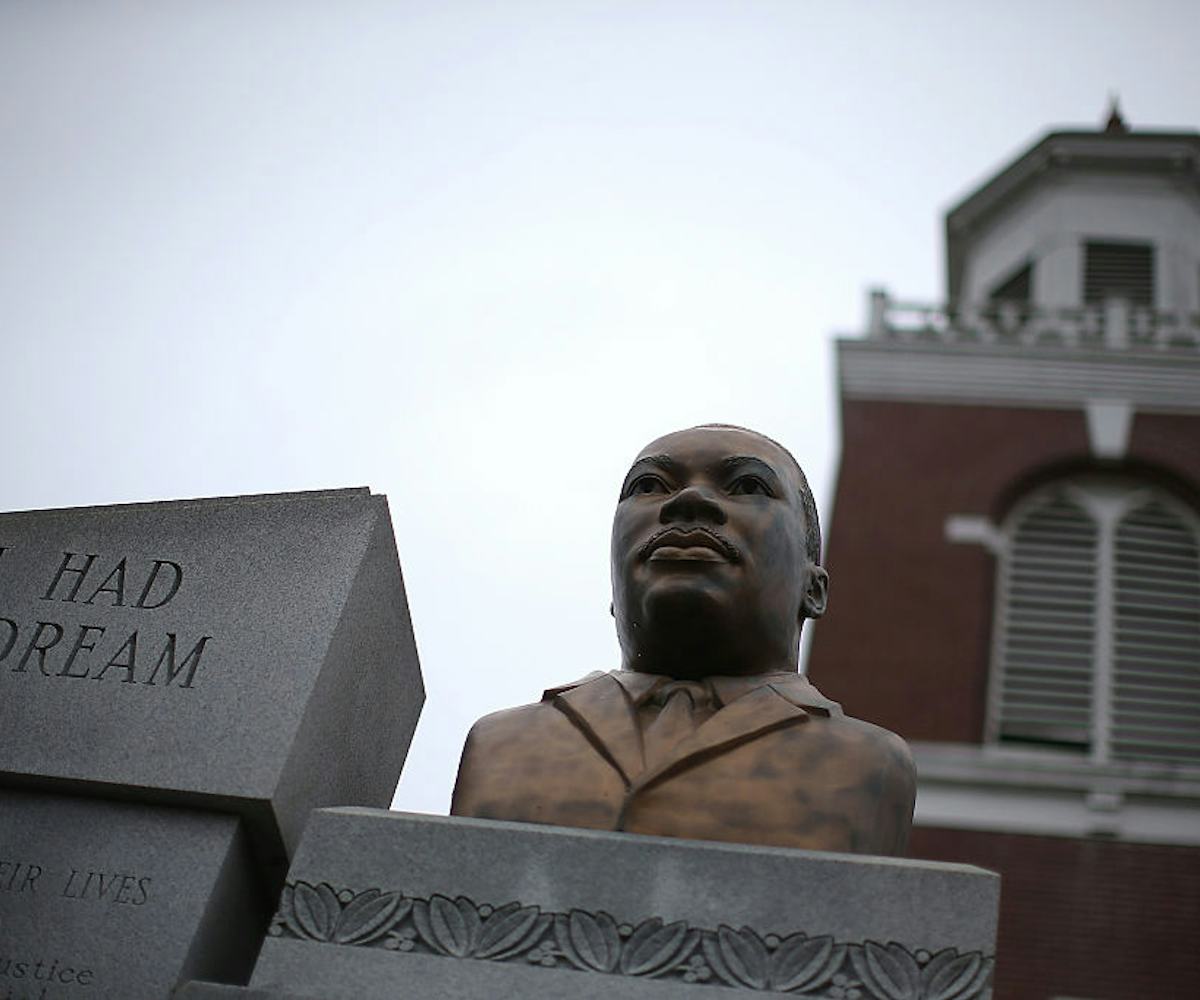 Photo by Justin Sullivan/Getty Images
For Black History Month, Trump Shows He Doesn't Care About Black People
All he cares about is "fake news"
Today marks the first day of Black History Month, and, as many of his presidential predecessors have done before him, Donald Trump marked the occasion with a gathering at the White House. Unlike the presidents who came before him, however, Trump used the press conference to complain about his perceived unfair treatment at the hands of CNN, reveal the fact that he probably doesn't know whether the legendary abolitionist and American hero Frederick Douglass is alive or dead, and praise Apprentice star Omarosa for being "a very nice person." You can't make this stuff up!
Flanked by Omarosa and presumptive secretary of Housing and Urban Development, Dr. Ben Carson, Trump staged this gathering ostensibly to celebrate the essential contributions of black Americans to our society. Instead, Trump used this opportunity to rail against the media's unfair treatment of him—specifically when a reporter erroneously said that Trump had removed a bust of Martin Luther King Jr. from the Oval Office. The reporter immediately apologized when his mistake was revealed. Many days later, Trump, rather than focus on King's great legacy, harped on the incident as a revealing microcosm of the insidious problem of "fake news."
Trump also spoke briefly about Douglass, saying, "Frederick Douglass is an example of somebody who has done an amazing job and is being recognized more and more, I notice." Douglass died in 1895. In fact, Trump spent little time in his speech mentioning the greatness of any black Americans who hadn't worked directly on his campaign. Trump's highest praise was reserved for Omarosa, and for black pundits who have defended him on television.
While it was unlikely that Trump would have delivered a speech of any sort of rhetorical importance, it still came as something of a surprise that he managed to make a press conference celebrating black American achievements about himself. On the bright side, at least he didn't cite that other great black American inventor, Eli Whitney, as being a great personal hero. At least there's that.
You can read a full transcript of the event, question Trump's ability to put together coherent sentences, and despair over the future both immediate and far off, below.