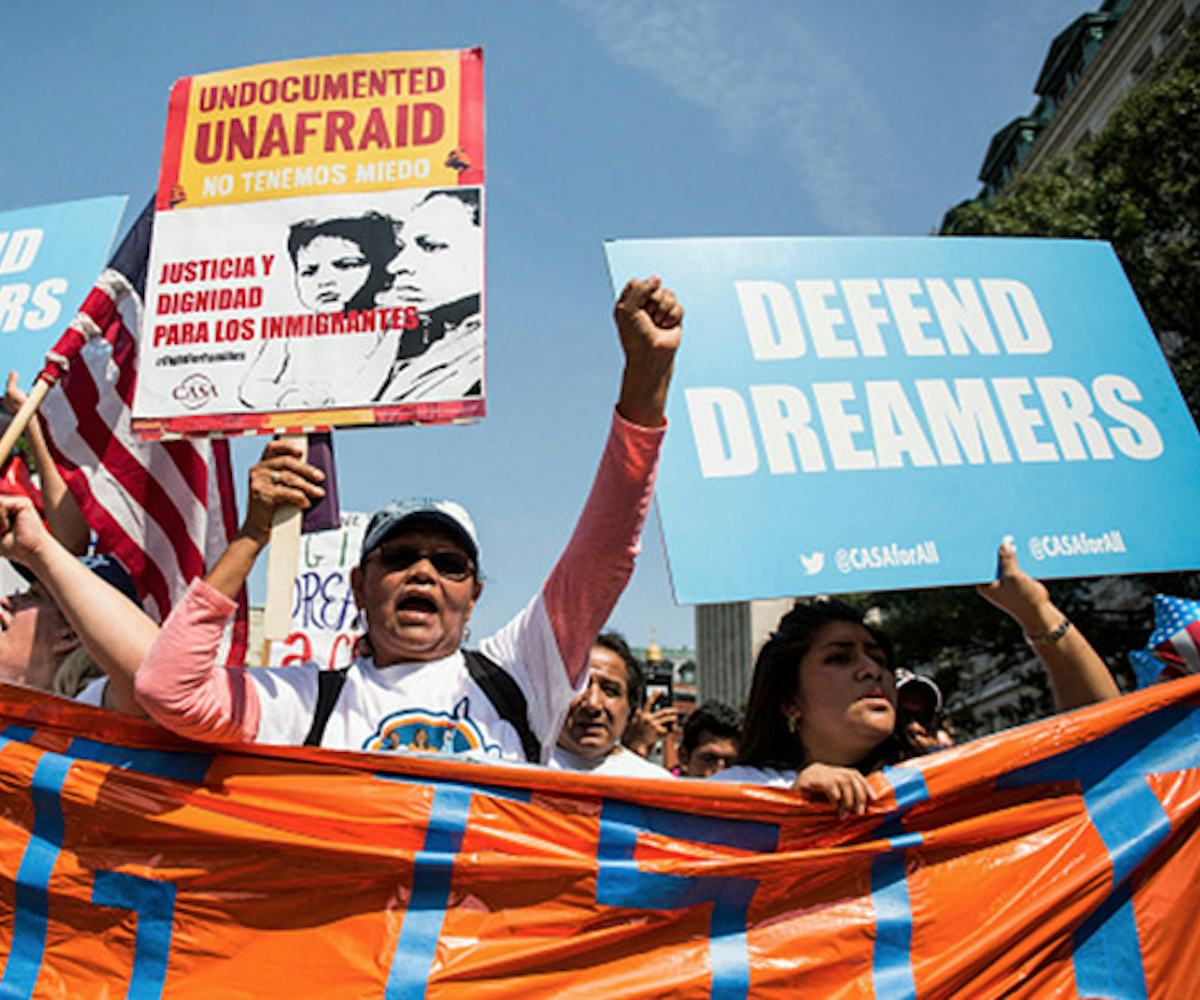 Photo by Zach Gibson/Getty Images
Obama's Response To The End Of DACA Reminds Us Of All We Have Lost
Nearly a million people will be affected
Earlier today, Donald Trump's Attorney General Jeff Sessions announced the administration's decision to end the Deferred Action for Childhood Arrivals (DACA) program, Obama-era immigration policy that enabled immigrants, "DREAMers," who entered the country illegally as minors to remain in the U.S., attend school, and obtain work permits.
Currently, DACA protects about 800,000 immigrants, allowing them to legally work in America. Most of these people entered the country around the age of six, according to Vox. That makes most of them in their mid-20s right now. This also means that a majority of DACA recipients have been in the country for more than two decades. Participants in the program became known as DREAMers after the DREAM Act, legislation introduced in 2001 meant to provide a path to citizenship. When that legislation stalled in Congress, then-President Barack Obama created DACA in 2012.
In order to be enrolled, DREAMers had to be younger than 31 when DACA was created and younger than 15 when they arrived in the U.S. They also had to have no criminal records and be enrolled in high school or have a high school diploma or equivalent, Vox reports.
Aside from directly affecting the lives of nearly a million people, the end of DACA will have an economic impact on the country. With more than 700,000 people losing their jobs, employers will have to pay around $3.4 billion in turnover costs to replace them, according to Vice. This will cost an estimated $460 billion in lost gross domestic product. 
Treasury Secretary Steven Mnuchin has said he's not worried about the "economic impact" of rescinding DACA because the administration will "make sure that we have plenty of workers in this economy." However, job growth has been slow under Trump. 
Following Sessions' announcement, Obama released a statement on the decision. "Immigration can be a controversial topic," he wrote. "We all want safe, secure borders and a dynamic economy, and people of goodwill can have legitimate disagreements about how to fix our immigration system so that everybody plays by the rules. But that's not what the action that the White House took today is about."
He called the decision to end DACA "wrong" and "self-defeating," and said "the action taken today isn't required legally. It's a political decision, and a moral question." 
During the press conference, Sessions cited "the previous administration's disrespect for the legislative process," referring to Obama's DACA executive order. But, the former president argued in his statement that he'd waited for a bill from Congress, but one never came.
"Ultimately, this is about basic decency," Obama wrote. "This is about whether we are a people who kick hopeful young strivers out of America, or whether we treat them the way we'd want our own kids to be treated. It's about who we are as a people—and who we want to be."