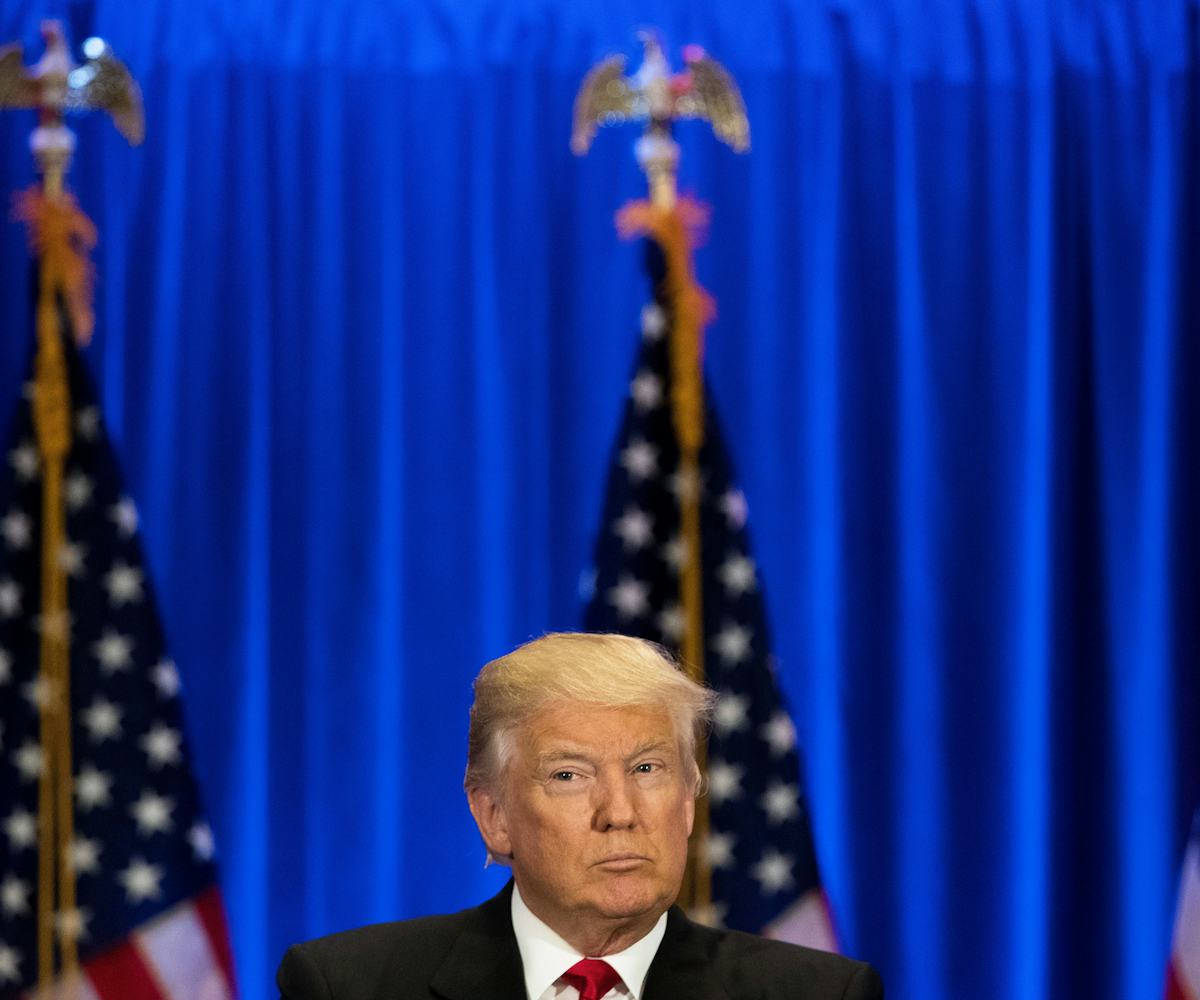 Photo by Drew Angerer/Getty Images.
Donald Trump's Modeling Agency Allegedly Hired Illegal Immigrants
Republican presidential nominee Donald Trump has voiced his very forceful opinion on a lot of different issues during this election season. These topics span from his negative views toward Democratic presidential candidate Hillary Clinton to his stance on gun control and, let us not forget, his take on black America and how he plans on fixing the communities' "war zones." While these are all rage-inducing in their own right, the most noteworthy and controversial of Trump's positions might just be those centering around immigration.
To sum it up briefly: Trump is in favor of keeping illegal immigrants out of the country by any means necessary—even if that means building a Great Wall of China-esque barrier on the U.S border with Mexico. Oh, and for those who have managed to somehow make their way into this country already? He plans on deporting them. It's a stance he's stood by firmly over the past couple of months, so it came as a shock to the internet yesterday when news broke that his modeling agency allegedly hired undocumented women.
In a Mother Jones piece, writer James West reports that Trump Model Management has profited from using foreign models who failed to obtain proper visas. Not only did the company permit these women to work, they allegedly encouraged them to lie to customs officials. Kate, one of the models interviewed—who was given a pseudonym for the piece—says she was told: "When you're stuck at immigration, say that you're coming as a tourist. If they go through your luggage and they find your portfolio, tell them that you're going there to look for an agent."
Outside of being blatantly exploited—and living in constant fear—the three women in the article noted that the living and working conditions provided by Trump Model Management were less than favorable. Pay was low, rent was high, and the housing itself was described as being unhygienic, to put it nicely. "We're herded into these small spaces," Kate says. "The apartment was like a sweatshop." 
Rachel Bais, a Canadian-born former Trump Model Management employee, reflected on her deplorable time, telling West: "Honestly, they are the most crooked agency I've ever worked for, and I've worked for quite a few... It is like modern-day slavery."
Unsurprisingly, both Trump's campaign spokeswoman, Hope Hicks, and Trump Model Management didn't respond to Mother Jones' request for comment. Though the article touches on the fact that violating immigration rules is commonplace in the fashion industry (there's an ongoing class action lawsuit against numerous modeling agencies currently underway), the mixed message isn't lost on those familiar with Trump's policies—including his formerly signed models. "He doesn't like the face of a Mexican or a Muslim," Kate says, "but because these [models] are beautiful girls, it's okay? He's such a hypocrite." As for the bigoted cherry on top, Trump's own wife, Melania, allegedly modeled in America illegally and lied under oath about it. 
Ironically, Trump is currently meeting with Mexican President Enrique Peña Nieto in Mexico to discuss "shared concerns," some of which include drugs, trade, and, of course, illegal immigration. He also plans on delivering a speech tonight where he will finally clarify his bumpy position on the latter topic. According to his vice presidential nominee, Mike Pence, it's bound to be a "historic" one. We won't hold our breath.