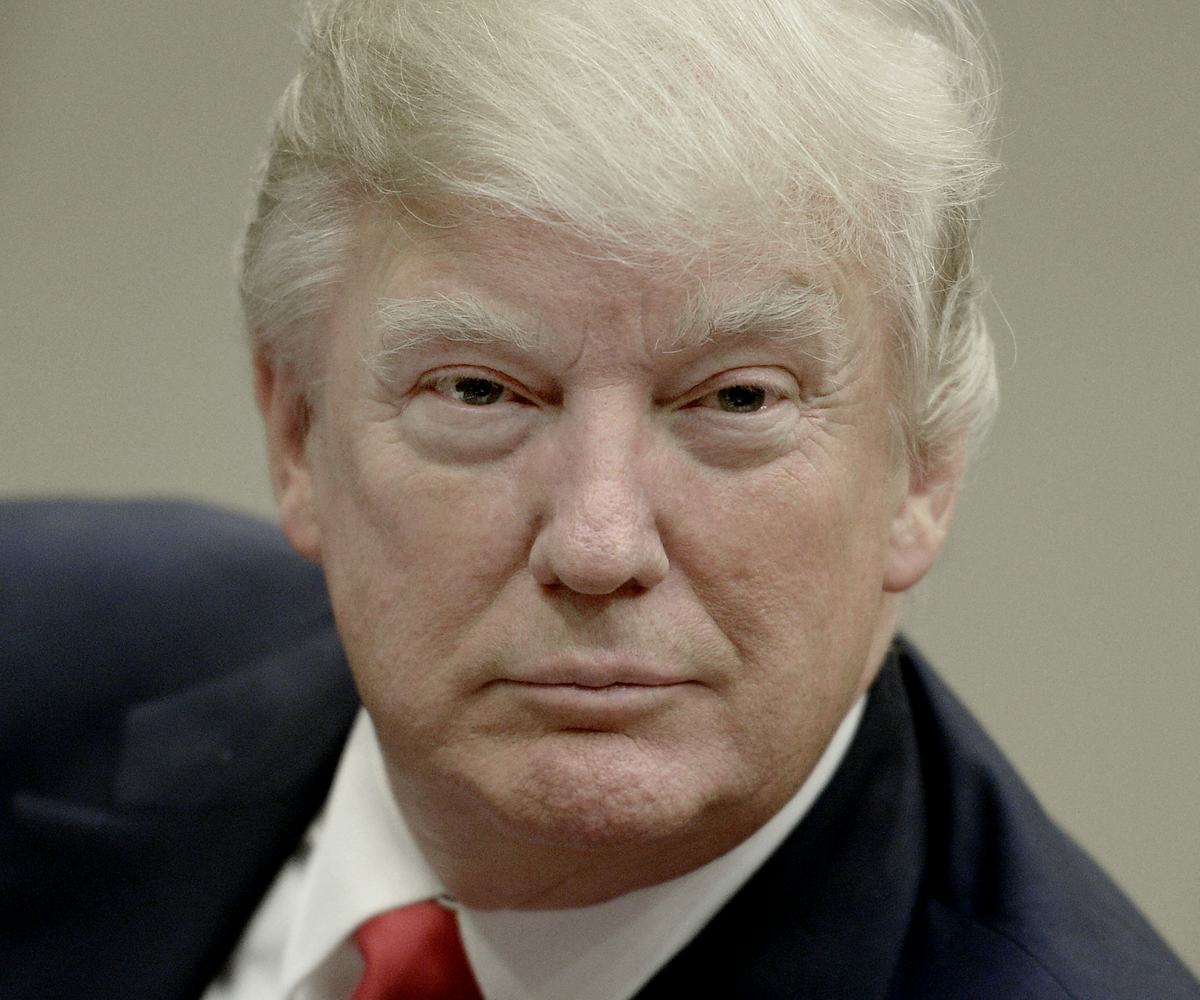 Image by Pool/Getty Images
Since Trump Declared April National Sexual Assault Awareness Month, Here's A Reminder Of The 15 Women Who Accused Him Of Assault
Donald Trump declared in a press release yesterday that April is National Sexual Assault Awareness And Prevention Month. Now seems like a good time to remind everyone of the 15 women Trump has been accused of sexually assaulting. This list doesn't include all of the incredibly offensive and misogynistic things Trump has said—like he when he was caught on tape bragging about grabbing women "by the pussy"—or the many accounts of Miss America contestants who have claimed Trump would barge into the dressing rooms when they were changing. (Those accounts are corroborated by Trump himself, when he told Howard Stern in 2005 that he regularly walked in on the girls because he could "get away with things like that.")
There are more than 300,000 victims of rape and sexual assault in the United States every year and one in six women will be the victim of an attempted or completed rape in her lifetime, according to the Rape, Abuse, and Incest National Network. Since a large number of rapes go unreported, this number is likely even higher.
In the press release, Trump says that his administration is dedicated to protecting "women, children, and men from sexual violence," and that includes "supporting victims, preventing future abuse, and prosecuting offenders to the full extent of the law"—only he himself is currently claiming to be "too busy" to face one of his sexual assault victims in court. 
Here are the stories of the 15 women that have accused Trump of sexual assault.
IVANA TRUMP (1989) 
In the 1993 book Lost Tycoon: The Many Lives of Donald J. Trump, it's revealed that Ivana accused Donald of raping her in 1989 while they were still married. During depositions for their divorce case, Ivana described in detail a violent assault that took place, where Donald ripped out chunks of her hair and forced himself on her sexually, the Daily Beast reports. Trump has called the allegations "obviously false," and his legal team says Ivana didn't mean "rape" in the "literal sense" of the word. 
JILL HARTH (1992) 
Makeup artist Jill Harth accused Trump of attempted rape in 1997 when she was working one of his beauty pageants in Atlantic City. She was subjected to a "steady string of unwanted sexual advances," according to The Guardian, and she claims Trump "[groped] her under the table" at a dinner party and assaulted her in his daughter's bedroom. Trump called the allegations "meritless" and settled the case, according the New York Times, but denied any wrongdoing. 
JESSICA LEEDS (1980s)
In the early 1980s, Leeds was offered a seat in first class on a flight from the Midwest to New York City. She was seated next to Trump. About 45 minutes after takeoff, Leeds claims Trump lifted the armrest and began to grope her, attempting to put his hand up her skirt. "He was like an octopus," Leeds told the New York Times. "His hands were everywhere. It was an assault." Trump spokesman Jason Miller calls the allegation "fiction." 
KRISTIN ANDERSON (1990s)
According to The Washington Post, Anderson claims that Trump reached up her skirt, groping her in a Manhattan nightclub in the early 1990s. She decided to come forward after reading the accounts of the other women Trump had assaulted. 
CATHY HELLER (1997) 
In February 2016, Heller recounted for The Guardian how she was groped and kissed by Trump in 1997, when she attended a Mother's Day brunch with her husband and children at Trump's Mar-a-Lago estate. Trump allegedly grabbed her and attempted to kiss her, but she turned her head and he proceeded to kiss the side of her mouth "for a little too long." Heller's husband and kids corroborate her story. Trump's spokesperson called the accusations "politically motivated." 
TEMPLE TAGGART McDOWELL (1997)
During the Miss USA contest in 1997, 21-year-old Miss Utah Temple Taggart McDowell accused Trump of unwanted advances, including kisses and touching, that left her and one of her chaperones so uncomfortable that she was instructed not to be alone with Trump again, she told NBC. Last year she told the New York Times that he kissed her directly on the lips while married to Marla Maples. 
KARINA VIRGINIA (1998)
In 1998, Virginia alleges that trump grabbed her breast while she was waiting for a ride after the US Open. She was 27 years old at the time. "I felt intimidated and I felt powerless," she said in a press conference last year. Trump allegedly asked her, "Don't you know who I am?" 
MINDY McGILLIVRAY (2003) 
McGillivray told The Palm Beach Post that in January 2003, when she was 23 years old, Trump groped her at his Mar-a-Lago estate. "All of a sudden I felt a grab, a little nudge," she said. "I turn around and there's Donald. He sort of looked away quickly." Her friend corroborated her story, saying he remembered her telling him at the time, "Donald just grabbed my ass!" 
RACHEL CROOKS (2005) 
Crooks alleges that Trump assaulted her on an elevator when she was working as a receptionist at Bayrock Group, a real estate company in Trump Tower in Manhattan. She claims he began kissing her cheeks, then kissed her directly on the mouth. "I was so upset that he thought I was so insignificant that he could do that," Crooks recalled in an interview. 
NATASHA STOYNOFF (2005) 
Stoynoff was visiting Trump's Mar-a-Lago estate in 2005 for a story for People magazine at the time she alleges Trump assaulted her. "We walked into that room alone, and Trump shut the door behind us," she wrote last year. "I turned around, and within seconds he was pushing me against the wall and forcing his tongue down my throat... I was stunned. And I was grateful when Trump's longtime butler burst into the room a minute later, as I tried to unpin myself."
JESSICA DRAKE (2006) 
Drake, an adult film actress and sex education advocate, claims that Trump, who was married at the time, invited her to his hotel suite where he grabbed her and her friends "tightly," she said during a press conference last year, and "kissed each one of us without asking permission." Trump's campaign claims her story is "false and ridiculous." 
NINNI LAAKSONEN (2006)
Miss Finland 2006 Ninni Laaksonen has said that when she appeared on the Late Show with David Letterman that Trump grabbed her butt before she went on stage. "He really grabbed my butt," she said. "I don't think anybody saw it but I flinched and thought, "What is happening?" 
SUMMER ZERVOS (2007) 
Trump invited Zervos into his bungalow in the Beverly Hills Hotel in 2007, a year after she appeared on the fifth season of The Apprentice, for what she thought was a job interview. She said during a press conference last year that he groped her and said, "Let's lay down and watch some tele-tele." He allegedly forced himself on her when she made it clear she didn't want to sleep with him.
Erin Burnett's Unnamed Friend (2010)
CNN anchor Erin Burnett said that an unnamed female friend of hers was assaulted by Trump in a Trump Tower boardroom in 2010. "Trump took Tic Tacs, suggested I take them also," her friend said. "He then leaned in, catching me off guard, and kissed me almost on lips. I was really freaked out." Once they were alone, he made further advances like giving her his cell phone number and telling her she was special.
CASSANDRA SEARLES (2013)
Rolling Stone reported that Searles, Miss Washington USA in 2013, was groped by Trump during the Miss USA pageant that year. Searles said on Facebook that Trump "continually grabbed" her butt and invited her to his hotel room.   
If you or someone you know needs help, call the National Sexual Assault Hotline at 800-656-HOPE, or chat directly with someone RAINN.org.