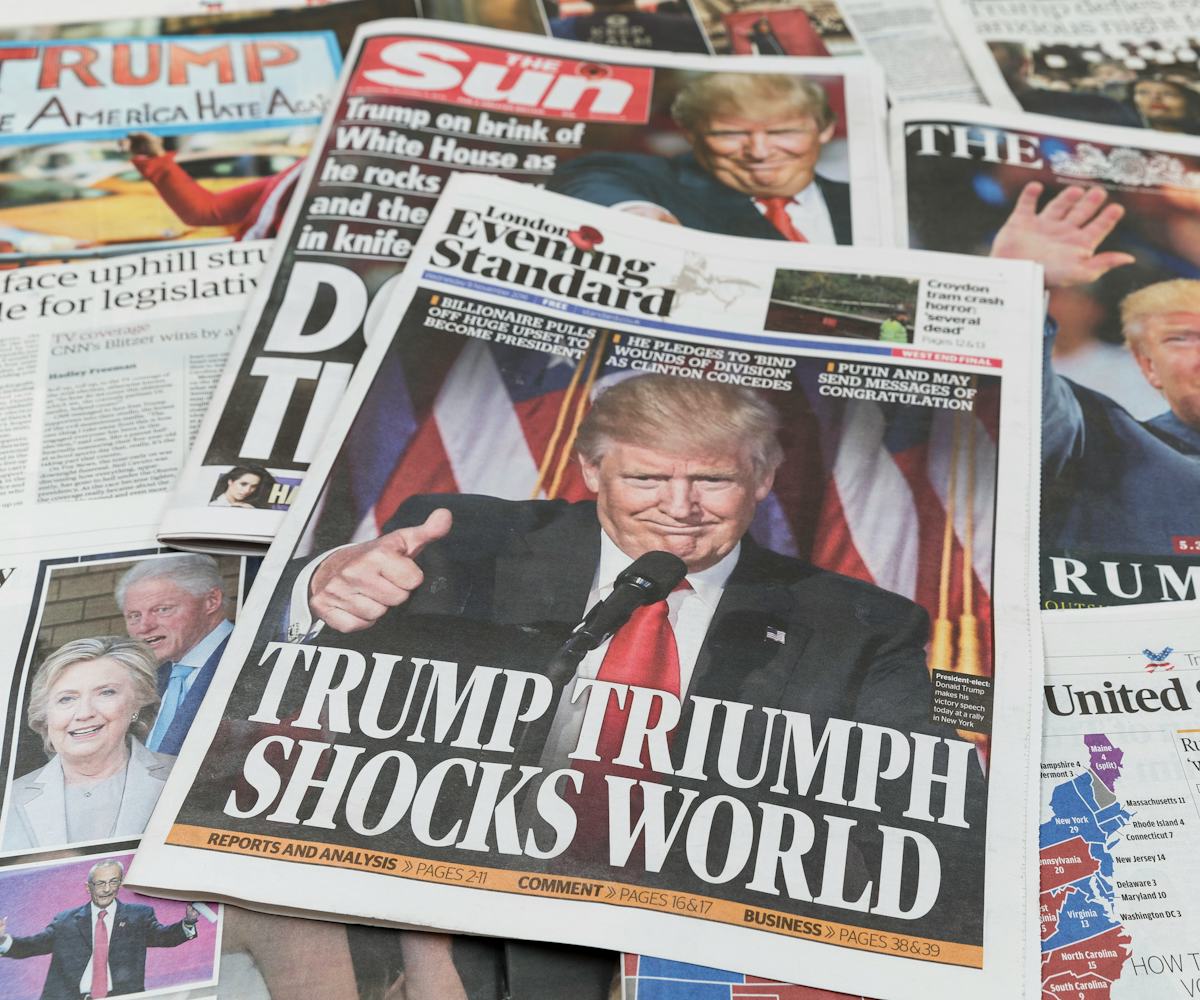 Photo by Tristan Fewings / Getty images
Anti-Trump Protests Have Erupted All Across The Country: Here's How To Get Involved
Much of the rhetoric since the devastating news that Donald Trump will be the next U.S. president has centered on the idea of not giving in to the nefarious forces that got him elected. Young people, especially, have flooded social media with messages of strength and resilience in the face of an uncertain future. On Wednesday evening, that rebellious spirit will crystallize in the form of anti-Trump protests scheduled to take place in nearly every major American city. 
Even before tonight's mass demonstrations, college and high school students across the country hit the streets to voice their anger over a President they didn't vote for. According to the Los Angeles Times, 1,500 students and teachers staged a walkout before 9 am at Berkeley High School in California. Students posted their experiences under the social media rallying cry #NotMyPresident, while chants of "Si, se puede," Spanish for "Yes, we can," rang out across the campus. 
Elsewhere on the West Coast, UCLA's student newspaper The Daily Bruin reported that more than 1,500 students marched through campus after Trump's victory speech, many of whom wept openly. While there were no reports of violence, some students attempted to turn over a car, before realizing that there were passengers still inside. "Of course, I joined in," 19-year-old N.J. Omorogieva told The Los Angeles Times. "To give hugs to people who were overcome by devastation."
Meanwhile, across the country, protesters marched at The University of Connecticut and The University of Pittsburgh, where chants of, "No KKK no fascist USA, No Trump" could be heard. 
If you feel like you want to have your voice heard tonight, below you'll find a list of times and locations where an anti-Tump protest will be happening in a city near you. Remember, be vigilant and stay safe. 
New York City
Columbus Circle
5 p.m.
Union Square
6 p.m.
Chicago
Trump International Hotel and Tower Chicago, 401 North Wabash Ave
5 p.m.
Trump International Hotel, 1100 Pennsylvania Ave NW
7 p.m.
U Street Metro Station and African-American Civil War Memorial, 1928 10th Street NW
7:30 p.m.
Piedmont Park
7 p.m.
Trump Tower Las Vegas
4 p.m.
Monroe Park
9 p.m.
Florida State Capitol, 400 South Monroe Street
7 p.m.
Campus Martius Park, 800 Woodward Ave.
5 p.m.
University of Minnesota, Humphrey School of Private Affairs, 301 19th Ave South
5:30 p.m.
University of Houston Fields at Cullen and Elgin
5 p.m.
AT&T Plaza, 2500 Victory Park Lane
7 p.m.
Lee Circle
5 p.m.
Westlake Park, 401 Pine St.
4 p.m.
Kesey Square, 10 East Broadway
6 p.m.
Massachusetts State House, 24 Beacon St.
7 p.m.
Parkman Bandstand Boston Common
7 p.m.
Red Arrow Park, 920 N Water St.
5:30 p.m.
Powell and Market Street, near the cable car turnaround
5 p.m.
Vigil at Castro and Market Streets
5:30 p.m.
Frank Ogawa Plaza
5 p.m.
88 Front St.
5 p.m.
Rhode Island State House, 82 Smith Street
7 p.m.
Pershing Square, 532 South Olive St.
7 p.m.
Los Angeles City Hall, 200 North Spring St.
8 p.m.
Thomas Paine Plaza
7 p.m.