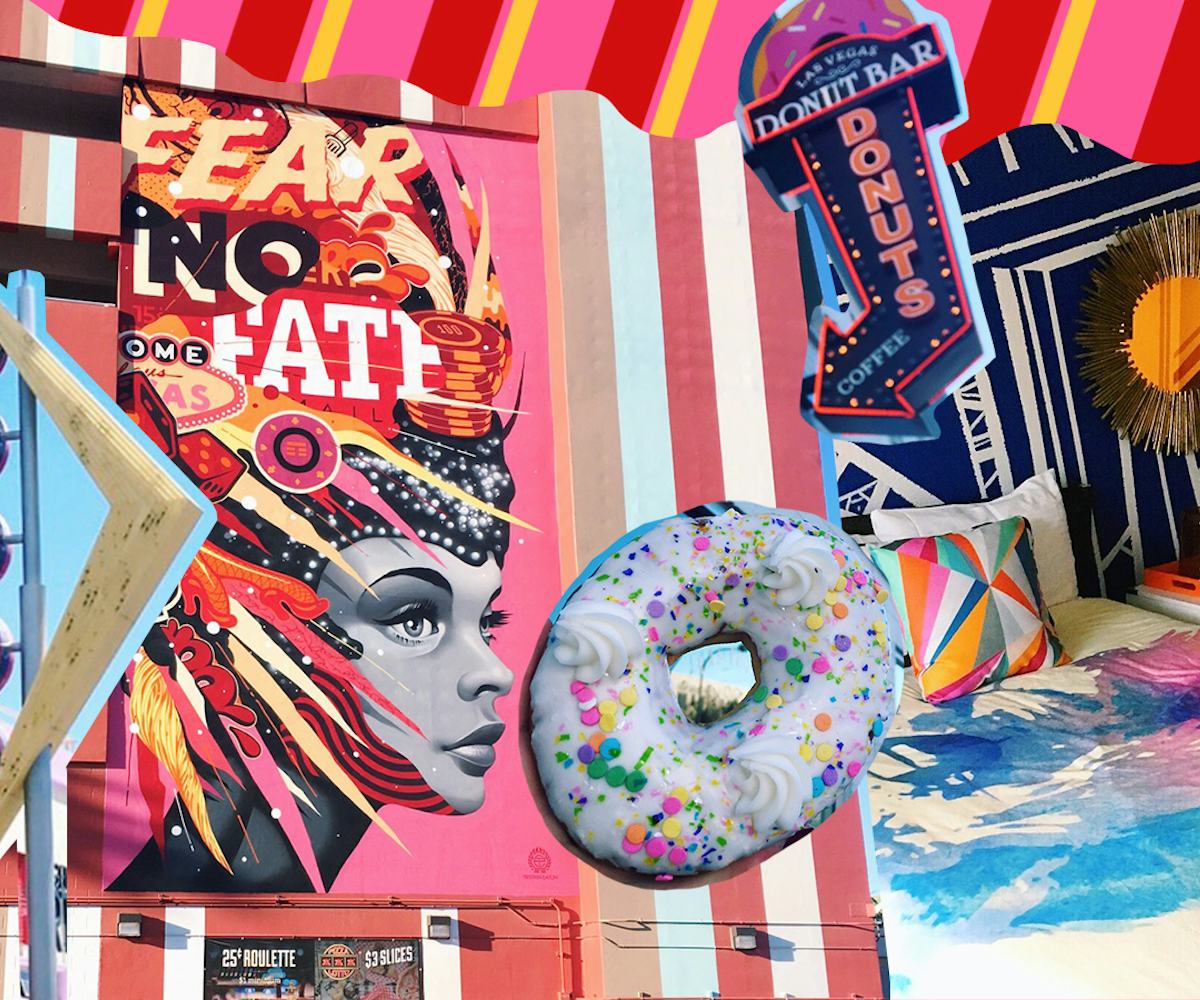 Collage photos by Austen Tosone
Downtown Las Vegas Has Some Brooklyn Vibes, And We're Here For It
The similarities are actually pretty wild
Las Vegas has a reputation that precedes it: the place you go to gamble, to party, to get married at a moment's notice, and—most of all—to escape reality. What's not to love?
So when given the opportunity to check out a locale that's been on my travel bucket list for a while, I wasted no time putting my adventure pants on and flying across the country, even though I knew virtually nothing about the city, other than what I had seen in movies (read: casinos, expensive hotels, and some interesting characters). 
Vegas may be the place you go to gamble, party, or get married, but I did none of those things (somewhere in New Jersey my mother breathes a sigh of relief). And rather than escaping my reality, I actually found that the Downtown area of Las Vegas held a mirror up to it. I may have been in a different zip code, but I couldn't help but notice that the scene in DTLV felt a lot like where I live in Brooklyn, New York. 
No, really: The Citrus Grand Pool Deck at the Downtown Grand hotel has some similar vibes to the rooftop of the William Vale in Williamsburg. The wall murals that were commissioned for the Life Is Beautiful Music Festival, which takes place in DTLV, give the ones in Bushwick a run for their money. And with its bright lights, street performers, and high-thrill entertainment (I'm looking at you Slotzilla Zip Line), Fremont Street reminded me of Coney Island. Even spending a few nights in the Real World Suite at the Oasis at Gold Spike where a season of the reality show was filmed, reminded me of the show's seasons in New York City. 
Plus, much like in Brooklyn, the DTLV food and drink options are also cool without trying too hard. Here's how my dream food and drink day would be spent in Downtown: breakfast at Donut Bar, famous for its unique donuts that have a whole Pop-Tart stuffed inside; lunch at Flippin' Good (double cheeseburger, vanilla shake, hold the fries); afternoon cocktails at the Velveteen Rabbit, a women-run establishment that borders the Arts District neighborhood; dinner at Park on Fremont; and a night out at local bar Commonwealth, with dancing on the rooftop and a quick getaway through a door in the back to the Laundry Room, a speakeasy hidden within. 
Most of all, once you find yourself off the beaten path—or the beaten strip—you come face-to-face with the thing that really makes this area awesome: the people. The Downtown locals are a nonjudgmental crew. Just like New Yorkers, Vegas dwellers often have frequent visits from out-of-town friends and are constantly playing tour guide and showing off their favorite neighborhood spots, thus making all visitors feel the way I felt while I was there—right at home.