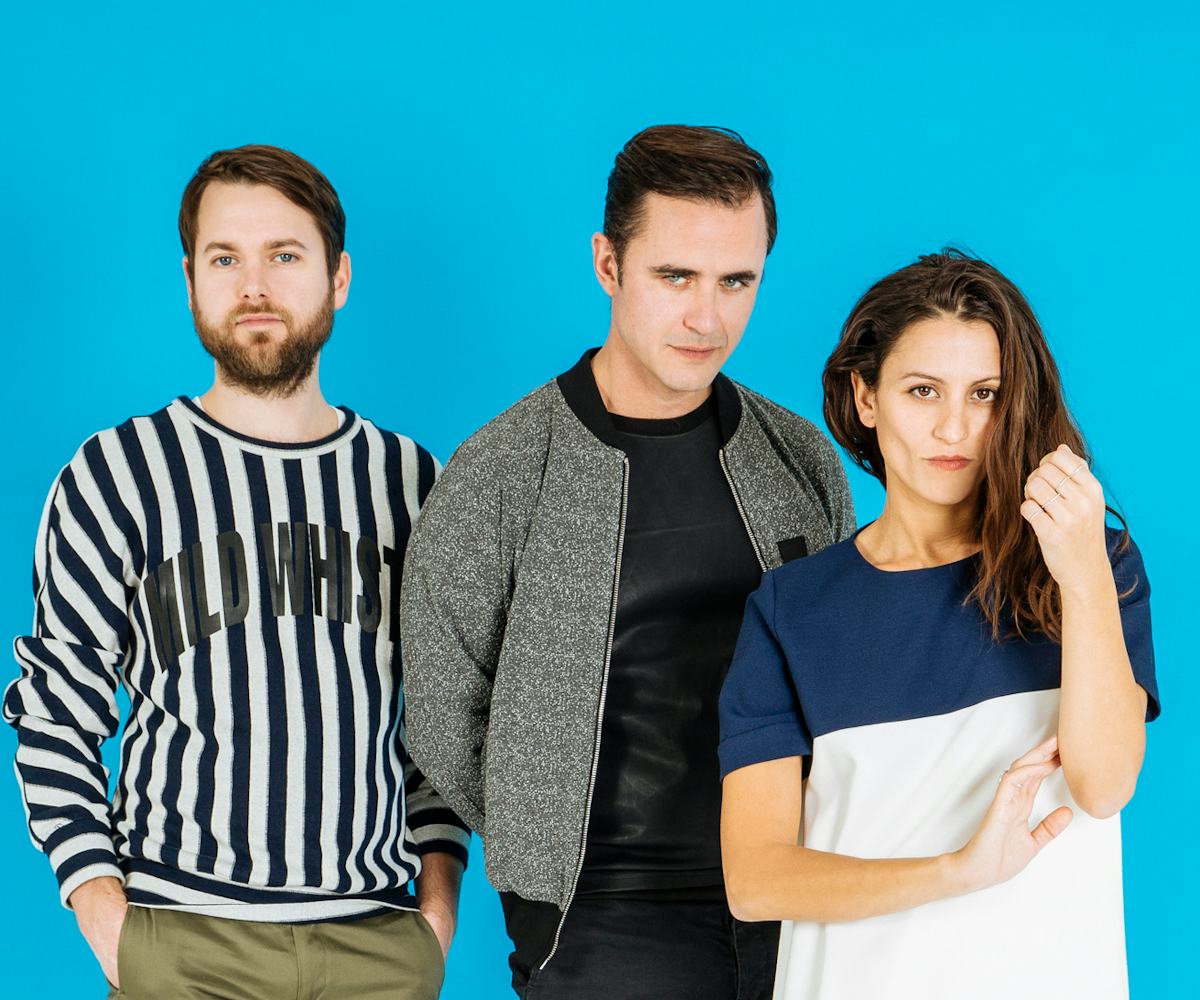 Photo courtesy of Dragonette
This Dragonette Video Will Blow Your Mind
A lot has changed since 2005, but Dragonette's presence in the electro-pop scene definitely hasn't. Way before our stratosphere revolved around EDM festivals, Dragonette was cranking out sophisticated sugary lyrics layered over synth-heavy beats. 
Since falling together at a music festival, of all places, the Canadian trio's presented the public with electronic-charged pop anthems. After a few lineup changes (it has been a full decade since their first EP was released, after all), the band currently consists of frontwoman and singer-songwriter Martina Sorbara, bassist and producer Dan Kutz, and drummer Joel Stouffer. Coming off of a four-year hiatus, the group is finally back for the turn-up.
Today, we're premiering the music video for "Body 2 Body," the latest single from their forthcoming album Royal Blues. The track uses the restrictions of pop and technology to tell the story of a modern relationship. Humanizing the energetic exploration, the video for the hit grounds the lyrics in raw So You Think You Can Dance-type choreography. 
Recently, we caught up with Sorbara to talk about the band's hiatus, iPod dance parties, and, of course, "Body 2 Body." Watch the video in full, below, and read on for our interview with the star.
It's been four years since your last album dropped. How has your sound evolved in that time?
The time in between the release of
Bodyparts
and finishing
Royal Blues
was filled with a lot of collaborations with people I'd never written with before. The intention of the writing was non-specific, other than to have more of that experience of writing from an unfamiliar place. I think that process opened the door to a lot of new ideas and musical directions dancing about with how we've done things in the past.
What was the process behind making Royal Blues?
As the principal writers in the band, the writing relationship between Dan and I suffered a huge blow when our personal relationship did. But pushing through that difficult time, by writing songs, felt like the only way to heal for both of us. We worked so hard to keep writing, even though we weren't sure where it would go and if we'd ever make it to any sort of finish line as far as an album goes. A lot of these songs were written in the absence of one another and then passed back and forth like a hot potato, which is a stark contrast to waking up in the same bed and rolling into the studio beside the bedroom. So, even though it was the hardest thing I think we've ever done, it's the thing we're most proud of. The healing that process is responsible for is invaluable.
Is there a theme for Royal Blues?
I guess the theme of this record is the fragility of love and relationships, and making sense of all the shades of gray that come along with how we humans love one another.
What is the story behind your single, "Body 2 Body"?
That song is one of many on this album that is a true representation of what Dan and I were going through. Historically, I've never been that prolific in the fiction department, and this album is no exception.
The dance vibe juxtaposed with the lyrics and video for "Body 2 Body" are super interesting. What inspired that vibe?
There's a beauty in the pain of the struggle and vicious cycle that the lyrics touch on. We wanted to show, very simply, the beauty and the pain of that struggle.
What would you say is the ideal setting to play "Body 2 Body?" 
It's one of my favorite songs of ours to sing. It is melodically challenging, and the groove always forces me to dance. It's impossible to just go through the motions with this song in rehearsals or otherwise. I haven't had the chance to see what happens to a dance party if it comes on someone's iPod, but my personal research on the subject suggests sexy dance moves ensue.
What are you most looking forward to after dropping Royal Blues?
Going on tour, obviously! Whatever has happened personally in the band, Dragonette has proven to be a rock steady family to be a part of. Our little traveling circus is, in some ways, the most comforting feeling of "home" we have. Once we settle into the groove of a tour, it's hard to imagine being anywhere else.
Has the explosion of electronic music changed the way Dragonette's music is seen?
We used to be considered more electronic than we are now, and we're more electronic than we've ever been. But I think the proliferation of the genre has created a spectrum whereas it used to just be a narrow field. We've been nudged over to a more acoustic side of the electro spectrum.
Describe Royal Blues in three words.
Heartache, love, explosion.