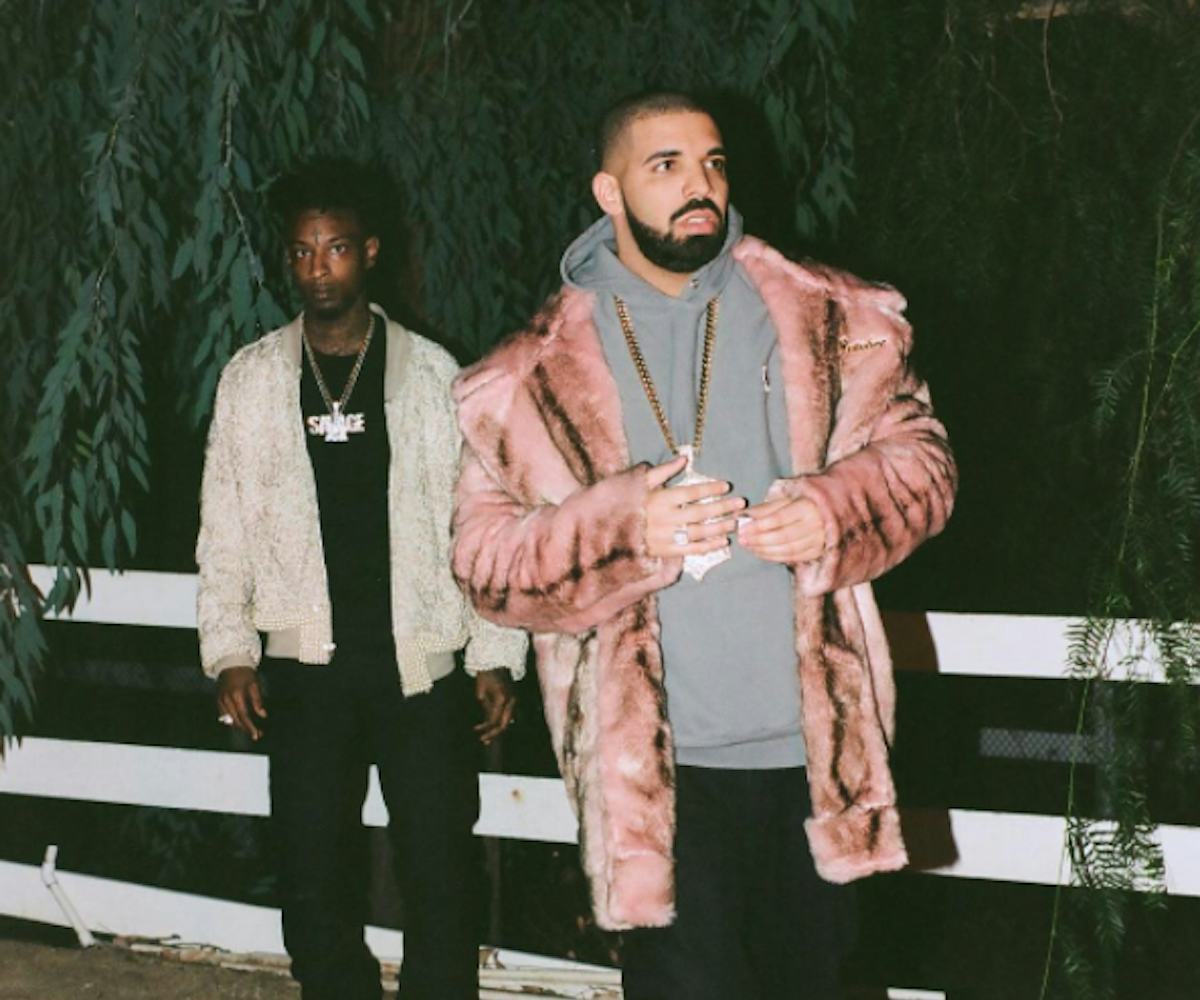 Photo via @champagnepapi/Instagram
Drake Recruits 21 Savage For His Grimy "Sneakin" Video
Another modern day Drakespeare
October may be over, but Drake is far from finished. You could say that the rapper, singer, actor, and overall entertainer is a man of all seasons with a quest to dominate the charts all year long. Now that he's broken Spotify's record for the most streamed song ever, he has to continue to deliver to the masses, though. A few weeks ago, Drake shared a handful of new tracks with us off of an upcoming project, More Life. Last night, he released the official music video for his sinister single "Sneakin," and it might be his grittiest visual yet.
Directed by Uzi, the home-movie style footage shows us a few of Drake's favorite things (note that we pronounced it like "tings" in our heads): fur coats, bling rings, gold chains, flashy cars, plastic foam cups filled to the brim with liquor, and beautiful women twerking. Oh, and there is an unlimited amount of corny dancing in case you have been struggling to understand your existence in this post-"Hotline Bling" world.
The best part might be when Champagne Papi pops a bottle of sparkling on the ladies in some sort of cave-enclosed hot tub. (Peep the casual product placement of Virginia Black in there as well.) While 21 Savage co-stars in the video, he's more like an accomplice in Drake's games as he sits and stands off to the side, probably asking himself what ever possessed him to agree to this in the first place.
Before we forget, we should warn you that some of the scenes are NSFW, so maybe refrain from putting this on full screen. Whatever is going on between Drake and Taylor Swift, we can guarantee that she would definitely not approve of these activities—Rihanna, on the other hand, would be right there with him. When you roll with Drake, there's a huge difference between the party and the after-party.
This is no "Child's Play," but we'll take what we can get from Drake. (Nobody can top a Tyra Banks performance... EVER.) Watch all the shenanigans ensue, below.