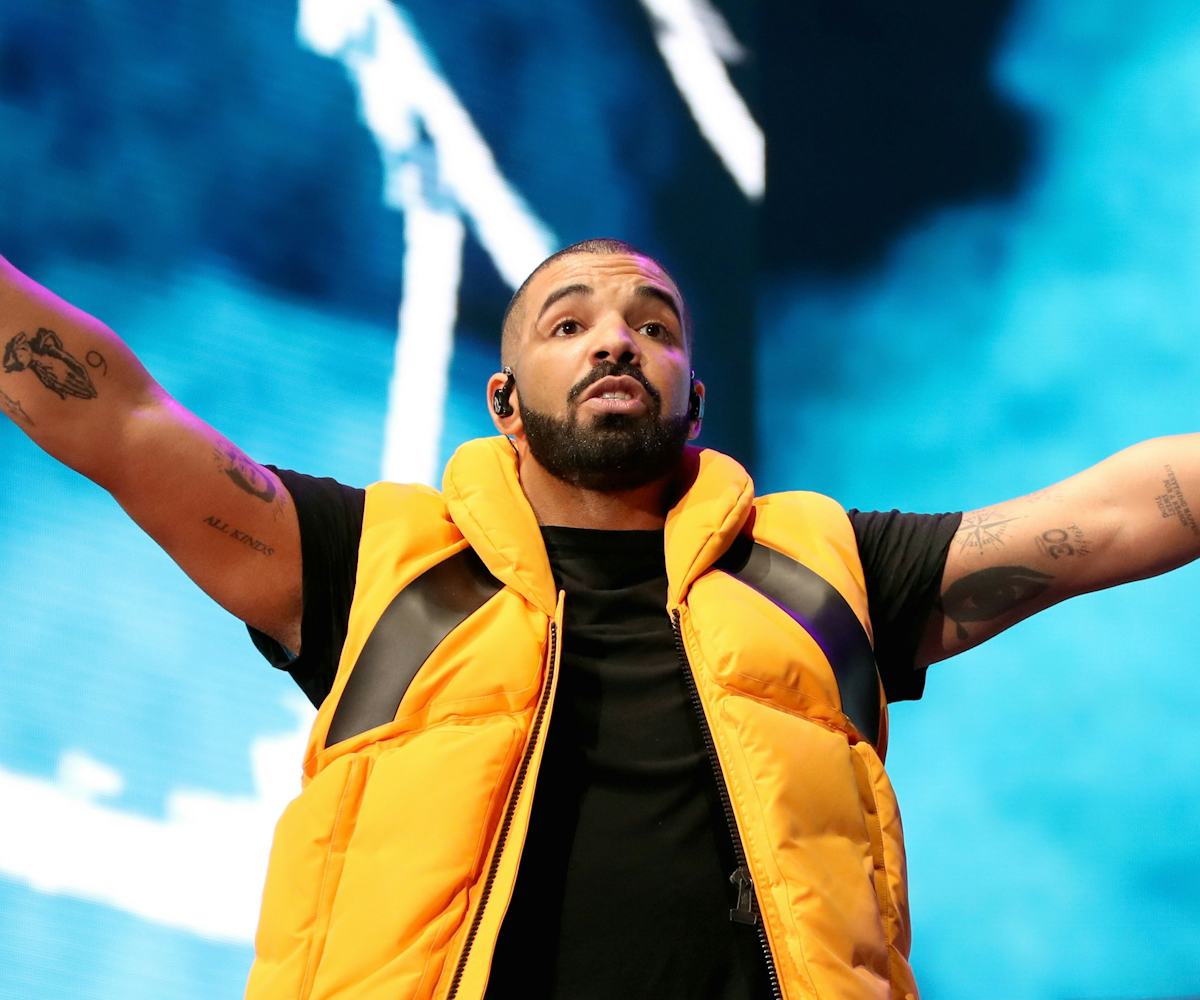 Photo by Christopher Polk/Getty Images for Coachella.
Let's Look At The Pettiest Tracks On Drake's 'Scorpion'
I legitimately never thought I'd want Drake to get back into super-introspective mode. Yet, here we are with his new album Scorpion, and I just want to just shake him and yell, "Okay, but what do you want to do?" 
After waffling through several different phases, you'd think a grown-ass man at this point in his life would have an inkling of what kind of person he is, and of what type of aesthetic and motifs reflect his inner self. Or that he would at least have enough self-knowledge to realize that, while you might be growing as an artist, if you fuck around too much, you end up burying all the good stuff that made people gravitate toward you in the first place.
When Drake shifts the focus of his art inward and allows himself to be vulnerable, reflective, and, most importantly, genuine, he excels. And while we get brief glimpses of the old Aubrey on Scorpion via classic Drake tracks like "Peak," overall, it feels like a record created to sell. Designed to cater to the news cycle and what he believes people want to hear based on the Billboard charts, rather than who he is, Scorpion is an album of fronts—and perhaps that's what makes it feel so petty. Hollow, disingenuous, and derivative, Scorpion is, in some ways, also peak Drake: temperamental, reactive, and obsessed with external expectations. It's a smokescreen of a record that screams insecurity via its indecisiveness. Add Drake's already well-known persona to the mix, and it's easy to see why the record just feels like a lot of spiteful lashing out over trivialities and shallow flexes. Following Scorpion's release last night, we decided to pick five of the pettiest tracks on the record. See if your least favorite made the cut, below.
"I'm Upset"
Let's get this one out of the way. Is there anything pettier than hitting back at the women who've "wronged" you by talking about your net worth and fronting that you'd take "money over sex"? Not only that but playing into the Madonna-whore complex—with lines like, "Thankful for the women that I know/ Can't go fifty-fifty with no ho"—is also pretty spiteful. Especially when it concerns someone who sounds like the mother of your (secret) child.
"Emotionless"
The immediate thought with this one is that it wouldn't be out of place on Kanye's cutting room floor. In between lukewarm jabs at Pusha-T, Drake also appears to take clumsy aim at West, who he apparently would have ruined with the release of his "The Story of Adidon" response (at least, according to J. Prince). Because while he may have helped West out with YE, Drake still seems to be harboring some intense resentment, if "Emotionless" is any indication. But you can definitely execute something like this in a way that isn't a blatant weaponization of a signature style complete with painfully on-the-nose disses about the fakery of Kardashian-esque social media celebrities.
"Is There More"
God, "Love certain ones but never get attached to 'em/ Give 'em nice things, but what's that to 'em?" sounds like a line straight out of something called "The Incel's Anthem."
"Summer Games"
The continued emphasis on the fact that someone broke his heart is so embarrassing, to be frank. And when the overarching takeaway from a song is that a woman should feel bad for shattering the unrealistic idealization a man has of you, that's not good. 
"Don't Matter To Me"
This is a weird one, mostly because it feels like a huge flex on Drake's part to cart out an unreleased (and likely very expensive) Michael Jackson cut. Is this Drake asserting himself as the successor of Jackson's legacy? As the king of the charts? Honestly, there's also something kind of lame and emotionally manipulative about using a late pop legend's name to sell records, but perhaps that's just me being cynical.