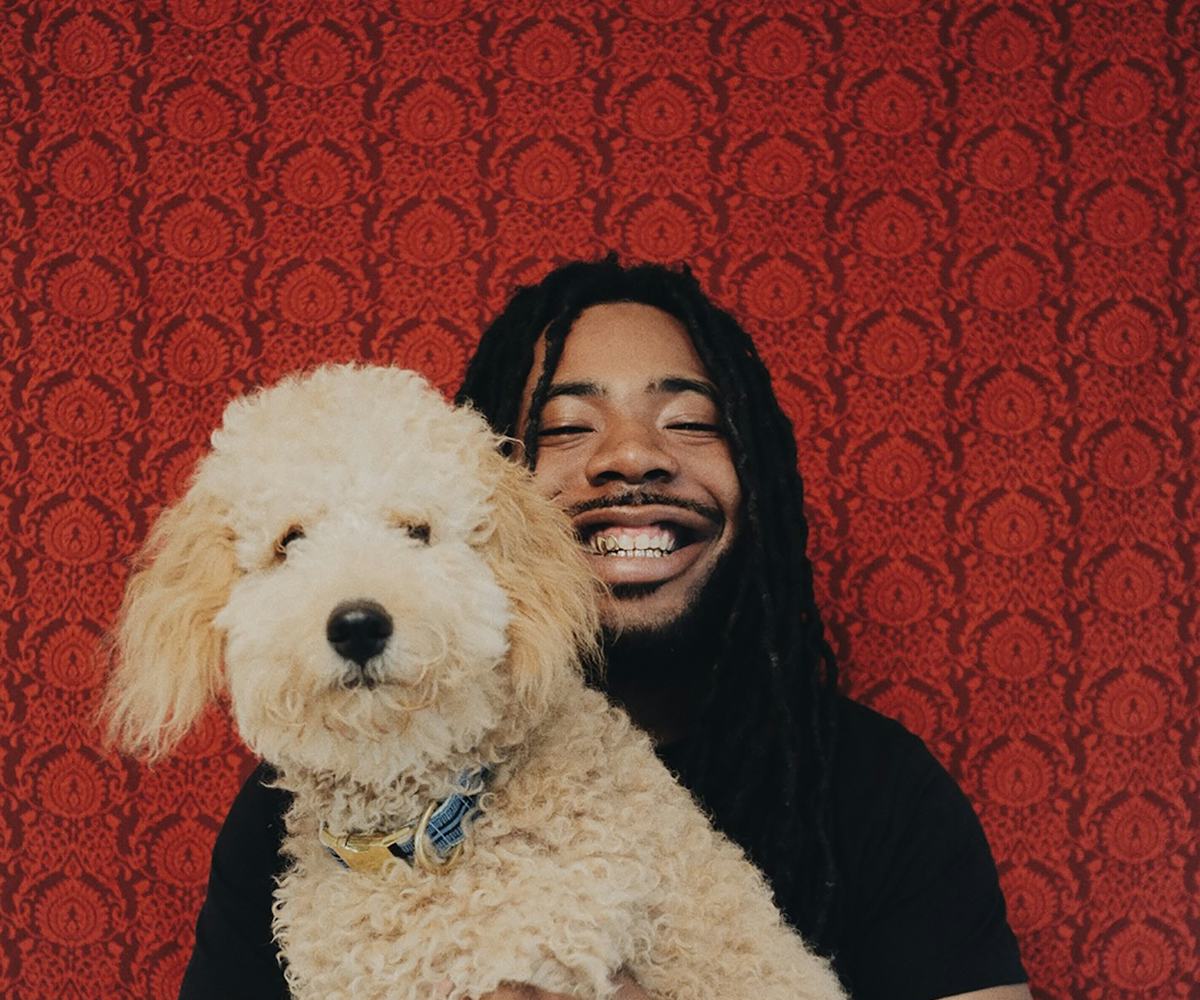 Photographed by Faye Webster.
D.R.A.M. Talks Positivity, His Love For His Dog, and Being a "Big Baby"
"I'd just rather be a breath of fresh air than a stale fart, you know?"
These days, it isn't all that easy to get D.R.A.M. on the phone. He's worth the wait, though—when I've finally snagged a couple minutes of his time, he's still riding the high of his Lil Yachty-assisted track "Broccoli" hitting No. 1 on the Billboard's rap chart, and fresh off of releasing his debut album, Big Baby D.R.A.M. While one would imagine that it's his recent successes that have lent to his affable charm, without us even being face-to-face, it soon becomes clear that this is just who he is.
The Virginia-based singer/rapper/songwriter first caught our attention with "Cha Cha," a playful, "Super Mario"-referencing tune (though the remastered version has a slightly different beat), that would, allegedly, become the building blocks for Drake's "Hotline Bling." But ownership conflicts didn't stop D.R.A.M. from building momentum and getting co-signs from the likes of Beyoncé, Chance the Rapper, and Erykah Badu, the latter of whom joins Yachty and Young Thug as the featured artists on Big Baby. Through it all, D.R.A.M. has remained infectiously positive, keeping us hooked with his unique brand of rap, R&B, and funk (not to mention his adorable dog, Idnit). Here, he tells us just why he's so lighthearted and who inspires him, and takes us back to the day he met Idnit.
For starters, at what point did you realize that you want to pursue music as your career?
Oh, man. Ever since I could remember, I've always wanted to sing. It was always pleasurable to get my sound out and to have positive responses, so when I used to sing at my family reunions, I'd always remember that because they always clapped so much. And I grew up singing in church, in the choir. But it wasn't until the end of 2010 when I really considered myself to be taking it seriously, because that's when I started doing showcases locally, performing my own things.
Some of your early music was a bit more rap-leaning, right?
Most certainly. Back in high school, especially, I really was trying to rap seriously. Rap was a little more interesting, so at the time, it seemed to be such a priority for me—come to find out, I really never stopped incorporating singing in everything that I did. But as time went on, I just really buckled down on what I considered to be good music. But I think that the music [that I've made that] the public has heard in general has all been mainstream, mostly rap shit.
When would you say that you developed the sound that you have now?
It's always been there, but I think it came more fine-tuned when I started collaborating with my guy Gabe [Niles], the producer of "Cha Cha," in the beginning of 2014, because we're both fun, free-spirited dudes, and when we're together that's the way it is.
You've talked a lot about your influences coming from Parliament Funkadelic and OutKast, but as far as your lyrics and your writing specifically, who do you think has influenced you the most?
I would say André 3000 and El DeBarge—the fact that Dré is so complex, but he still knows how to give you strong hooks and things of that nature, and El DeBarge, he sings solely from the perspective of a pretty boy. It's to the point where you get it, but it's very thoughtful. 
Even though your songs are fun, they definitely still have meaning to them, like how "Cash Machine" was about the first time you had the means to withdraw a large amount of money.
Right, exactly. That's the first time I'd ever seen that amount of money, a stack. It was like, "What the fuck." It sounds [like] you're looking at me in this bubble with me and all of my money, but everybody enjoys it when I perform it because I present it like, "This is your currency anthem, for when your parents put money into your account and you take all that shit."
In "Misunderstood," you mention being seen as a "one-trick pony." Considering a lot of people know you for your more fun songs, is it discouraging when people think that's all you're capable of?
Hell nah, because the satisfaction is much sweeter when you catch them off guard, and that's always been one of the focal points in my career and my come-up in general. Growing up and all that, there were a lot of things that I've done that just weren't expected from the average guy when you look at me on the surface. But it's cool. I like to play it off to my advantage.
Honestly, I was one of those people. I liked "Cha Cha," but it was when I realized it was you singing on "Caretaker" from Donnie Trumpet and the Social Experiment's Surf that I really started listening.
You know, I really appreciate that because as long as a person becomes a fan, it doesn't matter how long it took. Everything is already set there for you, so you can have like a three-hour listening session of my music [when you discover me].
You've been using the phrase "trappy go lucky" to describe your music. Could you explain what that means?
It's the popular, vibing songs that you hear that are "trappy go lucky." It's lighthearted sounds or melodies and a simplistic technique, but it still hits hard as fuck. If you put some harrowing tones in place of the happy ones, you'll have your traditional trap, so this version is "trappy go lucky." It's melodic and it's very welcoming, rather than push away-y. Push away-y—I know that's not a term, but I'm using that.
[Laughs] We can make it one now. Your music definitely seems to match your personality, too. What keeps you so positive?
I give off that I want back, you know? If I approach a situation with love, positivity, and good vibes, nine times out of 10, it's going to come back, and that's what I really thrive on. Overall, I like being around people I like, and I don't like being around people that I don't like. It's like a rule of thumb. I'd just rather be a breath of fresh air than a stale fart, you know?
Were you always like that, or was there a point in your life when you became really positive?
Oh, always. I loved love, always. I'm human like the next person, but I'd rather not showcase that negative energy because that's a temporary thing. I've got my people that'll calm me down when [I need it], but for the most part, I travel long days, have tough days at the airport flying all day, but as soon as I step out there on the stage, the only thing that fucking matters is the crowd, myself, and my music, and them receiving it. That it makes it all worth it. I'm here for the people.
Let's talk about your album. What would you say is the underlying story of Big Baby D.R.A.M.?
It's my life from releasing "Cha Cha" up until now. It's scattered. There are a couple moments in the project which channel a real love that I had back before "Cha Cha," which was like three or four years ago, but it's dealing with a lot of situations that I'm going through right now. Like in "Outta Sight," I'm singing about loving a girl who has to blow my phone up just for me to know that she fucks with me. I know she fucks with me. I fuck with her, too, but I'm a busy guy. Then again, if she doesn't call me at all, then I'ma be like, "Hey, whatever." Some big baby shit, you know? That's an analogy of "Big Baby," just to get away with murder. I'll cut in line at the airport, or cut in line at the bar, but give 'em a smile, and it works most of the time.
How has Big Baby evolved from your previous projects?
Gahdamn! was a bit darker, and it's really because I was going through the ups and downs, going from sleeping on my cousin's couch in Virginia Beach to traveling and really gigging and just dealing with so many things. I love slower-paced vibes, but I'm also very responsive to what I'm going through, so it was the good music that built a solid fan base for people to know me as an artist that does go through regular stuff, but at the end of the day still gives you a good, uplifting experience.
Gahdamn! was right when the success first hit, and Big Baby D.R.A.M. was me coming into a new year and [having] been around [the success]. I've come to cope with all the things that I had ill wills about. I've got a new approach. It's so crazy because we scratched most of the shit [that I recorded] for real, for real—it's like the great Gucci Mane saying, "This ain't even half my jewelry." So, Gahdamn! was coming to grips with things, and Big Baby D.R.A.M. was living in it from the perspective of already being around the country once over and going back around.
The cover for Big Baby D.R.A.M. is a symbol of your success, too—it features your dog, Idnit, who you've always wanted. What do you remember from the day you got him?
Okay, so he was born on August 30, 2015. Before he was born, we already purchased him, but he wasn't able to come home until the end of October—you have to give the dogs eight weeks when they're with their with the breeders and all that. So when the eight weeks were up, it was the end of October and I was on tour with Chance [the Rapper] at the time so my cousin's girl, who is his primary caretaker when I'm not around, she had him and she was sending me pictures of him. Finally, I had made a stop in Atlanta. At the time, I was living in Atlanta, so that was the first time that I went to my house, first time I saw my dog—all of that was all new. I came in the house, and he ran to me and I held him close. He slept with me, and from that moment on, he knew that I was his and he was mine. I always wanted a dog, and I wasn't able to get one until I had my own means of getting one, you know? It's very symbolic, and it's an accomplishment but, even more, it's emotional, the fact that I have a living, breathing creature that loves me so much. And I just love the fuck out of dogs, all dogs. But especially mine, there's no dog better than my dog. I straight up just caught a smile because I mean that shit.
I don't blame you—he's so cute! Of all the artists that you've gotten the opportunity to work with so far, who had the biggest impact on you?
That would be George Clinton because he was a huge inspiration to me before I even met him. So the fact that I got to meet him is even more lit.
So do you guys have a song coming out?
2017. To be continued.
What else can we expect next from you in the coming months?
The Big Baby D.R.A.M. Tour. It starts at the top of next year, and I'll be performing my album in full as well as a couple of classics from back in the day, and it'll be a real experience to capture the album live. It'll be a pretty big move.