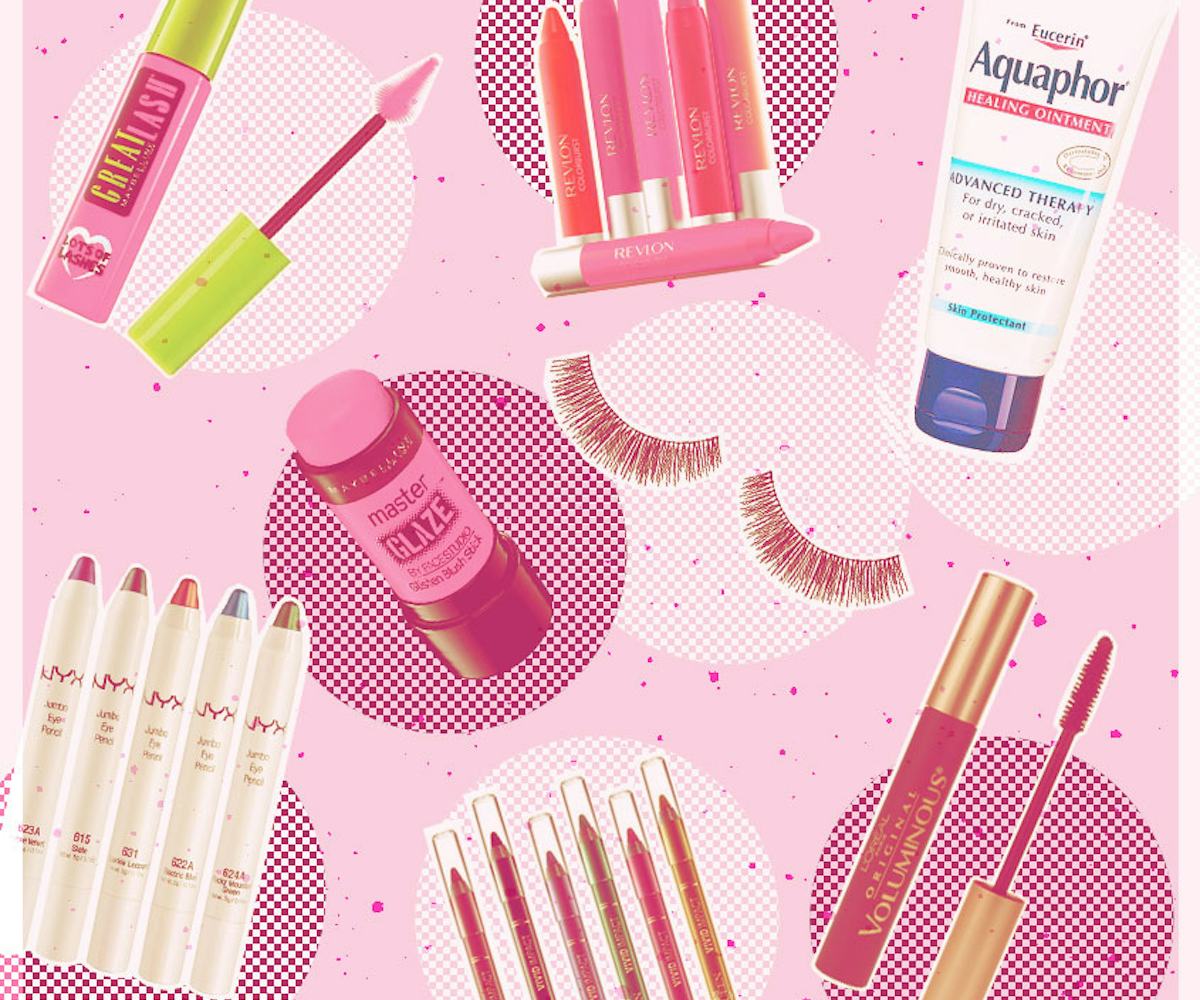 7 drugstore beauty buys the pros are obsessed with
cult-classics you can actually afford
Professional makeup artists: Always using really expensive, fancy products you can only by in Paris or Singapore, amiright?
Actually, that's a common misconception—and it isn't even close to true. The pros pick their products first and foremost based on how well they work, not what the brand name is or where it's sold. And, as it turns out, a lot of those products—the ones with a cult-following of pro makeup artists—can be found at your local drugstore. That's great news for your face and your wallet. (Things that are good for your face and wallet make us happy.)
Click through to check out the seven, pro-approved drugstore buys that'll totally change your makeup game.
You've probably already tried Maybelline's classic mascara—Great Lash—in that iconic pink and green tube, but according to makeup artist Janessa Paré, the brand actually makes one that's even better. "Great Lash Lots of Lash is a totally different beast," she says, citing it as her drugstore must-have. "Thickening, lengthening, non-clumping—and best of all it doesn't flake, and washes off fully without an oil-based remover." Finally, Janessa adds, "The tapered-end shape of the brush allows women more control for short lashes than some of the huge brushes we love."
Maybelline, Great Lash Lots of Lash mascara, $4.39, available at drugstore.com
For makeup artist James Vincent, Aquaphor is where it's at: "Aquaphor is the most brilliant product for healing dry, rough, or damaged skin, or adding strategic shine for photos," he says. "It's also perfect for healing everything from chapped lips to cuticles, and turning any powder shadow into the most exotic-looking eye. A little goes a long way and one tube lasts forever." Makeup artist Tina Turnbow agrees, telling us that this ointment is her go-to, "For everything dewy, smudgy eyes and lips, and highlighting cheekbones."
Aquaphor, Healing Skin Ointment, $6.29, available at Walgreens
"It's thickening, lengthening, gets better as it dries out—and is dirt cheap," says makeup artist Ashleigh Ciucci. (It's also a favorite among NYLON editors, especially the one writing this story.)
L'Oreal, Voluminous Mascara, $5.89, available at Target
These chubby crayons don't just look cute—the pros love them for their formula. Ashleigh says, "The color range is wide, payoff is luxury quality, and it has a nice minty feel on the lips."
Revlon, ColorBurst Matte Lip Balm, $8.99, available at Walgreens
If you're looking for a vibrant eyeliner that truly does it all, check out these pencils. Ashleigh loves them for their color range, and the fact that they're both "blendable and buildable"—which is makeup-artist speak for the fact that you can make them sheer or opaque depending on how many layers you pile on. "They also double as a shadow base," she adds.
NYX, Jumbo Eye Pencil, $4.49, available at CVS
These eyeliners come in vibrant, bold shades, but makeup artists love them because of their smooth, easy-to-apply formula, and the fact that they stay on forever.
CoverGirl Queen Collection, Vivid Impact Eyeliner, $8.99, available at Walgreens
"This is the best cream blush in the mass market," Ashleigh tells us. "While the shade range is still growing they all work on all skin tones, from fair to dark."
Maybelline New York, Face Studio Master Glaze Glisten Blush Stick, $8.99, available at CVS