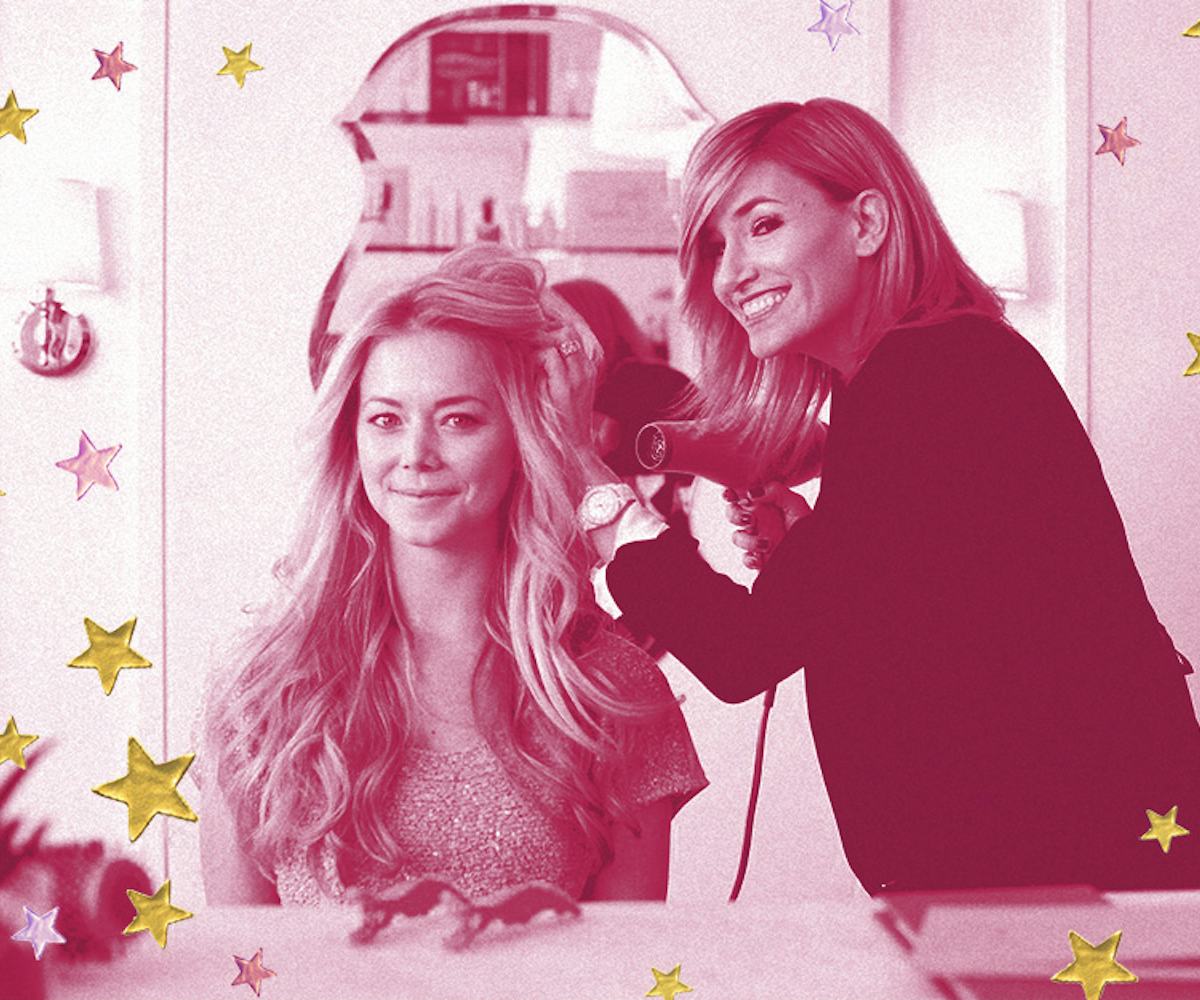 Photo via Alli Webb
Drybar Founder Alli Webb Explains Why The Blowout Trend Won't Blow Out
know before you blow (dry)
No cuts, no color, just blowouts. This is Drybar founder Alli Webb's proposition. The blow-dry bar opened its second Chicago spot just this past week, becoming its forty-eighth location. We sat down with Webb to talk all things Drybar and innovation in the beauty industry. But after watching her blow-dry customers herself, we realized Webb is truly a woman after our own hearts—having both killer business and beauty instincts. Naturally, we couldn't leave without picking up a few style tips from her, too.
So what's up with the name? Webb explained her vision for Drybar was based on the concept of a bar. White marble bars run vertically through each space, while comfy salon chairs line up one after the other, replacing barstools. "I wanted it to feel like you were actually sitting at a bar," says Webb. Drybar's expansive product and tool selection is stacked on mirrored shelves behind the "bars," where you'd normally see liquor bottles. Products are named after popular drinks, like the Hot Toddy Heat Protector and Frizz Fighter and the Full Pint Large Round Brush. These unique, creative touches are some of the ways Drybar differs from other blow-dry bars and salons.
We were particularly curious to ask Webb about the recent explosion of the blow-dry bar concept. What makes Drybar, among other blow-dry bars, so appealing to consumers, other than a super-sleek blowout? Why head to Drybar instead of your normal salon? According to Webb, there are multiple reasons. First, there's the price difference. Drybar offers $40 for a customized blowout, while many salons charge upwards of $60. Customers also take comfort in the fact that no one at a blow-dry bar will pester them to spend on additional services. "There was nowhere for women to go for just a blowout, where they weren't being told their ends needed trimming or their color was off," says Webb.
But Webb pointed out an unexpected third reason her line of business may be blowing up (and out). 
"We're serious about hair at Drybar, but you can experiment with blowouts in a way you can't with cutting and coloring. You can't really mess them up—it's just more fun!"
Webb was a pioneer in recognizing the potential of the blow-dry bar. Armed with a beauty school background and training with multiple renowned hairstylists, Webb started a mobile blow-dry business after a few years of being a stay at home mom. "I was running around L.A. with my duffle bag full of blow dryers and brushes," says Webb. "I was so busy, but then it dawned on me—where do my clients go when I can't make it to them?" Turns out, her customers went to salons and overpaid, or headed to discount chain stores that didn't offer the same level of service or skill. "I, personally, knew enough women to know I could make a business work. I partnered with my brother Michael and husband Cameron, and we opened our first location in Los Angeles in 2010."
Though Webb and her team have grown enormously in five years, she reiterates that Drybar's focus will remain just on blowouts. "We'll never add other services, like manicures or makeup," says Webb. "I feel very strongly about focusing on one thing and being the very best at it—and, for us that's blowouts." This, too, may ultimately differentiate Drybar from competitors in the market.
But, could 
just
blowouts ever get, well, boring? After all, half the fun of getting a manicure is the ability to temporarily experiment, even on a weekly basis. Webb assured us that though there's a sole focus on blowouts, that doesn't mean there's only one blowout option. Drybar has a "menu"
(staying true to the bar theme) with multiple looks to select. The "Mai Tai"
features beachy waves, while the "Straight Up"
gives you a sleek, shiny style. (There's even a "Shirley Temple" 
for the kiddos.) If you're unsure, a Drybar "bartender" (a.k.a., stylist) is there to assist.
Webb predicts curls and lots of volume will be popular this upcoming holiday season. "Big hair and the holidays—they just go together," she says. "The holidays are a little fancier, and any type of curl, loose or tight, can bring that element to hair." She suggests checking out Drybar's "The Cosmo" style for inspiration and "The 3-Day Bender" iron to achieve the perfect curl.
Looking big picture, blow-dry bars like Drybar are transforming the beauty industry, and how customers perceive and spend on beauty. Centered only on blowouts, Drybar shakes up the conventional notion of a salon, where customers may be inundated with services and pay more. Drybar may also change how women view blowouts, with their on-demand, relatively inexpensive service. By simply walking in and getting styled for $40, a blowout becomes an easy, affordable luxury that's comparable to a manicure, pedicure or eyebrow wax. Rather than reserving blowouts for weddings and special events, they can be a weekly treat that puts extra pep in your step, and at your roots.
We think Webb would agree—isn't that what beauty's all about?