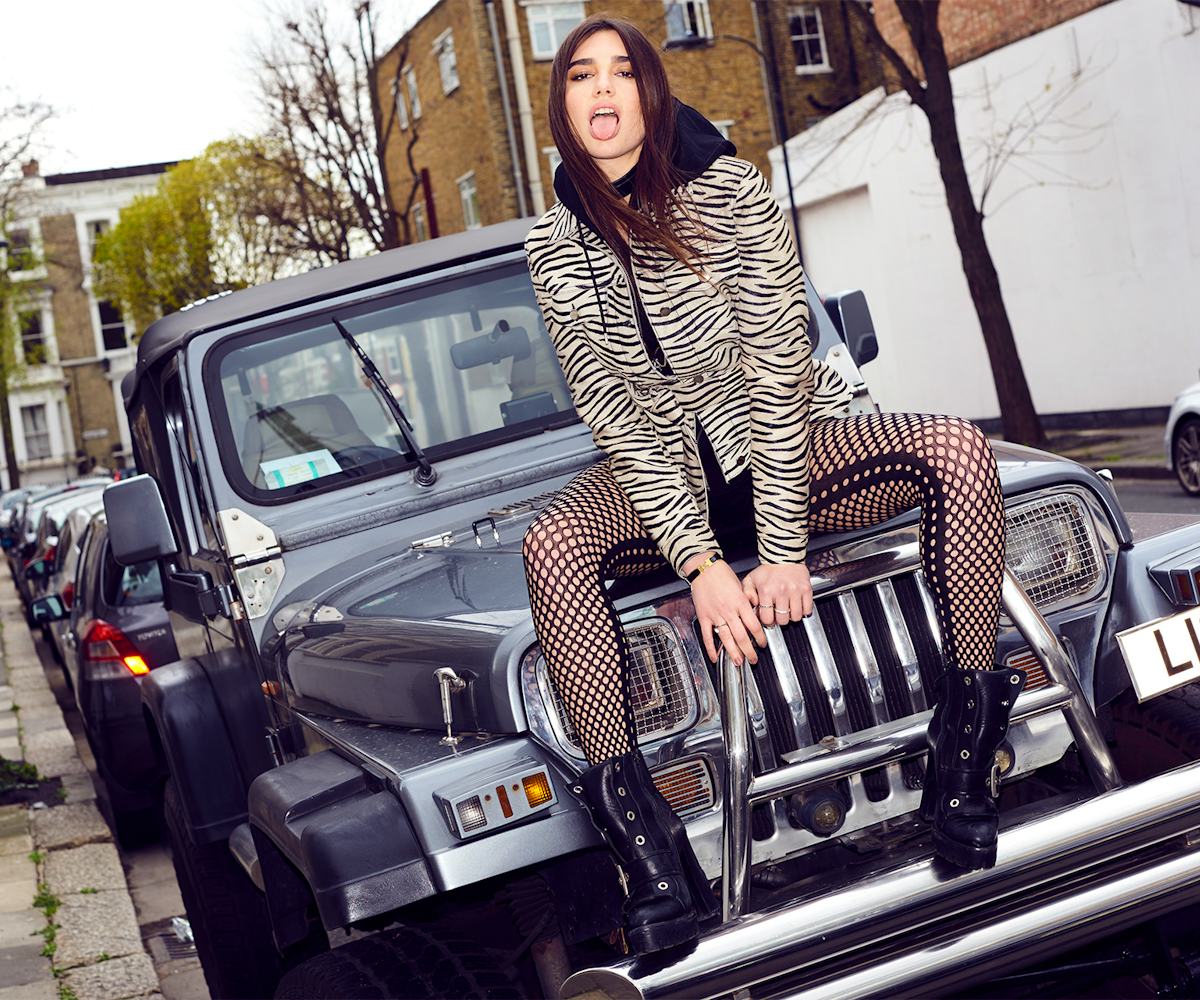 Photographed by Bella Howard. Styled by Lorenzo Posocco. Jacket and sweatshirt by McQ Alexander McQueen, tights by Emilio Cavallini, choker by Fleet Ilya worn throughout, Lipa's own boots, and jewelry worn throughout.
Dua Lipa Goes Animal Style
…while wearing the fiercest fashions in our annual Music Issue
The following feature appears in the June/July 2016 issue of NYLON.
Even over a transatlantic phone connection, Dua Lipa sounds elated. The British-Kosovan vocalist is calling from Sydney, Australia, where she's just wrapped a performance on a local television program. ("Everything makes sense after you do a show," she declares.) But there's also a hint of nerves in her voice as she describes what's next: releasing her debut album this fall. Even though it's 99 percent finished, and she's pleased with the genre-bending results, Lipa admits that sending her art into the world is making her anxious. "I just want it to be the perfect representation of everything I've worked on for the last year and a half," she says of the record, which is inspired by the likes of J. Cole, Pink, Kendrick Lamar, and Nelly Furtado. "I've kept it so close to my heart, but now it's time to put it out there."
Click through the gallery to read the rest of the feature. 
These jitters are only natural, as the album represents the realization of a lifetime goal for the 20-year-old artist. The daughter of Kosovan rock star Dukagjin Lipa, music is not only in her blood, but in her soul. So strong was her resolve to become a professional singer that when her family relocated from London to Kosovo, Lipa returned to the U.K. a year later on her own at 15 to concentrate on building a career. "Don't give up on your dreams, work hard, never have a plan B, and don't let boys be mean to you," she says with a laugh of the guiding principles she gleaned during that time.
Shortly after finishing school, but before starting college, Lipa got her big break: "I found a manager and I told my parents that my gap year turned into a gap life," she recalls. "I'm never going back."
Lipa's still-untitled album follows in the footsteps of her four released tracks to date—including her hit "Be the One"—which pair her sensuous alto with electro-pop riffs and R&B beats. On the surface it's the perfect club music, with sticky hooks cutting through moody melodies. But underneath, it tells a different tale. "A lot of the stories, they're not happy," she explains. "I find the darkness in everything. You'll dance along to it, but when you listen to the lyrics you'll be like, 'Oh shit, what is going on in her head?'"
Lipa remains pragmatic about the fairy dust that's been sprinkled on her career to date, but confident that this is the job she was born for. "I believe in fate," she adds. So do we.
Hair: Anna Cofone at The Wall Group using Oribe. Makeup: Francesca Brazzo using M.A.C Cosmetics. Stylist's assistant: Margherita Alaimo.