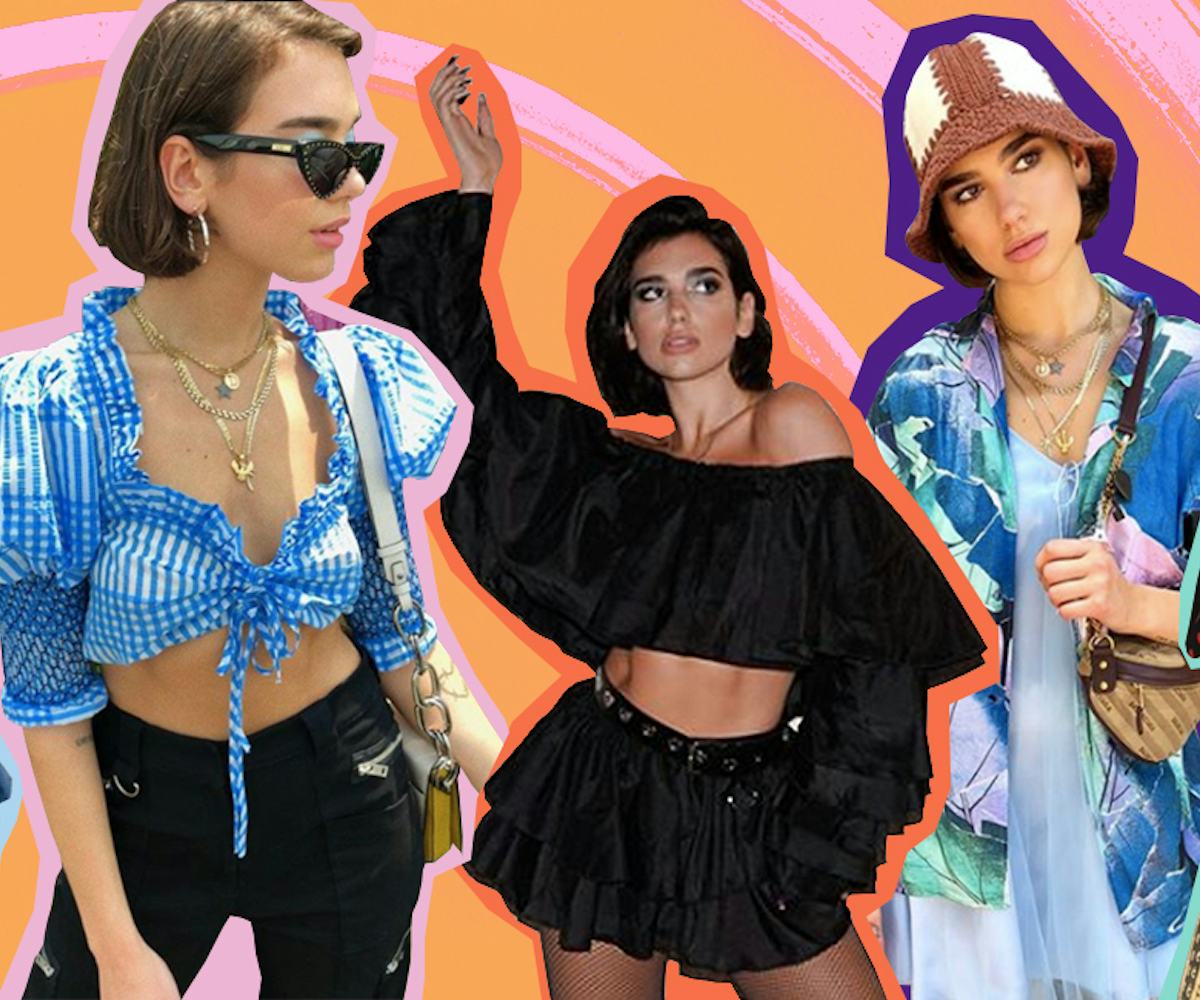 Photos Via Instagram.
Dua Lipa Is The Ultimate Summer Style Icon
You've undoubtedly heard Dua Lipa and her gorgeous husky voice at some point—even if you, like Wendy Williams, think of her as Dula Peep. But it's not her music we want to talk about right now, even if she does have a song of the summer contender on her hands—instead, it's her perfect summer style.
I'd noticed Lipa's style for a while, but the first time I really took notice was when I saw her on my Instagram feed in a green checkered Jonathan Anderson x Opening Ceremony two-piece. She wore the outfit with a pair of platform green sandals while squatting under the Las Vegas sun, her body language clear: Pay attention, or don't. I'm not doing this for you.
I've paid attention, though—particularly to her outfits from the last couple of months, which are best described as quintessential summer wears. And while Lipa has a stylist (Lorenzo Posocco)—most celebrities do—that doesn't mean her style isn't her own. Venture back a couple of years in her feed, before she blew up, and you'll notice her fashion sense has stayed pretty consistent, a combination of Aaliyah in her heyday and a young Drew Barrymore. She straddles the line between boyish and feminine, taking risks on both sides. "I've never really wanted to put myself in a box and say, 'This is my style and these are my style staples.' I love to experiment and play around," she told Refinery29 earlier this year. "It's kind of like music: The sound doesn't just include the face of the artist. And the artist should wear the clothes, not the other way around. Fashion can't be forced."
And yet, Lipa does have some recognizable staples. For instance, she has yet to meet a bralette and track pant she didn't like… and that didn't like her back. Take this star top and green Adidas drawstring moment. Her layered necklace and barbed wire heart tattoo add flair to what would otherwise be a simple look. 
On the flip side, she's also partial to a good dress. Minis seem to be her favorite, but we love both this stunning nude couture gown she wore while in Paris and a polka dot dress, slit up to her waist, paired with a yellow beret that reads "Solidarity."
What really makes Lipa stand out is that she has fun experimenting. Her long legs and access to different brands give her that luxury, but for every designer outfit and pair of heels she wears, she balances it with a tropical shirt, bike shorts, dad sneakers, and a bucket hat. It's about having not only the range but also the courage to wear a dainty blouse one day and overalls worn with nothing underneath the next. It's about, well, not giving a fuck. Or, giving all the fucks about how you look, but not caring what anyone else thinks. 
Check out some of our favorite 'fits from Lipa, ahead. Last summer, the singer gave us rules to avoid getting back together with your ex, this year she's giving us inspiration for stylin' on 'em.