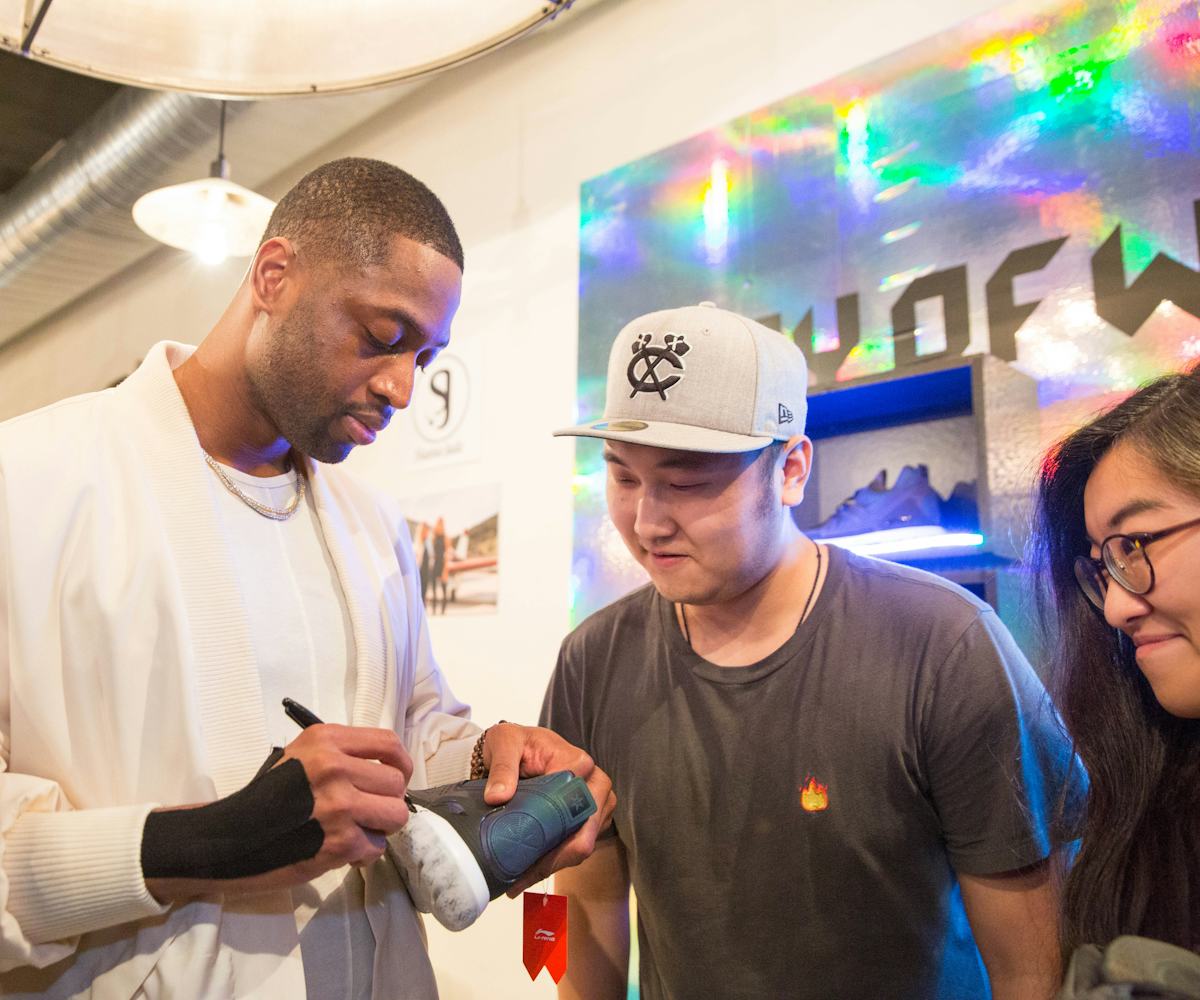 Photo courtesy of Way of Wade.
Dwyane Wade Is Making His Way In The Fashion World
He chats with us about his most recent Way of Wade 5 sneaker, the All-Star
One of the best parts of NBA All-Star Weekend—besides the parties, the competitions, and, you know, the actual game—is all of the apparel that's designed to commemorate the festivities. This year, Dwyane Wade took things a step further, not only releasing a special edition of his Way of Wade 5 sneaker, but debuting it right in NOLA at D&G: A His & Hers Pop-Up Fancy Experience, a pop-up shop created in part by Fancy.com that retailed apparel by both the basketball superstar and his wife, actress/fashionista Gabrielle Union.   
"I think the All Star sneaker has become an exciting part of the brand," Wade said after he's gotten a quick break from doing his rounds on the store's floor. "A lot of our fans look forward to this moment, so we're always trying to think of ways to outdo ourselves." 
That he and his team did: The WoW5 customized for this year's All-Star Weekend features a sleek silhouette in a black-and-white colorway, with a semi-clear rubber sole, but there's more to it than meets the eye—in direct light, the shoe reflects back an iridescent medley of blue, purple, and yellow that's enhanced when it's hit with a camera flash, and the sole glows green in the dark. "The concept behind it was to offer a colorway that can be worn with anything, so I went with a black-and-white for the theme, but I wanted to make the shoe so special that people would want to put it back in the box," Wade adds. 
The 13-time All-Star and three-time NBA Champion has come a long way, sartorially, from his early years in the league. "You should've seen the way I dressed—awful!" he says with a laugh. "I always liked dressing, but I started to enjoy fashion a little more once I got a stylist. I started to learn about it more. Then when I started going to fashion shows and things like that, it just opened my mind up to what can be." Now, he counts Louis Vuitton and Dsquared2—the latter of whom he's collaborating with for an upcoming collection—among his favorite brands, but he finds himself gravitating more toward specific pieces rather than particular designers. "I go to these shows and look for things that catch my eye. Tonight I'm wearing a shirt by Rick Owens—he wears these sleeveless shirts, and it's the main piece I'll get by him. But I respect designers, whether it's the big designers that we all know—the YSLs, the Louis Vuittons—or the smaller designers that most people don't know." 
The All-Star WoW 5 retails for $165—check it out below and cop it here (if you're fast enough, of course).