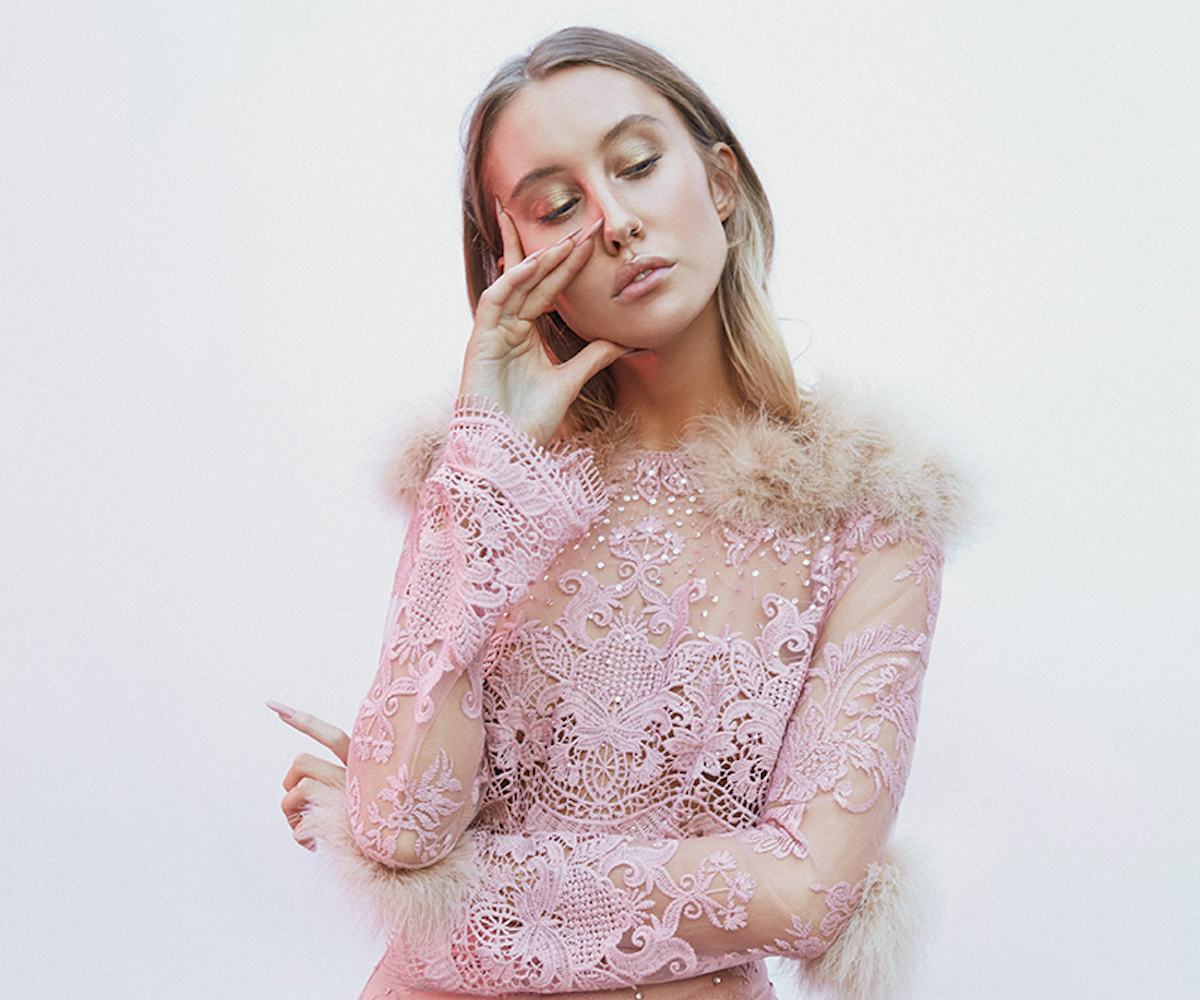 Photo courtesy of Dyspnea
Dyspnea's Latest Collection Is All About The Romance
Take a peek at Erotique, and get ready to fall in love
If you're not already familiar with the brand Dyspnea, you're about to fall in love. The Aussie-based clothing line is the lovechild of two BFF's, Rachel Motteram and Jameem Zalfen, and they're back with a new collection that will leave you starry-eyed.
Erotique, Dyspnea's spring summer 2017 collection, is dreamy, whimsical, and romantic—and the brand's first foray into lingerie and swimwear.
In addition to the typical smattering of tulle, silk, and fluffiness (don't worry, the brand uses faux-fur only), Erotique has a much more romantic feel. Lustrous lace and embroidery add a delicate and feminine touch to the collection, while sequined bra and panty sets and voluminous tulle skirts stay true to the brand's "wild at heart" personality. Front slit silk trousers, shimmering satin oversized blazers, and breezy button downs add sophistication to the collection—and don't worry, there are still plenty of silk slip dresses. Of course, you can expect the majority of the pieces to be shown in their signature shade of pastel pink.
It's no surprise that Dyspnea is a favorite amongst celebs like Miley Cyrus and It girl models. Click through the gallery below to check out the full collection, and watch out for it to hit stores next month. 
Erotique, Dyspnea Spring Summer 2017
Erotique, Dyspnea Spring Summer 2017
Erotique, Dyspnea Spring Summer 2017
Erotique, Dyspnea Spring Summer 2017
Erotique, Dyspnea Spring Summer 2017
Erotique, Dyspnea Spring Summer 2017
Erotique, Dyspnea Spring Summer 2017
Erotique, Dyspnea Spring Summer 2017
Erotique, Dyspnea Spring Summer 2017
Erotique, Dyspnea Spring Summer 2017
Erotique, Dyspnea Spring Summer 2017
Erotique, Dyspnea Spring Summer 2017
Erotique, Dyspnea Spring Summer 2017
Erotique, Dyspnea Spring Summer 2017
Erotique, Dyspnea Spring Summer 2017
Erotique, Dyspnea Spring Summer 2017
Erotique, Dyspnea Spring Summer 2017
Erotique, Dyspnea Spring Summer 2017
Erotique, Dyspnea Spring Summer 2017
Erotique, Dyspnea Spring Summer 2017
Erotique, Dyspnea Spring Summer 2017
Erotique, Dyspnea Spring Summer 2017
Erotique, Dyspnea Spring Summer 2017
Erotique, Dyspnea Spring Summer 2017