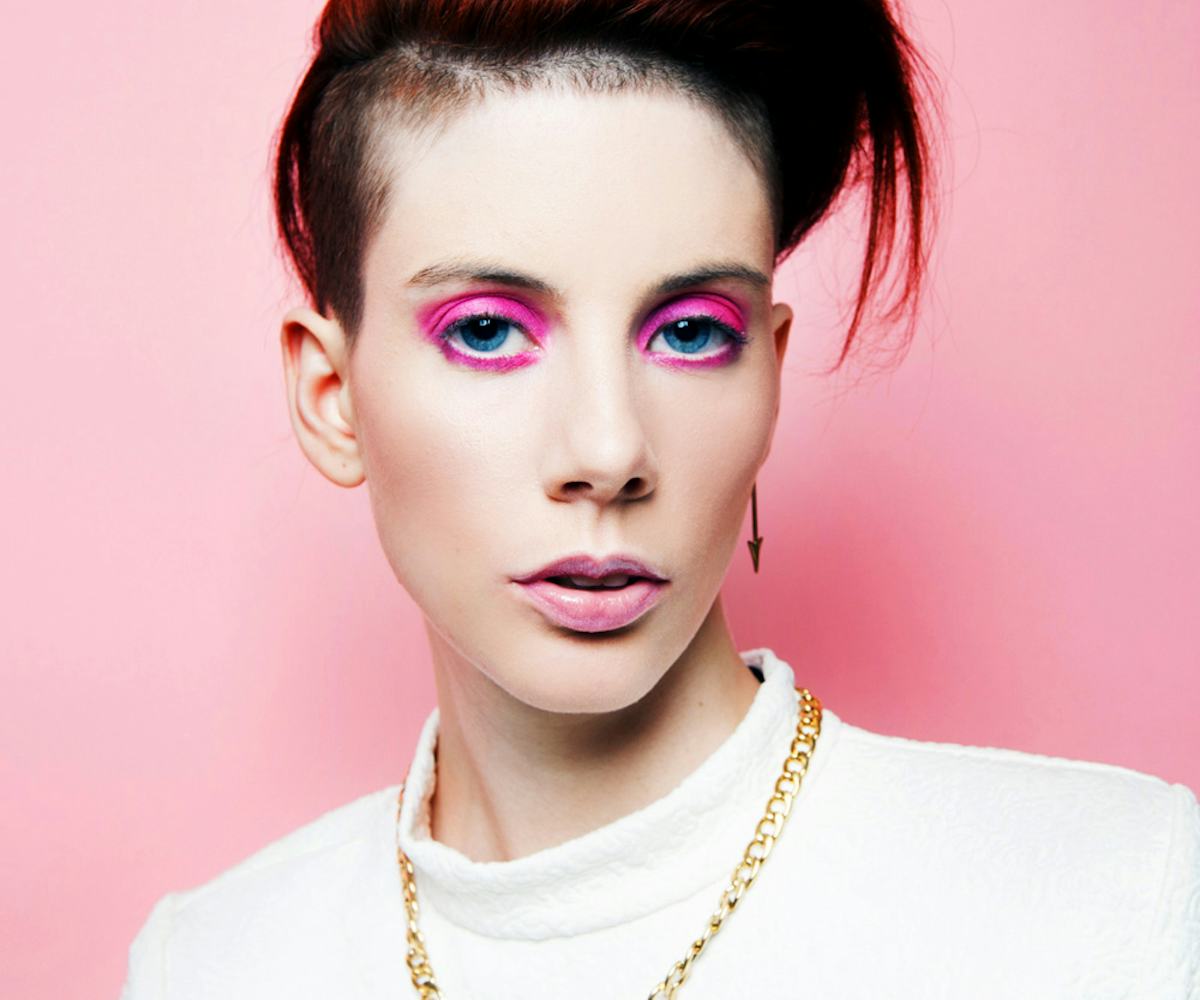 photos by suzanne darcy
easy, awesome valentine's day makeup
This Valentine's Day, whether you're planning on smooching your cat, your dog, or your crush, one thing's for sure: Your makeup should be the least of your worries. After all, nothing kills a romantic evening like running late because you can't decide what lipstick to put on. That doesn't mean we recommend opting out of lipstick altogether—for beauty lovers, this is one of the most fun holidays for makeup experimentation. The trick? Finding a look that's as easy as it is awesome... Which is where we come in.
We brought in makeup artist Clarissa Luna and charged her with coming up with four different, super-edgy, V-day-perfect looks that can be done quickly. Read on for what she came up with.
Makeup by Clarissa Luna; Photographed by Suzanne Darcy; Modeled by Anna Riccardi.
Neon Lips 
Contrary to popular belief, you don't have to choose between making out and maintaining perfect lipstick. This liquid lippie lasts approximately forever, and it's velvety texture means it's less drying than similar products. It goes on opaque with just one or two swipes, and as our makeup artist points out, the brush is so stiff that you don't need lip liner. Just swipe it on and go. We're totally obsessed with this hotter-than-hot pink, which is so vibrant it almost glows: It's a great alternative to a more classic red pout. And, if you have five extra minutes, try adding a cat-eye to your bold-lip look. Don't worry about being too delicate with your flick's shape: The lip is so pretty here that you can make the eye a little bit edgier. For the perfect cat-eye, Clarrisa says, "Start with the wing first! Create a diagonal line for the flick, and then drag it across the lash line." She also recommends not going too close to your lash line in this first step. Create the shape you want and then fill it in. 
Stila Stay All Day Liquid Lipstick in Fiore, $22; Sephora Dramatic Line 24HR Eyeliner, $14; Ukele Anika Sheer White Top, $170; Xevana Fenyx Stacklace, $186.
Goth Girl In Love
For a take on V-Day beauty that's a little darker (yet still totally gorgeous!), try this eye makeup trick. Grab a big, waterproof black eyeliner and fill in your lower waterline with it. Don't be afraid to really pile it on. Then, take a pink eyeshadow, and apply it right below the black eyeliner. Don't be too neat; smudge the two colors together with your finger so that they fade into each other. Toss on a few coats of mascara, and you've got yourself an edgy take on the theme. If you want to soften the look up a bit, do as our makeup artist did and dab some hot pink lip gloss into the center of your lips: "Then, press your lips together for an instant popsicle-stained pout," Clarissa says. 
Rimmel London Scandal Eyes Waterproof Kohl Eyeliner in Black, $4.49; Make Up For Ever Artist Shadow in Mauve Satin, $21; Gasoline Glamour Lolita Sunnies, $50.
Blush More
To make a statement, you don't need lipstick—or even eye makeup—if that's not what you're into. Instead, use some hot-pink blush for a flushed effect. Clarissa recommends using your finger to pat on some blush to the applies of your cheek, blending it out in a circular motion for a natural vibe. Once you've got that blended-out circle, take what's left on your finger and pat it outwards towards your ear. To pick the perfect eye-catching blush hue, she says to think in opposites: "If you have a warmer skin tone, choose a cool tone, and vice versa, so that it pops, making more of a shocking statement." To make this look a little more festive, try adding some sparkly lip gloss. This'll keep the focus on your cheeks while tying everything together.
ColourPop Pie, $8; MAC Dazzleglass in Bare Necessity, $20; Xevana Multi-Way Stacklace, $137.
Pink Eye
Got a fear of pink eyeshadow? Now's the time to get over it—especially once you see how cool it can look. This is pretty much a one-product look: Clarissa used her index finger to apply the hot-pink shadow on the eyelids up to the crease, intentionally being a little bit messy with the color, and then used her pinky to bring it across the lower lash line. "You'll get a rocker-chick vibe if you don't worry about being precise," she says. Skip the eyeliner, which would take away from the vibrancy of the eyeshadow, and instead pile on some mascara. Then go find someplace with a lot of foot traffic and lean casually against a wall: We're certain you'll end up on a street-style blog in no time. 
Make Up For Ever Star Powder in Iridescent Fuchsia 951, $20; Samii Ryan New Beginnings Necklace, $40.