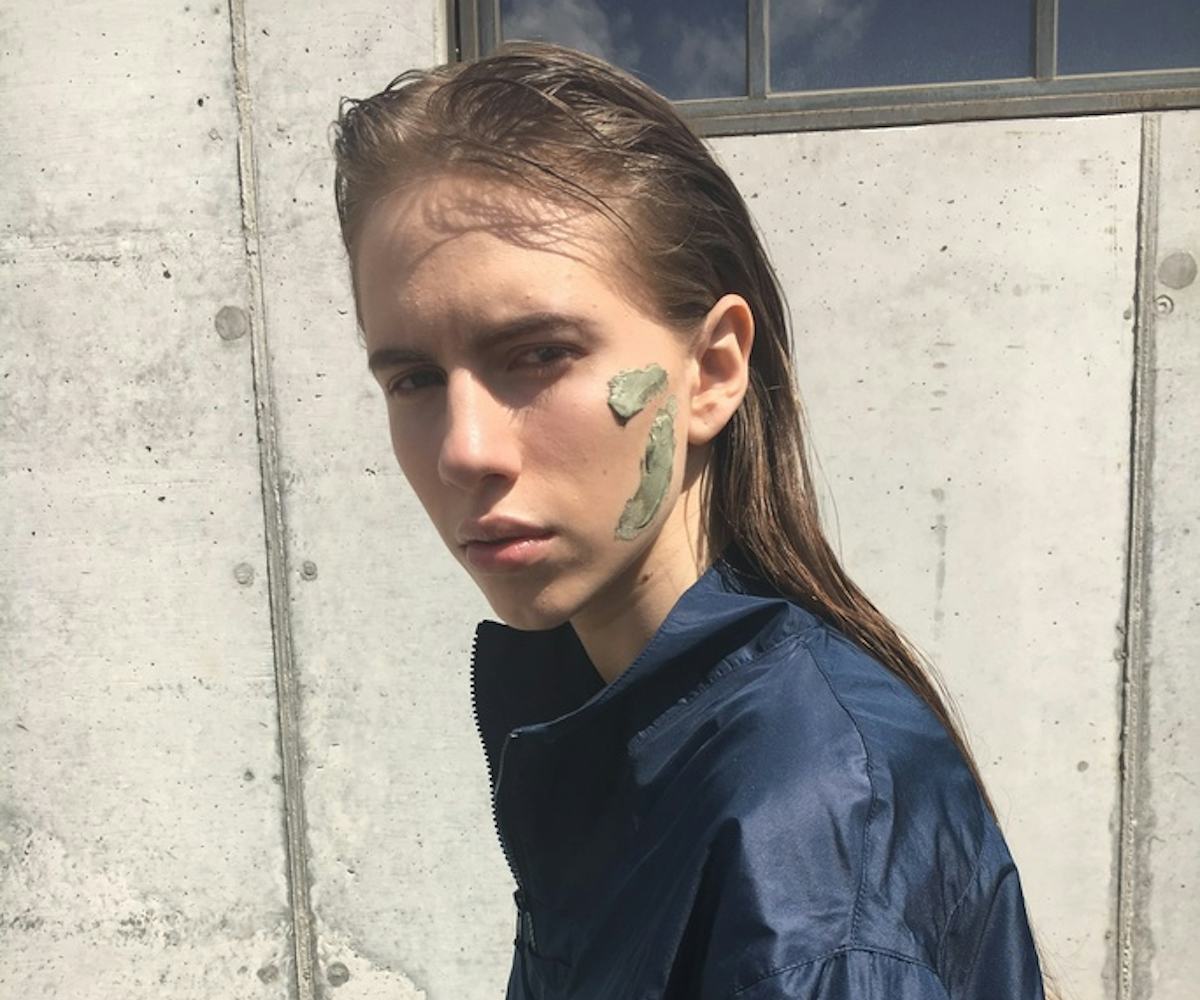 Photo by Jenna Igneri
Eckhaus Latta Made An Important Statement With Its Beauty Looks
The brand highlighted the importance of self-care and what goes into a runway beauty look
As a beauty editor, I see a lot that goes on behind the scenes before a runway show takes place, checking out what's happening backstage hours before showtime. From personal experience, I can tell you that no matter the look, whether it's a full face of vibrant and colorful makeup or a dewy-but-bare approach, there's a lot of skin-care prep that goes into it.
Many times, I'll see one model having her lids painted, while the model in the chair next to her—next in line—is sitting (and relaxing, I assume) while having her face massaged with rosehip oil. I've seen full-on sheet mask stations at various backstages. The list goes on. With that being said, the attendees watching the actual production seldom see what actually goes into creating that look.
That's where Eckhaus Latta steps in, taking a more nontraditional route to beauty. At this afternoon's runway show, they wanted to show the audience the process that goes into preparing the skin for a runway show, rather than focus on a full-on look.
Instead of a pop of color or a barely-there lip, models were barefaced with artfully placed smears of Immunocologie's Vital Clay Mask—a mask that extracts impurities and detoxifies the skin—by makeup artist Kanako Takase. The result? A look that's minimal and clean, but just as impactful as the collection itself. Not to mention, quite the treatment for models whose complexions face a battering during a busy week of runway show after runway show.
Ryan Knowles of Immunocologie spoke to me about the importance of skin care and self-care when it comes to applying makeup—whether it's for every day or for the catwalk. "What do we all do to make our makeup feel and look good? A lot of times at fashion shows, there's a lot that goes into what gets them there, but we never really see it," he says.
To complete the look, models donned slicked-back, wet-looking hair by Holli Smith for Oribe. For added effect, some of the models wore the clay mask in their locks as well.
Does this mean it'll be perfectly acceptable to walk to the coffee shop or even have a night out while sporting a face of spot treatments, no shame? Perhaps not, but this is certainly the first time a runway show has dedicated its beauty look to highlighting the importance of taking care of one's skin.