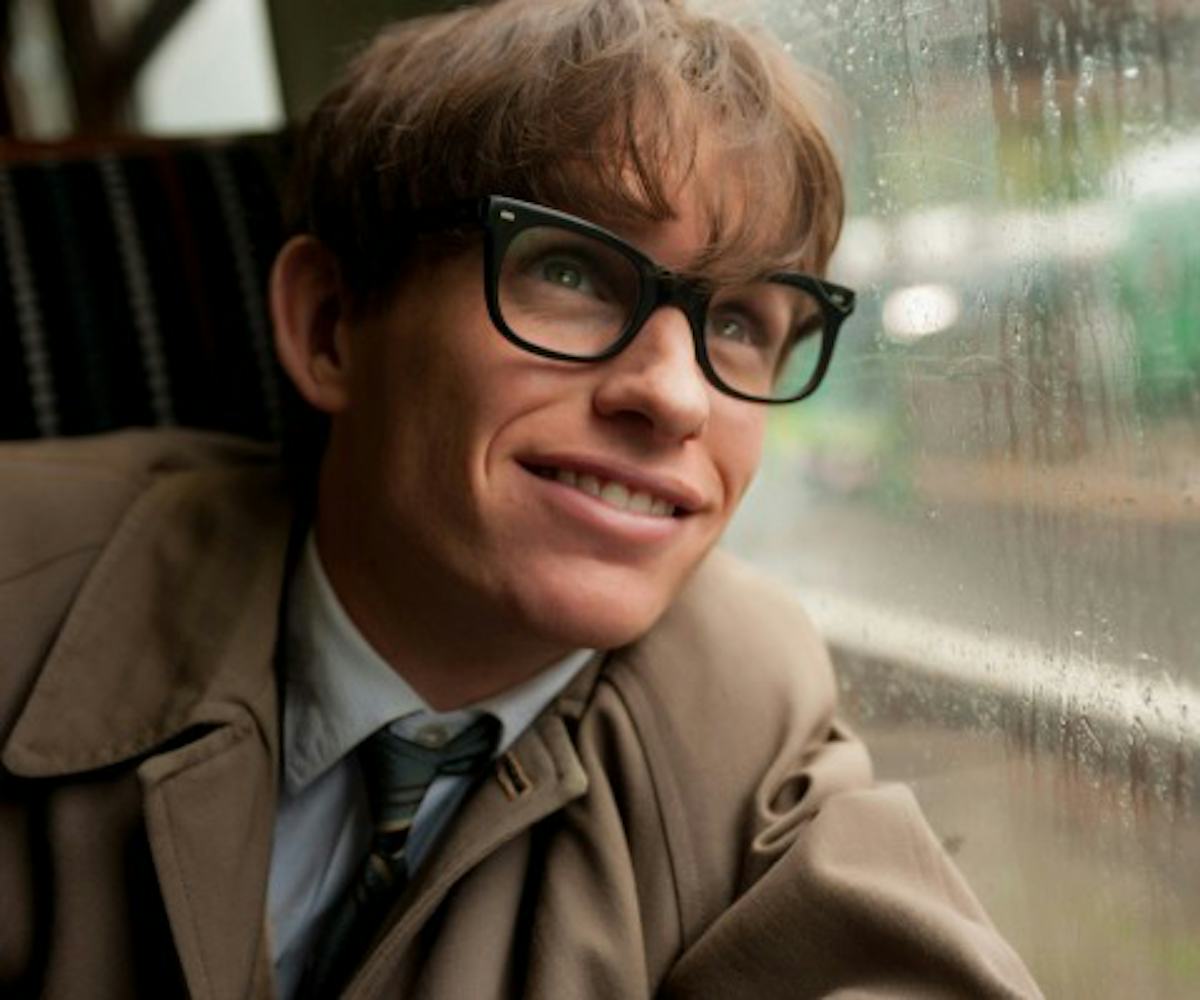 photo via Focus Features
eddie redmayne on 'the theory of everything'
what it was like to play stephen hawking.
Most people know Stephen Hawking for his great mind—the one that produced A Brief History of Time—but few people know the true story behind his battle with Motor Neuron Disease. When he was first diagnosed with the disease, which would later leave him unable to walk and speak, his girlfriend (and later, wife) Jane Wilde encouraged him to keep pursuing his astrophysics career and ideas. The upcoming film The Theory Of Everything explores Stephen and Jane's relationship in a genuine, honest way (Stephen Hawking, who approved the script before filming, described it as "broadly true"). Here, Eddie Redmayne, who plays Hawking, talks about his role.
How did you get into the role of Stephen Hawking?
I basically tried to read as much as I could about the science, tried to understand as much as I could about the science, which took quite an effort. I met his old students, and then I went and tried to educate my self on ALS by meeting people who are suffering from the disease and specialists. Then I finally met Stephen and Jane and the children and Jonathan, and that was perhaps the last element, it was very wonderful.
During a recent discussion about assisted dying, Stephen revealed that he tried to commit suicide during his battle with Motor Neuron Disease. Did you know this while you were playing the role? Did you bring it into your performance in any way?
No, I didn't know that when I was preparing for it, but I can absolutely understand. A lot of the people I met who have ALS had thought the same, it's this idea, someone described it as being a disease in which you are living in a prison, and the cell walls get smaller every day, and your mind is still entirely functioning. I can't even imagine what that is like to go through, so I'm certainly not one to judge.
The Theory Of Everything hits theaters November 7.