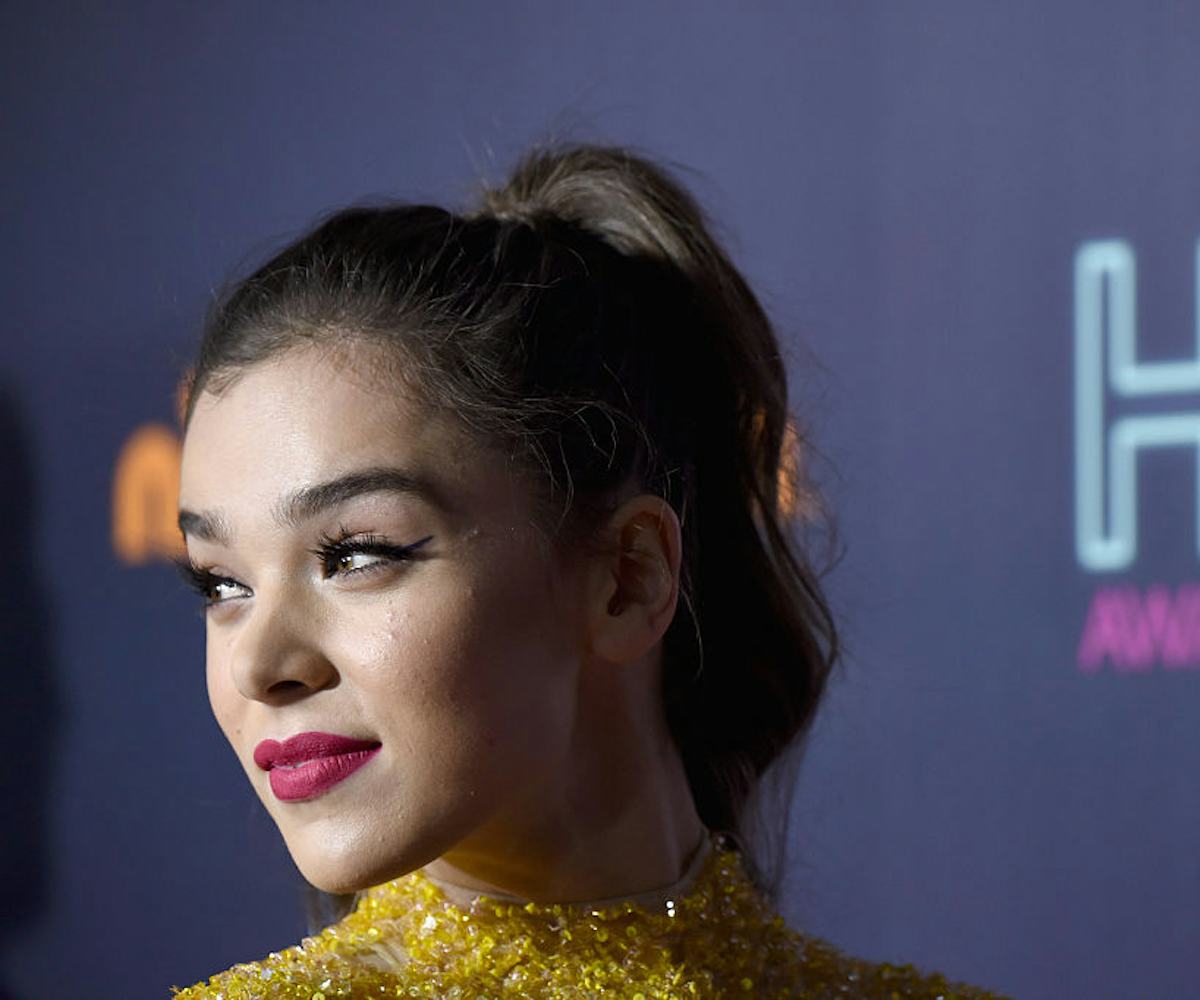 Photo by Michael Loccisano/Getty Images for Nickelodeon
In 'The Edge Of Seventeen,' Hailee Steinfeld Is A 21st Century Holden Caulfield
Teenage angst has never felt so real
If there was ever a time when the world needed some cinematic distraction, say the kind that could bring us back to our high school years when the biggest problem around was wondering whether or not the guy we were crushing on even knew we were alive, this is it. Well, guess what, world? While we might be totally unlucky when it comes to the question of whether or not democracy has been overtaken by xenophobic white supremacists with no respect for the ethics or morality inherent to the task at hand, we do have a really great coming-of-age movie to watch, starting today.
The Edge of Seventeen, written and directed by Kelly Fremon Craig, is a brutally honest, yet profoundly empathetic, look at the confusing, chaotic time in a young woman's life otherwise known as high school. The film follows 17-year-old Nadine, played beautifully by Hailee Steinfeld, as she navigates a world in which she feels rudderless. And while the film is most definitely set in modern times (there's all the up-to-date tech of our era to prove it), there's a timeless quality to the film. It speaks a universal language of teenage disenchantment, and Nadine is nothing more or less than a 21st-century Holden Caulfield: smart, cynical, hopelessly alienated, and destined to be an icon for every teenager who encounters her.
The film also stars Kyra Sedgwick and Woody Harrelson, and both seasoned actors bring their impressive wit and empathy to brilliantly written characters which challenge stereotypical adult roles in coming-of-age films, while also feeling instantly heartbreakingly familiar. In fact, that's what Fremon Craig does so well with this film: She presents potential cliché-ridden scenarios—the loner protagonist, the golden boy older brother, the wry teacher, the ultimate friend-zone relationship—and she subverts them, revealing the humanity in all of us, and not flinching when showing how we're all a bunch of open wounds, looking for someone to help us heal.
Below, we talk with Steinfeld about what it was like to bring Nadine to life and why this movie felt special from the first moment she read the script. 
What attracted you to this project?
So much stood out to me on the first read! Which, I always find that I'll read something through once, and it's like, "Oh, this is cool I like this." I read it again, I start to pick up on things. And the first time I read this through, I felt like I was understood by this character, and if I could only have the honor of bringing this story to life, and making other people feel that this is a true representation of being a teenager right now today in our world and this is what it's like growing up. It's everything from the highest of highs and the lowest of lows, and it's so perfect; the script was so well-written, and it so perfectly portrayed what, I feel, is an honest interpretation of growing up.
What really struck me was how the film is really relatable to everyone who ever was or is a teenager. But because you've been a professional actor for years now, and haven't necessarily had a totally typical teenage experience, did it sort of feel like you got to experience high school?
Yeah, absolutely. I think, in some ways, not being in high school or not having experienced that traditional high school experience worked to my advantage. Sort of feeling like a true outsider and not having been in that situation before, sort of guessing my way through the days, and taking that approach of the character being like, "I'm just gonna do what I think is right and even if it's wrong, screw it, whatever, I'm still gonna do it." Not only that, I really felt more so than this being or feeling like a high school movie, it's a movie about growing up, and I could relate to that, and I feel like I will be able to for the rest of my life. That's what resonated with me, and that's what I felt I could work from and bring to life. 
I really loved your on-screen relationships with both Kyra and Woody. I thought you and Kyra gave a really amazing portrayal of the difficulties between mothers and daughters, and then pretty much every scene between you and Woody was incredibly funny. What was it like working with them?
It was just amazing. Both of them, not only are they incredibly talented actors, but they're just amazing humans. And they both have the best sense of humor. And one of my favorite parts about working with them was being able to... being given the freedom to improvise and run and riff off and just do whatever it was we felt was right in that moment. Minutes after the scene had ended, that's just when these magical moments would happen, and it happened often with them, and I always feel, I always felt anyway, whenever I was working with them, I really didn't have to do much, because it was just a game of playing off them. They're so incredible.
You've done major dramas, you've done comedies, and this movie was a really interesting combination of the two–there's really tragic elements in it, but then it's also laugh-out-loud funny. Did you enjoy that kind of mix?
I mean, absolutely. Any time that you can find a script that so perfectly has that balance, that's not only a challenge but just a cool thing to be a part of. Again, the way it was written, from the beginning, was just so honest, and I think some of the most comedic moments are in the fact that Nadine is so overdramatic about things, and beyond that there are real-life moments where we experience loss and we experience betrayal and depression and heartbreak, and the lowest of lows, and the highest of highs where everything can be going so good, but in one minute, everything can drastically change and your world just flips over in front of you. And as an actor, to bounce back and forth from all of that and yet make it count in each moment regardless of where you are in the story, to be given so much background and context is awesome. 
This movie also had the same writer and director, in Kelly Fremon Craig, which made for a super-clear and comprehensive vision. How was the process of working with the same writer/director?
I mean, you have somebody that truly knows what they're after. And with Kelly Fremon Craig, she had such a bold approach to making this movie, and she got Jim Brooks involved, and proved to him that nobody would work harder than her. She really is just an incredible person and all-around just a genius, really. Just to think about, again, somebody who visually knows what she wants and emotionally is on the same page where there's no extra conversation that needs to be had. It was really pretty seamless.
Another thing I really felt like worked so well in this movie was the music, and as a musician yourself, I'm sure that's pretty important to you. What are some of the songs you're listening to right now that you think encapsulate the current landscape for young people?
I'll listen to timeless more classic music, not like classical music... it kind of sounded like I was going that route. But just like classic rock or old school R&B. Personally, I think right now I'm living on Spotify's Today's Top Hits. That's all I listen to. And that's truly I feel what represents what's going on with everybody right now; it's what everyone is listening to. 
This is a very classic-feeling coming-of-age movie; what about you, personally, what are three or four of your favorite high school movies? 
Three or four? Oh my, The Breakfast Club is definitely one of them. Sixteen Candles, Mean Girls.
And just to wrap up, what's next for you, what are you working on and excited about next?
Right now, I am so excited and focused on this movie coming out. I will be going on the Jingle Ball tour in December—which is also awesome—and working on my album. I can't wait for people to hear what I've been working on. It's so crazy, it feels like a never-ending process in the best way possible. And Pitch Perfect 3 is happening soon; I can't wait to figure out what's going on there and get started on it. And, yeah, that's about it for now!
The Edge of Seventeen is in theaters now.