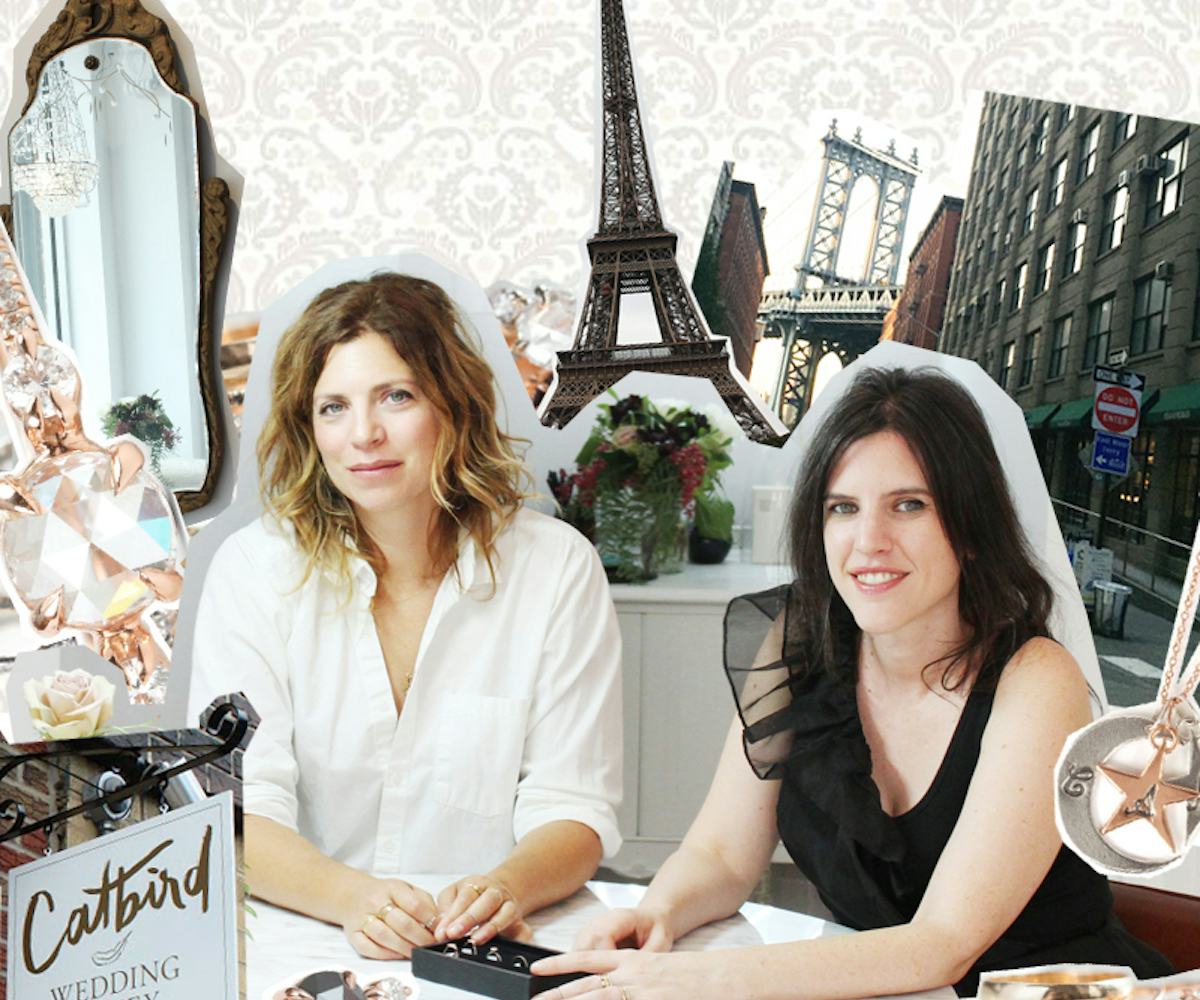 Meet 9 Designers Who Are Redefining The Wedding Game
Walking down the aisle has never looked this cool
Today's brides-to-be are collectively ditching ball gowns of princess proportions and age-old solitaire engagement rings of nuptials past. Looking to have their wedding style as unique as their love story, they are seeking alternative rings, outfits, and accessories—and looking to "cool brides" like Margherita Missoni, Bianca Jagger, Pamela Love, and Carolyn Bessette-Kennedy for style inspiration. Behind some of the most fashion-forward choices, are, of course, even more creative designers who incessantly merge innovative designs with unexpected details. Echoing the free-spirited and fiercely independent sensibilities of the brides that they cater to, they dream of creations that offer novel touches on traditional elements and have a keen understanding of what a modern woman wants.
With a wave of edgy and brazenly modern bridal designers giving the "I do" a fashion redo, the last few years have been exciting for wedding wear with a common theme emerging from these like-minded brands: While many of the pieces are intended for brides, and would handsomely fulfill the nuptial requirements, they are not strictly limited to weddings. Wearable post-nuptials, the pieces that they create are made for the fashionable girl who happens to be a bride, and not for the bride who happens to love fashion.
Ahead, we caught up with nine designers who are changing the sartorial wedding game and got their advice on how to make your wedding style truly your own. Read on and prepare to march down the aisle to the beat of your own drum.
Lisa Salzer, Lulu Frost
Brides who have an affinity for the "something old, something new" tradition should look no further than the unabashedly cutting-edge jewelry label Lulu Frost. Oversized pieces paired with feminine details and one-of-a-kind vintage vibes are the brand's specialty. Equal parts Art Deco and modern, Lulu Frost's accessories brim with romanticism, sentimentality, and heirloom quality—Lisa Salzer's trademarks—with a number collections that carry hidden meanings and special messages that will make your wedding day look that much more unique. Salzer's personal aesthetic is undeniably cool too, as evidenced by her Pinterest-perfect nuptials that took place just last year and the occasional outfit shots captured on the brand's Instagram page. We'll take one of everything.
How would you describe your aesthetic?
My jewelry aesthetic, in general, is a mix of classic and contemporary. I love to mix up antique Victorian jewelry and pieces from my grandmother, Elizabeth Frost, with my modern take on costume jewelry for a fresh look. One of the key aspects of my jewelry style is the idea of hidden meaning in the jewelry I wear. I would say that my general jewelry aesthetic is a little chunkier than my bridal aesthetic—I really pared down my wedding look to the most meaningful pieces. I paired my grandmother's antique pearl and diamond studs with studs I designed to represent mine and my husband's astrological signs. It was a match made in the stars.
How would you describe your bride?
I think our aesthetic really plays into that traditional idea of "something old, something new." The very DNA of my brand is modernizing the traditional. I think people love to pay homage to the past on their wedding day while still looking fresh and modern, and our jewelry does just that.
What's the trick to pulling off bold jewelry while still looking like a bride?
To pick the right piece or pieces. I've had some brides pile our Art Deco buckle bracelets, even three on one wrist and two on the other, and look absolutely stunning. Other brides have worn elaborate beaded and pearled headpieces I've created and didn't look overdone. For me, there are no rules—it's what makes you feel most like yourself that is the right jewelry for the day.
What's an alternative for a bride who doesn't want to wear a veil?
I'm obsessed with our Jackie headpiece! My dear friend Eugenia Gonzalez Ruiz wore it on her wedding day in Mexico City and looked utterly magical.
What should a bride keep in mind when choosing her day-of jewelry?
Make sure you feel like yourself! That is the most important day to not try something completely new that you are not comfortable in. The most beautiful brides are the most comfortable ones in my opinion.
What are your favorite pieces that would work for a bride?
So many! Our one-of-a-kind Art Deco earrings and cuffs are perfect because no two are alike, just like every bride. I also love our entire Jackie series for brides—so romantic and the perfect shade of champagne glass pearl. I also really love our Ursula series for another modern take on pearls, and our Radiant and Beacon series, both necklaces and earrings, are insanely perfect for almost any look.
Can you tell me about your CODE collection with hidden messages and why it makes for a romantic gift to wear on your wedding day?
Our entire CODE line is thoughtful, meaningful, and sentimental, and a must for personalizing for brides. I think the pieces in the line make for the perfect way to express oneself and the love one shares with his or her partner, subtly and through a lasting medium: gold! I love the idea of doing a mix of all the symbols and hidden styles—the CODE words series to "spell" out a secret nickname in gemstones, CODE numbers for the wedding day, or a number "2" for the two of you. I also love the idea of getting your anniversary in number rings, stacked together.
Plaza collection is another meaningful line. What was the inspiration for that?
The Plaza collection is without a doubt our best seller, and for great reason. Again, it's all about meaning. People love the idea of customizing a necklace with the lucky number, anniversary, or number of children, or better yet an initial or the initials of all their kids. I've seen people use up to 10 letters to spell out amazingly personal intentions! The Plaza Hotel itself has so much romance and is such a New York City [wedding] institution, so people truly appreciate the origin of these fabulous replicated numerals and letters.  
Is there a modern way to wear pins and brooches for a wedding?
For sure. I love the idea of wearing our mesh necklace or bracelet, and pinning an antique pin or brooch from a beloved relative onto the mesh. That gives a whole new lease to a meaningful family heirloom for your special day.
You yourself have a very special engagement ring. Do you mind telling me about it?
I am beyond in love with it and fall more in love with it every day. It is handcrafted in New York City by the same jewelers that do the Lulu Frost fine jewelry line, and my husband, Marlon, designed it painstakingly. It is a mix of an antique mine-cut diamond with hand-cut emeralds and onyx stones, all set in a stunning and very Art Deco-inspired hexagonal shape. It's engraved with a secret message, of course.
What your wedding was like?
We got married at Gurney's in Montauk [, New York], a place that is very special to Marlon and me. We had an incredible reggae band, Winston Irie, play our wedding. It was just such a chill, fun, joyful time. We had our dear friend and writer Lesley M.M. Blume officiate the ceremony, which was expertly designed, along with the entire wedding, by the florist for the Sex and the City movies and the Devil Wears Prada, Tess Casey. She is a genius! For our first song, we danced to the Flamingos' "I Only Have Eyes for You." We had an amazing Moroccan-themed bonfire following the reception on the beach, with bonfires, torches, hookahs, and delicious Moroccan food. It was truly the best time! We then went off to Morocco for our honeymoon to continue the celebration.
What did you wear?
I wore a stunning Romona Keveza dress that converted into three different looks. I loved how clean and modern the silhouette was, and it really flattered my body. It was the first and only dress I tried on.
Don O'Neill, THEIA
Known for their incredibly intricate appliques, sheer fabrics, and daring cuts, THEIA's bridal line blends drama, sex appeal, and avant-garde details for designs that feel otherworldly and jaw-droppingly fashionable. Earlier this year Don O'Neill solidified THEIA's fashion-leaping status with his David Bowie-inspired collection, featuring a bomber jacket and a space-like body halo, and a line of (actually) stylish bridesmaid dresses that even the pickiest of your bridal party will want to wear. Unmistakably in a wedding league of its own, THEIA strikes the perfect balance between bridal and couture.
How would you describe Theia's bridal aesthetic?
THEIA's bridal aesthetic comes down to revealing your inner goddess, and we do so in a simple, clean, and unfussy way. The THEIA bride is a modern woman free from traditions and expectations. She likes easy-to-wear shapes and, for the most part, beautifully hand-embroidered [styles] with pearls, sequins, and glass beads. She likes sparkle, and she likes to show off her figure no matter her size. If she wants volume, she likes it to be soft-romantic volume in swirling lightweight silk skirts free from cumbersome petticoats and crinolines.
What inspires you?
It could be the beautiful luster of a luscious silk, the sparkle on a new embroidery swatch, the swirling pattern on a delicate Chantilly lace, or the beauty in a photograph.
For a girl who doesn't want to wear a white wedding gown, what styles would you recommend?
My last collection had a cool long white silk crepe tunic with a train shown over trousers. We also showed this season's hottest trend: the souvenir jacket, inspired by the American soldiers in Japan during World War II who had their baseball jackets hand-embroidered as souvenirs of their service there. Ours is in rich ivory crepe back satin and [with] Chantilly lace sleeves, dripping with crystal appliqués, worn over a languid lean lace skirt.
What's the trick to pulling off bolder looks while still looking like a bride?
We are entering the age of confidence and originality with more and more brides seeking to be unique and to express themselves, and not mimic other brides or follow in tradition's footsteps. The girl who wants to wear this look needs no advice—she has always marched to the beat of her own drum.
What trends do you love right now?
That there are no trends; I love that brides are wearing whatever they want. It's not the '80s or '90s where every wedding dress was pretty much predictable and the same. Girls have been liberated. Be you a boho-shabby-chic girl, a Disney princess, or a clean minimalist, there are gowns available for each of you.
You just launched a bridesmaids line. What kind of girl did you keep in mind when designing the looks?
The THEIA bridesmaid is the cool girlfriend of the THEIA bride. She has the same aesthetic and is a young and carefree girl with a dash of goddess glam.
Do you think all bridesmaids should have matching dresses?
I do think there should be a common thread to the girls to identify their role on the day and separate them from all the other guests. They don't all have to wear the same dress, but they should wear the same or similar color.
You just got married. What can you tell me about your wedding day?
We tied the knot in front of our family and dearest lifelong friends in the seaside village I grew up in, in Ballyheigue, County Kerry, Ireland. Nestled on the Wild Atlantic Way, overlooking a majestic bay and three miles of magnificent white sandy beach, we married in front of the imposing ruins of an 18th-century castle with panoramic views over the bay. The first song was a love song sung to us by a dear friend, Frances Black, one of Ireland's most beloved singers from the royal family of Irish folk music.
What did you wear?
We both wore suits that I designed that are intricately embroidered with antique silver Zardozi thread work, glass beads, and crystals. I created the artwork for each, which is similar for both with a key difference on the front. We both had fuchsia flowers intertwined into the artworks. They were my recently deceased mom's favorite flowers and were featured on the invites, place cards, menus, etc.
Pascal tried his completed jacket a week before the wedding and cried his eyes out. We both cried—it was so emotional to see him in the actual finished jacket for the first time. He looked like Prince Charming, the fairytale prince of my dreams.
What should every bride/groom have on their wedding day?
Tissues... it's going to be an emotional day. They should also have a mantra, and the mantra should be, "Let it go!" Having now lived through the process of planning a wedding, seeing the hundreds of moving parts that all have to come together in a very planned way, experiencing how stressful and challenging and demanding it was, the only way to enjoy your day and share in the love that is being celebrated and poured out upon you is to "let it go!" Let the day happen and enjoy every minute of it!
What is the one wedding tradition that the bride can definitely skip?
Garters! Good lord, skip that horrible tradition of guys pulling garters off their beautiful brides' legs.
Rony Vardi and Leigh Plessner, Catbird
At a time when bigger is often better, Catbird came out on the jewelry scene to prove just the opposite. Foregoing statement jewelry in favor of delicate knuckle rings, lariat necklaces, and Kitten Mitten handpieces, Catbird became an instant hit with girls who like their jewelry unique and understated. Carrying hard-to-find designers, like Blanca Monros Gomez and Jennie Kwon, as well as in-house rings that are meant to be paired with a multitude of bands and stacking rings, Catbird has filled a niche for brides who prefers to sparkle in their own subtle way.
How would you describe your bridal aesthetic?
Leigh Plessner: Quiet luxury. We strive for a personal, intimate approach to jewelry, a casual layering of tiny glittering diamonds and rich gold, waiting for the loving patina of time.
What was the inspiration behind the in-house collection? LP: For The Swans—our debut collection of engagement rings—we wanted to create a line that was modern yet classic, that had the scale and lines we love to work in. Rings you would love from day one, and never stop loving. Similarly to how swans mate for life.
All of the brand's rings are made in-house in Brooklyn, New York. Can you tell me more about that?
LP: Our jewelry studio is in a little brick building, and our office is right above it. We design and make everything in-house, running up and down the stairs all day. We work with conflict-free stones and fair-trade and recycled gold, and our jewelers are just awe-inspiring. They are masters of their craft, and masters of making our jewelry. We've really all grown so much together, it's a real team.
Rony Vardi: It allows us to be sure that our materials are ethically sourced and to provide healthy and supportive working conditions for all of our jewelers. Everything—whether it's a tiny starter earring or an engagement ring—is made and QC'ed under the scrutiny of our meticulous team. I can't imagine working any other way.
How do you go about selecting designers that you carry in the store?
LP: We take our designer relationships so so so seriously. It's like a marriage between us and them; we're in this together for the long haul. We look for designers who make beautiful work, and also designers who stand behind what they are doing. It's such a dialogue and back-and-forth with them—we talk to our designers every day. We take on new designers very slowly, though we look at a few thousand submissions every year. Since our physical store and Wedding Annex are so small, it makes every decision of the utmost importance. So, our designers are the ones that we feel the most deeply connected to, that bring their singular voice to this story that we are telling.
What's the most common question that you get from people coming in to buy an engagement ring?RV: "How do I figure out her size?" Hands down.
For a girl who doesn't want to wear a standard solitaire engagement ring, what would you recommend? What about for a girl who doesn't want a boring wedding band?
LP: Find a ring that has a stone that is the focal point, balanced by others. I don't think there is a boring wedding band! We love our Catbird Classic wedding bands, and we just released them in Old World 22-karat gold, which is so buttery and luxurious. But, if you are not in the market for a plain gold band, there are also textured or pavé options in different shapes.
Does it matter if your engagement ring is not a diamond?
LP: You do want to choose a harder stone for everyday wear. Rubies and sapphires—which are the same mineral as a diamond but different colors—are great choices, and sapphires come in so many different colors.
You are known for stacking jewelry. What's your best tip for stacking engagement and wedding rings with other rings?
LP: We love a stack that is loose and open and has movement and negative space. A happy jumble! Kind of like how you don't want your clothing, or I don't, to feel too rigid and buttoned-up and perfect.
What should a bride keep in mind when choosing her day-of jewelry?
RV: Stay away from trends and keep it pretty simple. You don't want your wedding look to feel dated one year later.
What is your favorite celebrity engagement ring?
LP: Queen Victoria's ouroboros ring with an emerald set in its head.
If you had to pick one great bridesmaid gift from the store, what would it be?
LP: Our monogrammed "You are my Moon and Stars" necklace.
What was your wedding like?
LP: In lieu of a bridal party, our five little nieces held old swan planters with big black bows around their necks and threw tiny handfuls of gold confetti. It was a Sunday brunch, we stayed out all night, ordered late-night delivery when we got home, and went to Paris the next day.
RV: We got married in Dumbo [in Brooklyn, New York] on an icy, clear winter night under a full moon. It was after days of horrible weather and a transit strike—which all miraculously cleared up that very night.
What did you wear?
LP: I wore pale pink because wearing black felt not quite right.
RV: I was five months pregnant and wore a simple J.Crew dress from their first bridal collection. I had to have the next size overnighted to me the day before my wedding because the one I had no longer fit my belly.
What are your rings like?
RV: I have a simple classic 1 mm band, a Serena the Swan engagement ring, and I also tuck a Fairy Light Diamond Eternity Band in between. Sometimes when something excites me, I pile another one on top much to my husband's annoyance.
LP: A mix of golds and full of tiny, starry diamonds.
Katharine Polk, Houghton
Houghton doesn't believe in traditional bridal styling rules. Case in point: sheer bodysuits, jumpsuits, and layered separates in lieu of conventional wedding offerings that look as good with sneakers as they do with stilettos. Every season, designer Katharine Polk comes out with pieces that feel undoubtedly innovative, and that ooze a refreshing rock and roll sensibility and music festival vibes. Despite the originality and edge, Houghton maintains an unparalleled wearability that's unmistakably its own, and that works for courthouse ceremonies, formal receptions, and honeymoon adventures alike. The most recent example of Polk's trailblazing: Allowing brides to shop directly from Houghton's latest bridal presentation.
How would you describe your bridal aesthetic?
I want to make chic, timeless clothes for strong independent women. I don't like to pigeonhole my collections as bridal or ready-to-wear; the only thing that differentiates them is the season or time of year I present them. It is ready-to-wear for the bride that can go from everyday to wedding day. Houghton is about a spirit and way of life, and not just about a moment.
How would you describe your bride?
Modern, working, independent, and chic. I think there are millions upon millions of women who own their strong independent lifestyle daily and who don't want to be handled and treated like "Daddy's precious little girl" on their wedding day. They also don't want to be put in a sweetheart fit-and-flare [dress]. Our woman wants to wear something modern that is fashion-forward and represents runway fashion. They are searching for high-end, timeless quality pieces. Our women range from 20 to 65 years old, and they might be on their first wedding or their third, but that's all the more reason why they want something other than a typical ball gown, like a chic white suit, a two-piece set, or simple silk column gown.
If there was one song that a Houghton bride would walk down the aisle to, what would it be?
"Sorry" by Justin Bieber.
What is your favorite celebrity wedding dress ever?I really loved Nicole Trunfio's recent Coachella wedding weekend looks, which in true Houghton Bride fashion wasn't a gown, but instead a top and skirt set and a cape and pants.
If you could dress one bride, who would it be?Gwen Stefani.
What inspires you?
Living in New York City is a big influence, but I have my Houghton girls that I always look to for style inspiration: Katharine Houghton Hepburn, Kate Moss, Bianca Jagger.
What are some of your favorite styles for the bride who's not afraid to stand out?
Always into a girl that isn't afraid to wear a jumpsuit or a cape look down the aisle! Capes are a great alternative for a veil. I love looks in blush, baby blue, black, or our signature wildflower print.
What's the trick to pulling off sexier looks while still looking like a bride?
I never design or style anything without that subtle balance. For example, if you're going to do a crop top, then I wouldn't style that with a short skirt. If you are going to do something fitted, then it should be a long, sleek silhouette. Crop tops or shorter tops, in general, are actually very flattering for curvier girls because it accentuates the smallest point of their waists. Paired with a high-waisted A-line skirt, a crop top can make for a really chic look.
What's your favorite bridesmaid look?
If the bride isn't going to swing for the jumpsuit, then I love a bridesmaid or bridal party in jumpsuits, or an all-white/ivory bridal party. There's a short dress I have with bell sleeves, called the "Damien," which is the ultimate fashion girl bridesmaid dress.
Last bridal season, you launched the Buy-Now-Wear-Now event which allowed brides to pre-order straight from the presentation. Why did you do that?
I always like to do something a little different for Bridal Fashion Week, so the industry-meets-consumer experience was a natural progression from my previous presentations. The recent changes in the ready-to-wear market and fashion show calendar led me to step away from the traditional runway show for Fall/Winter 16 ready-to-wear, and I wanted to continue this for bridal.
The brides who attended the event had the opportunity to order gowns as buyers simultaneously saw them at market—something that has never been done before in the bridal industry. Typically brides would have to wait at least six months for stores to receive their new collection samples, and then order their gown from a pre-selected edit of the collection. I wanted to give our girls a chance to buy straight from the runway and do away with traditional bridal lead times by offering styles immediately for purchase during and following our presentation, basically eliminating the middleman.
What is the one thing you think all brides should have on their wedding day?
A fun shoe or a M.A.C red lip.
What's one tradition that a bride can definitely skip?
Having a bridal party or any of the other strenuous traditions society deems necessary. For example, so many of our brides bring their partners with them to the bridal appointments, which is usually pretty taboo, but that's the Houghton girl.
Jennifer Behr, Jennifer Behr
Every headpiece by this luxury hair accessories designer is guaranteed to add to your showstopper status come your wedding day. Jennifer Behr is a master of sculptural details, delicate netting, and intricate layering, hand-crafting every hairpiece to be as unique as the bride that she designs for. Without being overly sweet, Behr's pieces radiate royalty and timeless elegance with a dash of punk and seductiveness, as showcased by celebs of equally captivating caliber—Jennifer Lawrence, Elle Fanning, and Natalie Portman—who've rocked her pieces on the red carpet. Consider her creations the fashion armor made for a modern-day queen.
How would you describe your aesthetic?
Modern ethereal. That changes sometimes and we do heavier, punkier things, but at the moment, modern ethereal is a good fit.
What are you inspired by right now?
Stars, moons, and magic.
How would you describe your bride?
We get a modern fashion bride. Most of our business is actually our fashion collection, and we started bridal because a number of friends and editors we work with kept asking for custom pieces for their weddings. So fashion is at the core of my designs, and I think brides respond to that.
If a bride doesn't want to wear a veil, what are some of your favorite alternatives?
If you are ditching the veil, go for a bigger and bolder headpiece—it's still good to have something on your head to say, "I'm the Bride," especially if you are wearing a non-traditional dress. Try one of our gold flower headpieces like the Rowena Circlet or a hand-painted piece like our Faye Circlet.
What should brides consider when selecting their hair accessories?
Consider the style of the dress and pick a headpiece style in the way you would accessorize with jewelry. Is it modern, floral, delicate? Also, consider the color of your jewelry and coordinate the two. We just introduced rose gold into our collection which is lovely with both platinum and gold. We love short-haired brides. You can wear a headband! Or one of our circlets—just knot the ties in the back and snip them close. And get your headpiece before your hair trial.
Can a bride rock a crown on her wedding day?
Absolutely. Our new take on crowns is the Coronet. They're a variation on the typical crown and are made to fit beautifully all around the head. The Makayla is great or one of our crystal pieces too. Crystal doesn't always have to be sweet, it's all about the attitude.
What is your favorite Jennifer Behr piece that would work for a modern bride?
Our Celestial Coronet is perfect for an edgy bride. It's my personal favorite.
What's the trick to pulling off a bold headpiece while still looking bridal?
Bridal doesn't have to be sweet or follow any prescribed rules. Be the most glamorous version of yourself. Though, if you are wearing a big headpiece, I would generally avoid large earrings and/or a large necklace—it's good to have one focal point.
What should every bride have on their wedding day?
Someone you love and trust to take all the candid pictures, so you don't have to think about it or carry your phone around everywhere. And, good lingerie.
If you could create a headpiece for one celebrity bride (dead or alive), who would it be?
Elizabeth Taylor... for all eight of her weddings.
Molly Guy, Stone Fox Bride
The epitome of boho chic, Stone Fox Bride's relaxed fits and silhouettes take the stress out of wedding dress shopping, with styles made for Stevie Nicks-loving brides who naturally exude cool and chic. Unique touches like bell sleeves, ombre details, and vintage-like lace make each dress feel special, and barely-there fabrics are perfect for unfussy brides who value comfort as much as fashion. Owner Molly Guy jumped ahead as the leader of the bridal pack when this season she launched a plus-size collection in partnership with Eloquii. "We love what Molly has done with her brand in the bridal space, and when we finally got to meet, we realized that Molly is passionate just like we are about offering fashion for all sizes, and we knew this could be a great match," says Jodi Arnold, creative director of Eloquii.
How would you describe your aesthetic and bride?
Molly Guy: My aesthetic is laid-back, low-key, high style. Vivienne Westwood meets Marsha Brady. Our bride, she's comfortable in her skin, privileges style over fashion, couldn't care less about mainstream trends, and wants to walk down the aisle in truth and in style. She doesn't identify with the picture-perfect, happily-ever-after Pinterest board wedding world, and prefers a much more raw, authentic, and interesting approach to wedding planning. More Mindy Kaling, less Martha Stewart.
If there was one song that a Stone Fox Bride would walk down the aisle to, what would it be?
MG: "Break Every Rule" by Tina Tuner.
What is your favorite celebrity wedding dress?
MG:Carolyn Bessette-Kennedy was pretty close to perfection.
If you could dress one bride (dead or alive), who would it be?
MG: Louise Bourgeois.
For a girl who doesn't want to wear a white wedding gown, what would you recommend?
MG: A silky, blood red, bias-cut slip with blue suede shoes and smeary eyeliner.
What are some of your favorite Stone Fox styles for the bride who's not afraid to stand out?
MG: Our hand-dyed, sunset ombre pink Valentina dress, our textured lace bell sleeve Glenda dress—that Marni wore to her wedding on Girls—or, one of our vintage Victorian frocks.
What's the trick to pulling off bohemian bridal looks while still looking bridal?
MG: True love! For yourself, and for your partner. A little bit of liquid blush doesn't hurt either.
If a bride doesn't want to wear a veil, what are some of your favorite alternatives?
MG: I love a messy topknot. A delicate fresh chamomile flower crown is gorge, too.
What should a bride keep in mind when choosing her day-of accessories?
MG: Keep it minimal. You don't want to be futzing around all day with lots of extra stuff.
What's one wedding dress trend that you are not on board with?
MG: I pretty much can get down with them all, as long as they're executed with utter foxiness.
This season you launched a plus-size collection with Eloquii. Why was that important to you?
MG:I've wanted to offer our gowns in plus sizes since I started my company in 2012, but I've never had the bandwidth and resources to do so. We're a tiny team, and it's hard to focus on long-term initiatives when there is always so much to do in the moment. Start-up life is always a bit of a beautiful mess. But this summer, after I had my second daughter, I finally put my foot down and said, "Next season we're going to do this no matter what." I reached out to two friends in the plus-size space whose style and point of view I really respect—style writer Nicolette Mason and modeling agent Becca Thorpe—and asked if they could point me toward any cool, innovative fashion companies that might be interested in partnering. They both put me in touch with Eloquii, and the rest is history.
How did you come up with the styles for the plus-size collection?
Jodi Arnold:The way we approached this collection was to take the best-selling dresses for Stone Fox and to rework them for sizes 14-24. We started from a size 16 fit model and made tweaks to the dresses to make sure the styles would make the bride feel her best.
Can you give any tips on plus-size wedding dress shopping?
JA: The plus-size bride should not be afraid to try something she may have previously thought would not work for her, like an easy slip shape or something in a fresh color other than white. More and more we are seeing brides looking to be a bit more bold in showing some of their own personal style and the Stone Fox dresses are perfect for the bride who wants to try something a bit different.
What was your wedding was like?
MG: Super mellow Sunday afternoon brunch in Long Island City [, New York]. We got married on Halloween, walked down the aisle to "Into the Mystic," and were eating ribs in jeans at Five Leaves in Williamsburg [in Brooklyn, New York] by dinnertime.
What did you wear?
MG: This was long before Stone Fox Bride existed! So I wore an off-the-rack Temperley dress and my favorite rose gold, opal ring by Kathryn Bentley.
Mara Hoffman, Mara Hoffman
For those who missed the memo: Designer to the spirited fashion tribe, Mara Hoffman, has been designing ethereal and affordable bridal wear under her label since 2013. Prints, a common theme in Hoffman's ready-to-wear collections, seamlessly translate into her bridal line in the form of dresses with pops of color, sequin patterns, and geometrically embroidered bodices. If you're looking for details that are unexpected, feminine, and effortless, and that would feel right at home at a beach or a desert wedding, Mara Hoffman is one to put on your short list. We are entirely obsessed.
Why did you decide to launch a bridal line when you did?
I felt that there was a hole in the market for affordable but really special, limited-run bridal dresses that spoke to the spirit of my brand and to our girl. I had been asked to make so many custom wedding dresses throughout the years that I decided to launch a devotional collection. My intention was for any bride-to-be to be able to buy something quickly, and have an easy and, hopefully, enjoyable experience while doing so.
How would you describe your bridal aesthetic/bride?
Easy, free-spirited, effortless. Our bride is laid-back, pretty easygoing, and maybe a little bit spontaneous.
What inspires you?Travel, nature, happiness, ease of life, family.
For girls who don't want to wear a white wedding gown, what would you recommend?
Anything but white!
Which ready-to-wear trends work for a wedding? Which ones don't?
I'm open to the idea that there don't have to be rules. It's your own ceremony, it's your own celebration—who are you dressing for besides yourself and possibly the person that you're marrying? I think it's cool when people wear things that are a little bit unexpected, like a beautiful jumpsuit or a suit. Who am I to say what a "don't" is? I will say that you do look your best when you feel comfortable in what you're wearing.
What are some of your favorite Mara Hoffman styles for the bride who's not afraid to stand out?
We have a beautiful white Wheatfield embroidered jumpsuit that I love from our Spring '16 collection, inspired by Willie Nelson.
Can a bride wear prints on her wedding day?
We recently made a custom wedding dress for a good friend, Bethanie Brady, who really wanted to stand out and wear something that resonated with her personal style and was a little less traditional. She looked stunning.
What is the must-have accessory you think all brides should wear?
Something handed down to you, something of significance, that's been with you for a long time. I like the idea of something borrowed.
What's your favorite bridesmaid look?
From Spring '16, I love the pink-and-white stripe halter dress, as well as the Wheatfield gauze embroidered gown for an alternative bridesmaid look. I'd also suggest the bird [print] embroidered linen, tie-back dress because I like the white, but I also love the idea of the birds—there's something beautiful about the celebration of flight, and the bride and groom taking off into this new phase of life together.
What are your favorite honeymoon looks right now?
It depends on where you're going, but for me, I'm super into comfort. I love all the crochet pieces right now, especially the one-piece. For a warmer-weather honeymoon, I love the white flounce jumpsuits—they are easy to slip on and wear all day for a full look. I'm also really into the exclusive Flora surf suit. I think it's really cool to be out all day in the sun and not worry about your upper body getting fried to a crisp.
What your wedding was like?
My wedding was exactly ten years ago. I got married in Miami at the Vizcaya Museum and Gardens, and it was a little bit over-the-top. I might not have the exact same wedding today, but for what our lives were like at the time, it made sense. It was tropical and beautiful and sort of mythological.
Our first song was "I'll Be Your Lover, Too" by Van Morrison. We'd been taking salsa classes for months and preparing this dance routine for the wedding. In the middle of our dance, Jav's cuff link got tangled in my hair, and our mothers had to come out onto the dance floor and pull my hair out of his link. We ended up going back out there and finishing our dance. Real troopers we were. Also, the band played something that was way too slow of a tempo so we were completely thrown off and it was the most awkward salsa dance you could ever imagine. Hilarious at the time—a great memory.
What did you wear?I wore a dress that my very close friend and I worked on together, and it was a little bit revealing for now, but I hand-beaded African ostrich egg shells on silk to represent fertility and prosperity.
Anna Sheffield, Anna Sheffield
Master of stacked engagement ring-and-wedding band trinity sets, jeweler Anna Sheffield has a penchant for mixing materials, gems, and colors. Exuding heirloom qualities and alternative edge, black diamonds in rose gold settings, rutilated quartz solitaires, and chevron nesting sets are only some of the innovative details that the designer employs for her bespoke pieces. "There are hundreds of possible variations for stacking and nesting rings in my collection, and they come in all gold colors, and most come in several gem and diamond color options as well," says Sheffield.
How would you describe your bridal jewelry aesthetic and bride?
I design almost every piece of jewelry with some kind of muse or archetype in mind. I like the idea of designs that fit a certain type of woman—the fierce individualist, the sweetheart, the demure design aesthete, and the girl who wants something that's just that little bit different from the status quo. She's looking for something that is outside the norm, but still timeless and classic. Our clients feel like their love and their lifestyle are unique, and they want a piece of jewelry that reflects that.
What inspires you?
My collections are pretty broad in terms of aesthetic, and I draw from many sources of inspiration. I look a lot to fine art, architecture, design. I think inspiration is best when is not too derivative. I want to see a film or read a book and think about the jewelry a character would wear. I also think all design disciplines inform each other. So looking at a beautiful chair, though I would not design a ring like it, I may try to capture that feeling of it in a piece.
For girls who don't want to wear a standard solitaire diamond engagement ring, what would you suggest?
The Bea or Theda. They are more architectural, bold, but still feminine and classic. Also, I would say, there is no rule that says one has to have one engagement ring and one band. It could be a stacking set, starting with a band and adding more rings later. The more the merrier!
What is your most popular engagement ring?
Hazeline, which is our classic, sort of effeminate solitaire.
What are some of your favorite styles for the bride who's not afraid to stand out?
We get a lot of love for rose gold and black diamonds, together or otherwise. I love mixing metals, like layers of rose, yellow, and even white gold or silver. They can look so chic and personal when mixed in with stack rings, bracelets, or even multiple earrings.
Does the size of the diamond matter? Does an engagement ring have to be with diamonds?
Not in the least! It's a symbol of love, and, I think, what matters most is the ring being right for the person's style and a genuine effort at picking the best piece for that style as well as the realistic budget of the client or couple. The carat weight of the stone is only a unit of measure. I love gemstones, both precious and not, for their color and other innate qualities. These alternatives to diamonds offer an opportunity to make a piece all the more special and unique.
Ring sizing can get hard. What's a great tip for all couples?
A ring will never truly fit the same all the time. Our bodies change from day-to-day. So getting it in a comfortable size, when at a fairly normal body temperature, is probably the best place to start, and not on a day when you are dehydrated, like from air travel or being hungover.
Who is your favorite celebrity bride?
I love images of Bianca Jagger in her big white hat. But in terms of famous jewelry, I love Wallis Simpson's [the Duchess of Windsor] mismatched pearl earrings.
How do you feel about wearing statement jewelry on the wedding day?
Though I make costume jewelry in my brand Bing Bang, I have never been much for statement pieces. I like the spare, personal jewelry aesthetic, and tend to design this way as well. I feel like a bride's big day has so many elements—from bouquet to veil, and, of course, the dress—so keeping the jewelry chic and of their personal style is foremost. If that means a statement necklace, then great!
You repost a lot of ring selfies from Anna Sheffield brides. What's your best tip for a good ring shot?
Great lighting! It can be difficult to photograph jewelry, but the not-too-bright, not-too-dark lighting is key to bringing the ring into focus with a camera phone.
Favorite hidden travel spot for a honeymoon?
I always try to send people to New Mexico. I grew up there. I have been all over the world, but I still feel it is the most beautiful place on earth.
Ken Borochov, MORDEKAI
If you are the type of bride who's turned off by the idea of a traditional veil, look no further than the prince of punk MORDEKAI. Revered by magazine editors and celebrities alike for his innovation and edgy style, Ken Borochov's responsible for some of Lady Gaga, Madonna, and Cher's extraordinary headpieces. "It's an honor and a privilege to have the queens of the world wear MORDEKAI," says Borochov. Not for the faint of bridal heart, MORDEKAI carries some of the coolest crowns, headbands, jewelry, and accessories one will ever see. Prepare to be one fierce bride—guests won't be able to take their eyes off you.
How would you describe your aesthetic?
My aesthetic is opulent, unique, and luxurious. MORDEKAI jewels are conversation and statement pieces.
What are you inspired by right now?
I love a beehive, so I'm really inspired by icons like Amy Winehouse, '60s Priscilla Presley, and Nina Simone. I would like to figure out how to bring the beehive and its accessories back. I find it the zenith of glamour.
Berta's Spring 2017 collection featured your rose headpieces. Why does that headband work for brides?
I think the rose gold gave a more unique look than the classic gold would. There is something fresh about rose gold—like a rosé wine.
How would you describe your bride?
My bride is a strong, powerful woman who wants to evoke these qualities in her accessories. By wearing a MORDEKAI piece, she feels elevated, empowered, and fierce.
What should brides consider when selecting a headpiece?
The full look of the wedding and what they want to make the partner-to-be and guests to feel. I believe the bridesmaids and groomsmen should all have a piece to represent the bride. In other words, if she has a large rose crown, the bridesmaids should have mini rose headbands, and the groomsmen should have matching rose cuff links or rose boutonnieres. Weddings are a brand: you're branding your coupling and your event for the day. For my brother's wedding, I even made a custom rose encrusted yarmulke to match my sister-in-law's crown!
What's the trick to pulling off bold jewelry while still looking bridal?
The trick is to match it with the dress design. For example, the choker: The neckline should match and work in tandem with the choker, not fight it. You also must think of shades of metallics in your jewelry and how they work with the shade, lace, or embroidery of your dress. Additionally, a bride must think of her personality and style. Some brides can carry off the choker, the bracelets, and the crown while another bride can only rock a thin halo crown. You want to wear the jewels; not have the jewels wear you.
Should a bride wear a veil/headpiece on her wedding day?
Yes! Adorning your head for the wedding is a cultural and societal tradition. When women get married, it's their day to shine. A headpiece is as important as the dress. How will they know you're the QUEEN of the day? I also love a veil! I think it's a great way to rock different looks and keep it interesting. In the shul or church, you wear the veil, then at the reception, you wear a crown or headpiece giving the guests more of your fantasy.
What are your favorite MORDEKAI pieces for a bride?
I feel that the MORDEKAI rose collection with the headbands and crowns will be gorgeous for any bride. I would choose the size of the roses to match the look. Small, petite roses for the demure bride, and big luscious ones for the bride that's in it to win it. I also think the MORDEKAI halo crowns are so majestic for a bride. They come in gold, rose gold, silver, and gunmetal, and they're available in many different designs.
What song would your bride walk down the aisle to?
"At Last" by Etta James is the most romantic song of all time. Etta is everything.