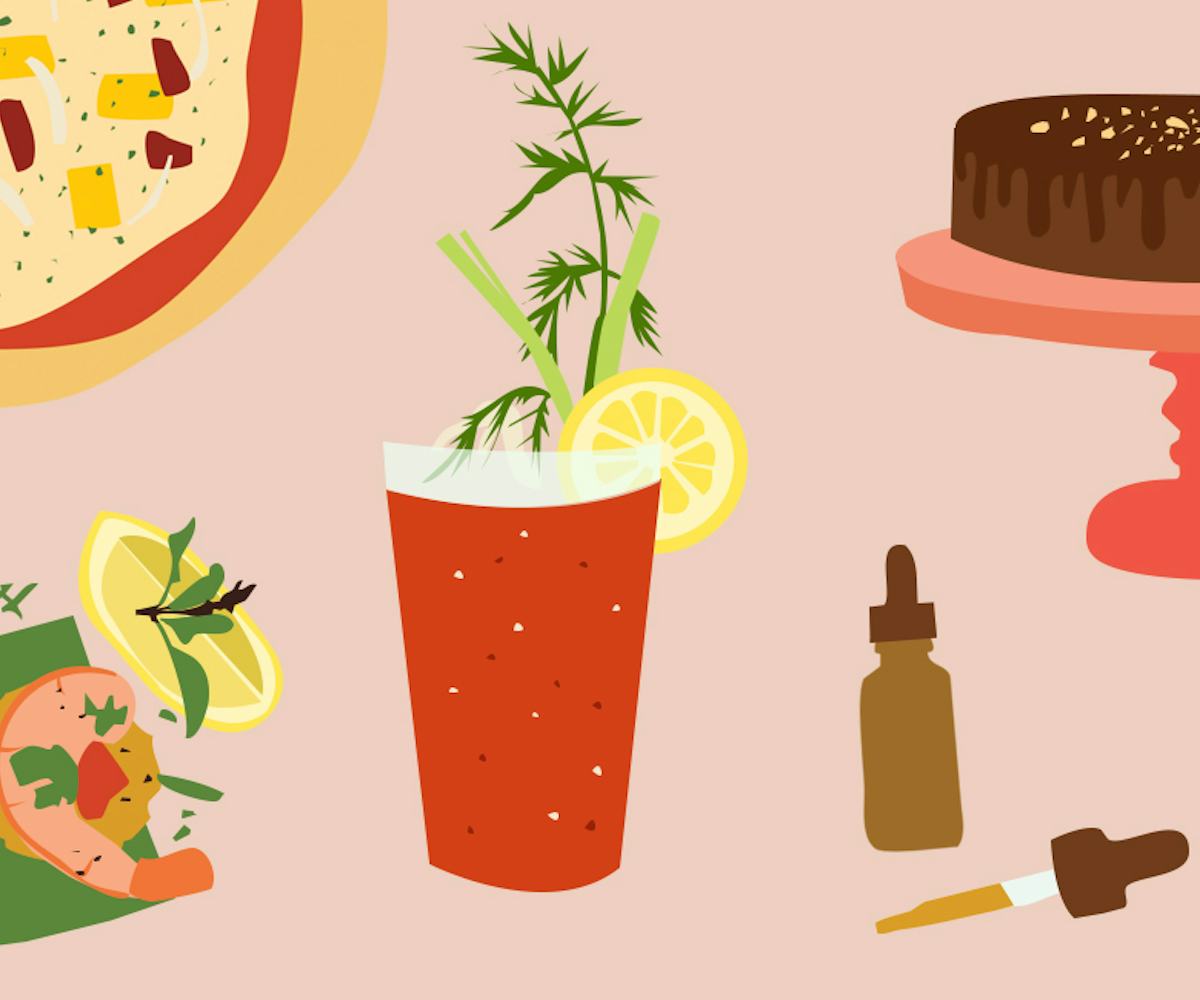 Illustration by Lindsay Hattrick
7 Weed-Infused Recipes To Try This 4/20
For more elevated snacking
4/20 is just days away. Do you know what you're bringing to the party yet?
If you find yourself itching for something a bit more creative than your typical run-of-the-mill pot brownies, look no further than our 4/20 recipe guide. We turned to the experts—authors of edible cookbooks, founders of pot foodie blogs, and more—to send us their favorite (and definitely not average) recipes.
Below, you'll find boozy (and non-boozy) cocktails, delectable desserts, and some killer appetizers and main courses. Get ready to tantalize your taste buds (and get lifted).
Happy munchy-ing!
NYLON usesaffiliate links and may earn a commission if you purchase something through those links, but every product chosen is selected independently.
Infused Bacon and Mango Pizza
By Ardent
Who doesn't like pizza? Who doesn't like to eat pizza when they're stoned? Exactly. Naturally, this pretty unique recipe from decarboxylator brand Ardent is the perfect treat on 4/20.
Ingredients:
Sauce
Toppings
Directions: Preheat oven to 450 degrees (or 500, depending on crispiness preference). To create sauce, add olive oil to a medium sauté pan and add in garlic, onion, and spices. Add in tomato sauce, and combine all ingredients. 
Spread sauce onto dough, pile on the toppings, and sprinkle decarbed flower all over the top. Bake for 10 to 15 minutes (checking every five).
*This recipe requires "activated" cannabis flower, created with a decarboxylator, such as Ardent's NOVA version. For a more detailed video on how to use this model, click here.
Hazy Thai wings
By JeffThe420Chef, from his book The 420 Gourmet: The Elevated Art of Cannabis Cuisine
Cookbook author JeffThe420Chef shared his favorite recipe, Hazy Thai wings. These serve as an ode to the Thai wings he ate at Pok Pok Noi in Portland, Oregon. "I fell in love! All I could think about for days was how to recreate these awesome wings with one, or two, added ingredients. You'll never look at wings the same way again, guaranteed."
Ingredients
Toasted peanut and garlic topping
Directions: Place sugar in a food processor and grind until very fine. In a medium bowl, add fish sauce, ketchup, sugar, chili garlic sauce, lime juice, and rice vinegar, then set aside. In a shallow dish, sift cornstarch and garlic powder. Toss the wings in the cornstarch mixture to coat. 
Heat a large skillet on the stovetop for one minute on high, adding enough coconut oil to fry (about two inches from the bottom of the pan) the wings. Fry wings until golden brown, removing them with a slotted spoon and draining onto brown paper. Next, preheat oven to 340 degrees. Place fried wings on a lightly greased baking sheet and drizzle each wing with one teaspoon of canna-coconut oil. Bake for seven to eight minutes. 
In a clean skillet, add the sauce and heat on medium until syrup consistency (about five minutes). Remove wings from the oven and toss with sauce until evenly coated, then toss in garlic and peanut mixture (mix ingredients with a dash of salt, spread evenly on a small pan and roast at 325 degrees for 30 minutes). Garnish with cilantro, and serve alongside carrot sticks and celery curls.
*For canna-coconut oil, mix five grams of cured/dried/decarbed herb into five ounces coconut oil.
Mango BBQ Shrimp on Crispy Polenta Cakes
By Elise McDonough, author of The Official High Times Cannabis Cookbook
This recipe, a favorite by Elise McDonough, author of The Official High Times Cannabis Cookbook is a mashup of Cajun and Caribbean influences. "These bites will remind you of shrimp and grits, but with a fruity twist from the addition of mango to the barbecue sauce," she says. For this recipe, you can either add weed to dish through the sauce or the polenta cake. "And since it's a bite-size appetizer, THC dose and portion control get simplified."
Ingredients:
Polenta: 
Mango BBQ Sauce:
Directions: Grease a 9-inch by 13-inch baking dish with butter. Combine two cups of water, bouillon, polenta, and herbs in a medium-sized saucepan and bring to a boil over medium heat. Reduce heat to a simmer, stirring constantly, until the polenta thickens and begins to pull away from the sides of the pan (about 10 minutes). Stir in the butter (or cannabutter) and goat cheese, then add salt and pepper to taste. Pour the hot polenta into the greased baking dish and smooth into an even layer using a rubber spatula. Allow to cool for at least 30 minutes or preferably overnight.
For the sauce, heat a large saucepan over medium heat and add the cannabis-infused coconut oil. Once the oil is melted, add garlic, ginger, jalapeño, onion, and mango and sauté for eight minutes. Add tomatoes, honey, apple cider vinegar, herbs, salt, and pepper, and bring to a low boil. Reduce to a simmer and cook until sauce is thickened, about 20 to 30 minutes. Taste and add the optional cayenne if sauce needs more heat and spice. Remove from heat and let cool, then place in a blender and process until smooth. You'll yield about two and a half cups of sauce with plenty left over.
When you're ready to assemble the appetizer, preheat the broiler to 450 degrees. Remove the polenta from the fridge. Use a shot glass to punch circular cakes out of the polenta, yielding 12 to 13 cakes. Brush both sides of the polenta cakes with olive oil and place on a foil-lined baking sheet. Broil until golden brown and crispy, about five to 10 minutes.
Get ready to bake the shrimp by turning oven down to 350 degrees. Place 1/2 cup of mango barbecue sauce in a small bowl. Dip each shrimp into the sauce, coating both sides. Place shrimp on a foil-lined baking sheet. Repeat with all shrimp and spoon any of the remaining 1/2 cup sauce over the top. Bake for seven minutes, then turn shrimp over and bake for another four to five. Assemble the appetizer by spooning a teaspoon of sauce in the middle of each polenta cake. Add a shrimp on top, garnish with chopped herbs and a small chunk of mango. Serve while hot!
Note: The dose was calculated using cannabutter that lab-tested at 10 mg of THC per tablespoon, and cannabis-infused coconut oil with a THC content of 20 mg per tbsp. Using only the cannabutter to dose the polenta would result in each cake containing about 1 to 2 mg of THC. Remember, some THC was left behind in the scraps after the cakes were cut out. Using the cannabis-infused coconut oil to make the sauce would result in sauce with about 1 milligram of THC per tablespoon. Using 1/4 cup to coat the shrimp adds less than 1 mg to each shrimp. These appetizers are microdosed so you can eat two and receive about 5 to 6 milligrams of THC. A low dose makes it easy to party without worrying that you'll get too stoned. Your results will vary depending on the potency of your infused butter and oil.
The Bloody Mary Jane
By Monica Lo of Sous Weed
For this boozy recipe, the brunchtime favorite cocktail gets a twist. "This Bloody Mary Jane is fresh-made with smoky, charred tomatoes and Sous Weed cannabis-infused vodka. It's my favorite weekend wake-and-bake recipe to share with friends over brunch," says Monica Lo, creator of the cannabis cooking blog Sous Weed.
Ingredients:
Directions: On a wire rack over a sheet pan, lay out your tomatoes, garlic, jalapeño, and shallot and, using a culinary blow torch, give the veggies a nice char. If you don't have a blow torch, you can place the veggies in the oven and broil on high for a few minutes to get some color.
Put the charred veggies, cilantro, horseradish, lime juice, Tabasco, Worcestershire, cracked pepper, and sous vide cannabis-infused vodka (for directions, click here) in a blender and puree until smooth. Salt to taste. 
Fill four highball glasses with ice, add 1 oz of vodka to each glass, filling the rest with the mix. Stir slightly and garnish with your favorite munchies.
The Hippie Highball, A Cannabis Cocktail
By Corinne Tobias of Wake + Bake
Sometimes, we don't want to mix our bud with a buzz, so that's where this fruity mocktail recipe by Corinne Tobias of Wake + Bake comes in. A recipe from her new book, Dazed + Infused Ebook: The Ultimate Healthy Guide to Cannabis Infusions and Dispensary Favorites, this mocktail uses cannabis instead of alcohol to get you feeling good.
Ingredients:
Directions: In a compartment of an ice ball mold, combine all ingredients and freeze for 30 minutes to one hour to help the honey and tincture adhere to the fruit. Fill the mold with water and freeze for eight hours (or overnight). Drop one or two Highballs into water, lemonade, or any other beverage you'd like to make a little more chill. 
Chocolope Vegan Raw Brownies
By Jessica Catalano, author of The Ganja Kitchen Revolution
These aren't just your average brownies. Jessica Catalano, the author of The Ganja Kitchen Revolution, created this raw, vegan recipe using the chocolope strain of cannabis for its complex taste—deep chocolate with hints of sweet fruit and a faint smokiness—and its mood-balancing, cerebral high. "It's the perfect upgraded version of the quintessential 4/20 brownie," she says. "No matter how good these babies taste, don't be greedy, be sure to share the love this year!"
Ingredients:
Raw brownies:
Raw frosting:
Directions: For the raw brownies, add mixed nuts, rolled dates, cocoa powder, flax seeds, raw coconut oil, agave nectar, vanilla extract, almond extract, and sea salt to a food processor. Process this mixture until it's well-combined and creates a moist, crumbly mixture. Next, spread mixture evenly into an 8-inch by 8-inch square pan, pressing into the pan with a flat hand until the mixture compresses evenly. 
For the frosting, in a bowl, combine the cannabis raw coconut oil, agave nectar, cocoa powder, and vanilla extract. Whip with a spoon or whisk until the frosting comes together and becomes uniform in texture. After five minutes of whipping frosting by hand, pour directly into the pan mixture and smooth out evenly with a spoon. Put the pan in the fridge and let it set for one hour. Pull from the fridge and cut into 16 brownies with a knife. Store your raw brownies in a container in the refrigerator for up to one week.
*You can also substitute with chocolate Thai, chocolate kush, spice, or chocolate OG. "If you cannot find these strains, don't panic. Just follow your nose and taste buds to find strains that would complement the dish," she says.
Chocolate Ganache Stout Cake
By Jessie Moore of The Fresh Toast
This recipe by Jessie Moore of cannabis blog The Fresh Toast infuses some seriously yummy ingredients together—chocolate, stout beer, and cannabutter—for a truly decadent treat.
Ingredients:
Cake:
Ganache topping:
Directions: Position two racks in the middle of your oven and preheat to 350 degrees. Generously grease a 9-inch springform pan and line the bottom with parchment paper. In a medium saucepan, combine the beer and light brown sugar. Heat on medium-high heat until the mixture comes to a low boil, reduce heat to a summer. Let the mixture simmer until it has reduced to about eight ounces worth of liquid, about 20 minutes. Remove from heat and stir in salt. Set mixture aside. 
In a large heatproof bowl, set atop a saucepan of simmering water, melt together the cannabutter, butter, and the chocolate over medium-low heat. Once melted, remove the bowl from the saucepan and transfer to a work surface. Pour the beer mixture into the melted chocolate mixture, stirring to combine. Whisk in the eggs, one at a time, making sure that there are no streaks of yolk in the mixture before adding the next. Pour the mixture into your prepared pan. 
Fill a large roasting pan half full of water. Place this pan on the lower oven rack, place the cake on the upper rack. Bake for 45 to 50 minutes, or until the cake has just the slightest jiggle in the middle. Remove from the oven, and let cool completely (don't forget to remove the pan of water, too). Run a knife along the edges of the pan to loosen the cake before removing the springform sides. 
To make the ganache, place the chopped chocolate in a large, heatproof bowl. Pour whipping cream into a medium saucepan and heat over medium heat until mixture reaches a simmer. Remove from heat and pour over chocolate. Stir until creamy and combined. Let cool slightly until it's thick enough to spread without dripping too much, and then spread over the cake, letting chocolate drip over the sides just a little. Garnish the cake as desired.