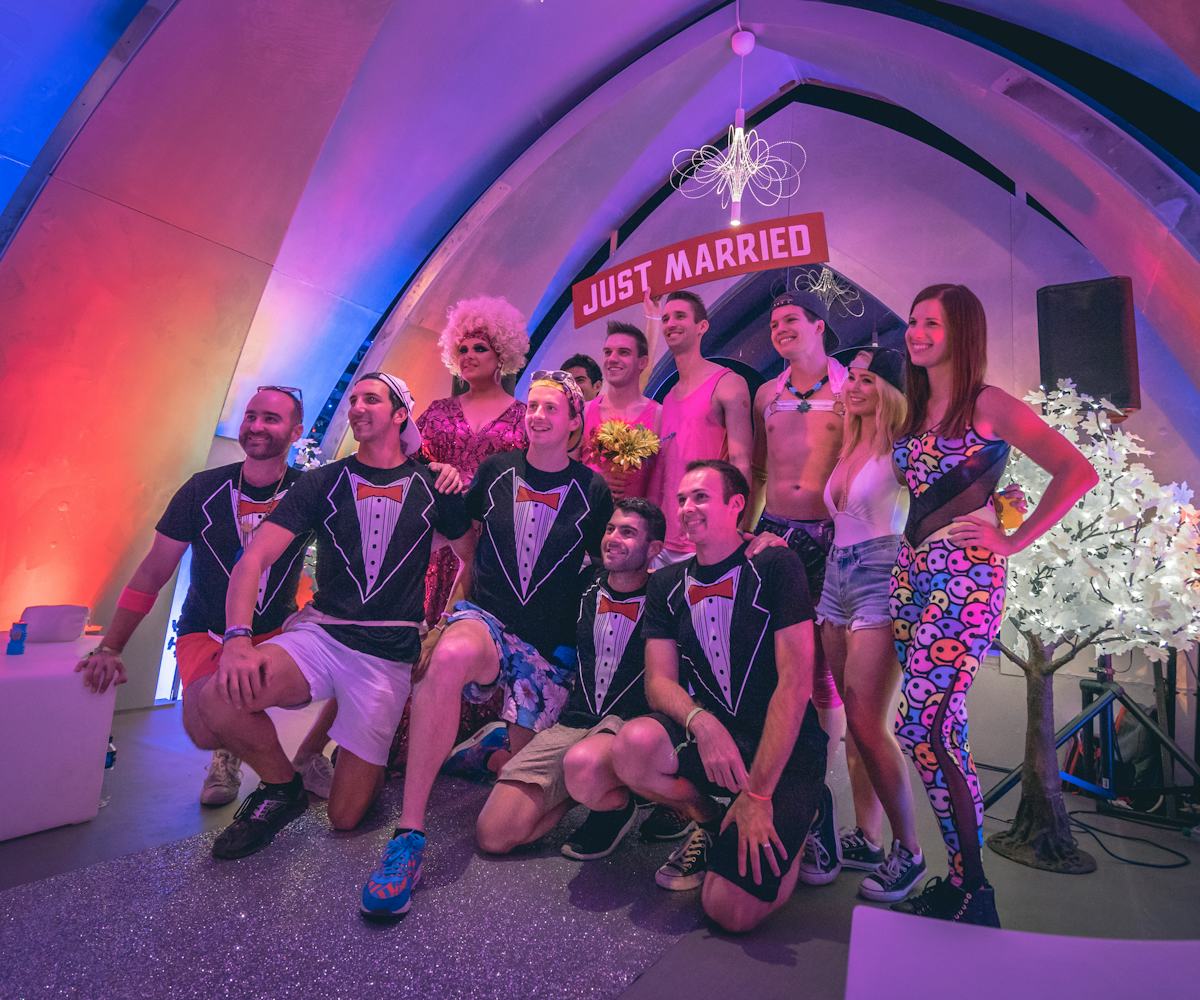 Photo by PHIVES Photography
We Crashed A Wedding At Electric Daisy Carnival
Every year, hundreds of thousands of music lovers flock to the Las Vegas Motor Speedway for Electric Daisy Carnival–three days of total immersion in flashy performance art, carnival rides, the best of electronic music, and, for many, love. In recent years, EDC has incorporated a functional chapel among its offerings, allowing couples to legally tie the knot under the electric sky. If you ever wanted to know what it's like to get married at one of the world's largest parties, well, we crashed Chris and Skye's wedding (one of EDC Las Vegas' first same-sex weddings, at that!) to give you all the neon deets.
Chris, a chef, and Skye, a lawyer, first met seven years ago, and EDC (then based in Los Angeles), was one of the first things they did together as a couple. Though their relationship grew and cemented over the years, getting married always seemed just out of reach, until 2015, when the Supreme Court declared same-sex marriage legal in all 50 states. "I remember exactly where I was when the ruling came down," says Skye. "I left work. I just walked out. I thought, 'This is something I need to be a part of.'"
Skye soon proposed to Chris, and earlier this year, when he realized they were going to EDC, decided to broach the subject of a wedding at the actual festival. "We were planning something more traditional," said Skye, "but one day, I came home from work, walked right up to [Chris] and said, 'Listen, I have this crazy idea… what would you think about getting married at EDC?'" Chris' response? "I'm so glad you brought that up!" They signed up that minute.
While the normal EDC matrimony experience includes a ceremony within one of two temporary, beautifully modern structures on the festival grounds, Chris and Skye were treated to something a little extra: Smirnoff gave the couple their own film crew, live streamed the entire event, and provided a private reception at the Smirnoff House, an adorable white picket fence house (complete with chimney!) built on the EDC grounds that had been hosting intimate sets all weekend long by acts like Martin Solveig and Ookay. The newlyweds got the royal treatment and brought their relationship full circle, cementing their bond at the event that started it all for them. If you want a wedding with a kick, here's all the deets on how to get married at EDC yourself.
Love always wins.
If Elvis doesn't officiate your Vegas wedding, did it really even happen? The fashionable priest, decked out in a suit lined with glowing electroluminescent wire and light-up bow tie, led the ceremony in a modern, semi-open chapel, adorned with glowing trees and mod benches. The couple read their own vows to each other, and Skye broke down when Chris said, "I want to spend the rest of my life making you as happy as you make me." After the moving dedications to each other, the crowd erupted as the priest shouted, "I now pronounce you husband and husband!"
In order to get to the Smirnoff House, where the reception was hosted, Chris and Skye had to trek across the festival. Friends made sure the attention was on them, lighting the way and dancing alongside with inflatable props. Festivalgoers were enchanted and kept stopping to yell "Congrats!" or hug the two to share in their special moment. They even stopped for a second by the Kinetic Field stage to enjoy a couple of tunes in true EDC fashion. Together forever under the electric sky.
Just married! The entire wedding party posed for photos before walking across the festival for the reception.
Black light everything and an autograph wall made this reception one big light show. Guests had the opportunity to leave their mark on the walls, making for a gorgeous, glowing mural.
Wedding guests at the Smirnoff House snacked on psychedelic cupcakes and grabbed glow bracelets to dance the night away. Seriously, we've never seen this much color at any wedding reception! We felt like we were being cuddled by rainbows.
After Chris and Skye made their grand entrance into the reception, a drag queen emceed, introducing their first dance with, "The party is only this good if everyone's invited. Thank you for showing us love, and that love always wins." Guests then cleared the floor and shot confetti cannons on the couple danced. "It felt like sugar on my face," said Chris.
During the reception, TVs in the Smirnoff House displayed photos of the couple, and were even updated with pics from the ceremony that happened just moments before.