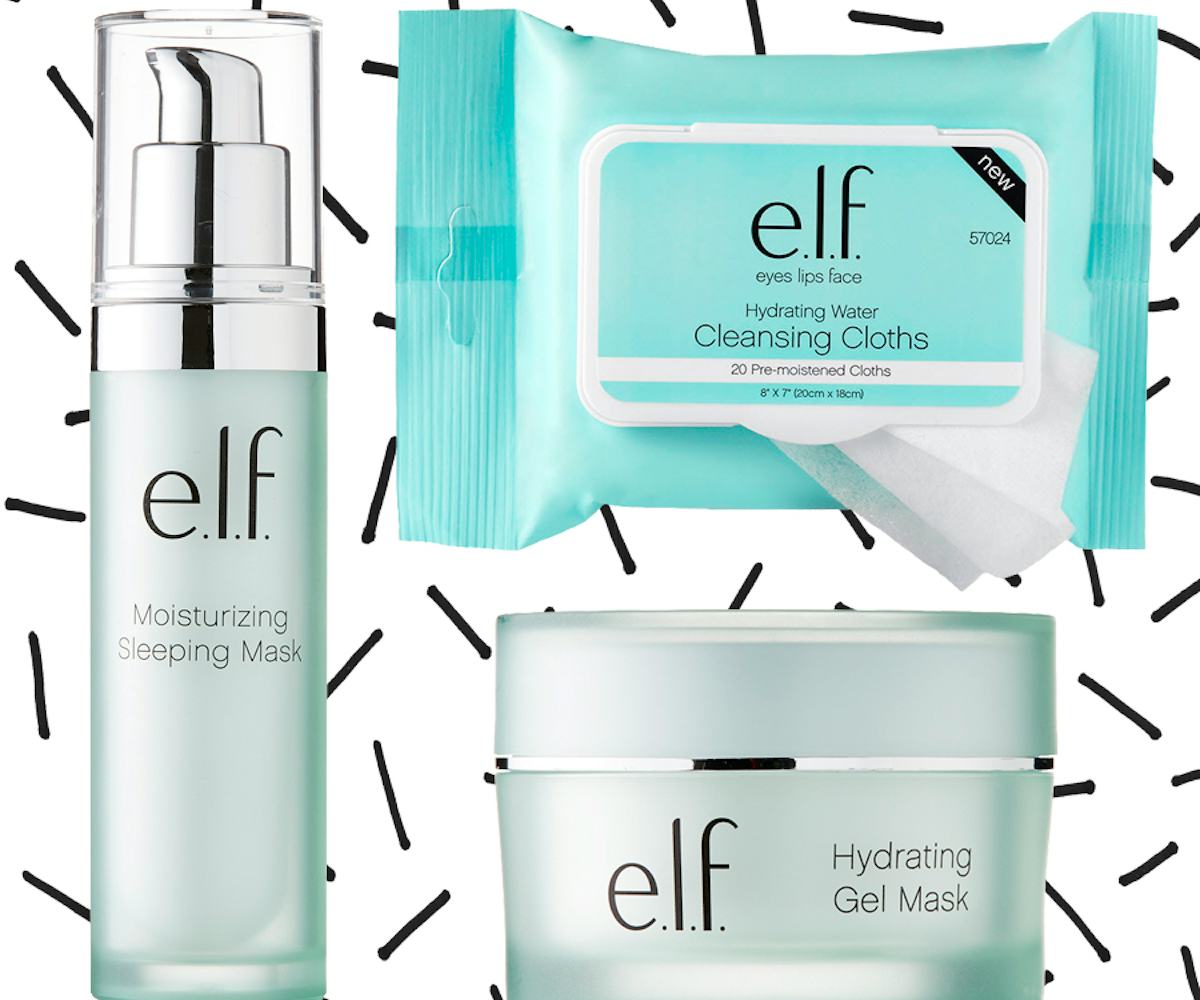 Photo courtesy of e.l.f. Cosmetics.
e.l.f. Cosmetics Adds Three New Must-Try Products to Their Skin-Care Line
February, one of the bleakest and coldest months of the year, tends to take a major toll on our skin, with freezing temperatures and lack of daylight leaving it looking dull and feeling dry. It, therefore, becomes crucial to use moisturizing and hydrating products in order to keep skin soft and supple, no matter what skin type you may have. Lucky for us, e.l.f. Cosmetics, known for their affordable yet high-quality cosmetics, have just added three seriously moisturizing additions to their skin-care line—Hydrating Water Cleansing Cloths, Hydrating Gel Mask, and the Moisturizing Sleeping Mask— just in time to rescue our skin from the winter blues.
I was handed these products to try out on the very last day of New York Fashion Week, so my sad, sleep-deprived, and wind-battered skin was pleased to get some much-needed hydration—and let me tell you, these products actually work. 
E.l.f. first launched their skin collection a year ago, with the idea that luxurious and nourishing skincare should be also affordable. The product line, comprised of everything from bubble masks to facial massager tools, is free of harmful and toxic parabens, phthalates, and sulfates, and priced from $4 to $14 a pop. You can grab the basics kit (containing their top-rated products: Illuminating Eye Cream, Daily Hydration Moisturizer, Hydrating Soothing Serum, and Nourishing Night Cream) for $42. 
Click through the gallery for a closer look at the new products, launching today at e.l.f. Cosmetics.
e.l.f., Hydrating Gel Mask, $12, available at e.l.f. Cosmetics.
This new gel mask hydrates and cools, with aloe, coconut and, chia seeds, giving your skin retainable moisture and a healthy glow. Leave on for ten minutes and then wipe off excess for a moisture boost.
e.l.f., Moisturizing Sleeping Mask, $12, available soon at e.l.f. Cosmetics.
This clear, overnight leave-on mask, infused with aloe, vitamin E, and jojoba, seriously hydrates and soothes skin while you sleep. Apply to your face, neck, and chest, ten minutes before going to sleep, and wake up with a seriously smooth and refreshed look.
e.l.f., Hydrating Water Cleansing Cloths, $4, available soon at e.l.f. Cosmetics.
These cleansing cloths act as a quick and easy way to remove your makeup and freshen up your skin. The pre-moistened cloths are soft and cooling, removing even the toughest of eye makeup while moisturizing at the same time.