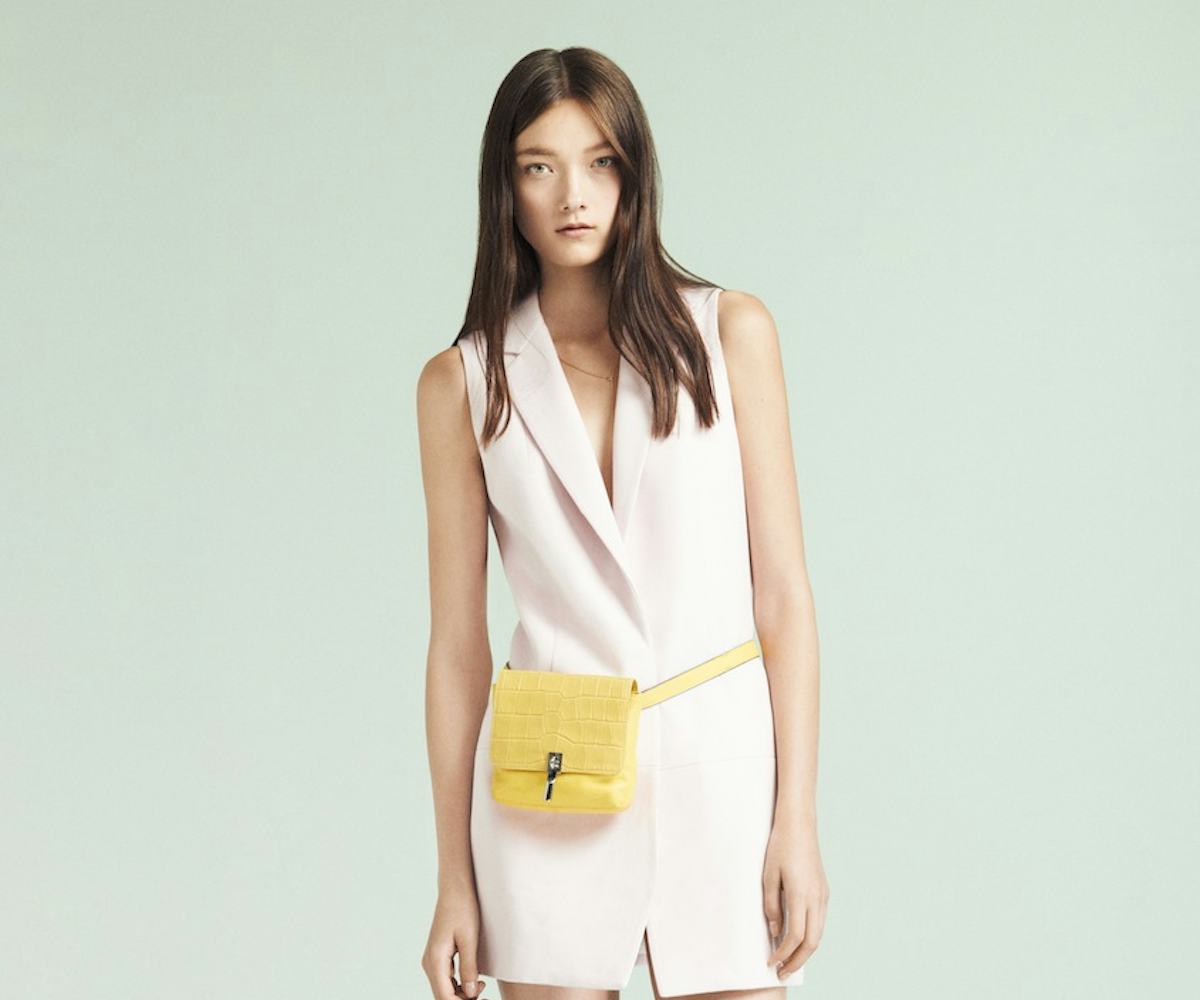 all photos by paul maffi/courtesy of elizabeth and james
#nylonfw: elizabeth and james
10 olsen-approved styling tips to copy now.
Yesterday's Elizabeth and James presentation epitomized all of our summer daydreams, incarnate. There were models chilling against surfboards. There was pressed mint, watermelon, and citrus juice. There were mesh tops, culottes, and swingy skirts. And yes, there were Mary-Kate and Ashley Olsen.
For spring the twins looked toward their California roots for sartorial inspiration, mixing things up with sophisticated separates like blazers, as well as moden essentials like bandeaus and sheer skirts. The clothing was cute on its own (as always), but the thing that really drove the collection home? Its quintessential laid-back, cool girl attitude that derived from easy, unexpected styling. Since we want to steal these outfit ideas immediately--and you will, too-- we narrowed down Elizabeth and James spring '15 into some easy dressing tips (you're welcome!).
Consider this How To Dress Like An Olsen 101, so get schooled with our how-to right here.
Just went you thought two complementary (but different) prints were enough? Think again. Layer with a totally contrasting pattern for a surprisingly put-together result.
Not even kidding, using a long scarf or wrap as a shirt can look totally chic.
Pairing overalls with a contrasting top is cute, but switch things up by layering the same colored shirt underneath.
Elizabeth and James' MVP piece? The bandeau top, which can be worn solo as a shirt--but if you're feeling shy, try it under a mesh blouse.
Forget what the haters say...not only are horizontal stripes completely flattering, they also play well together.
Break out the old Baja pullover from spring break in Mexico and rock is over a longer skirt or culottes.
Make your slouchy shorts-and-tee combo look immediately pulled together with a longline blazer. Obsessed.
We're all about the crazy ways to wear cross body bags (see also: Madewell), so tighten yours up and wear it across your waist. Consider this the coolest incarnation of the fanny pack.
The crop top-plus-long skirt coupling is one of the most wearable takeaways from the season. It looks good on literally everyone, so there's no excuse not to hop onboard.
If you haven't bought a pair of culottes, go ahead and splurge now. These breezy bottoms are sticking around until next summer (and beyond).