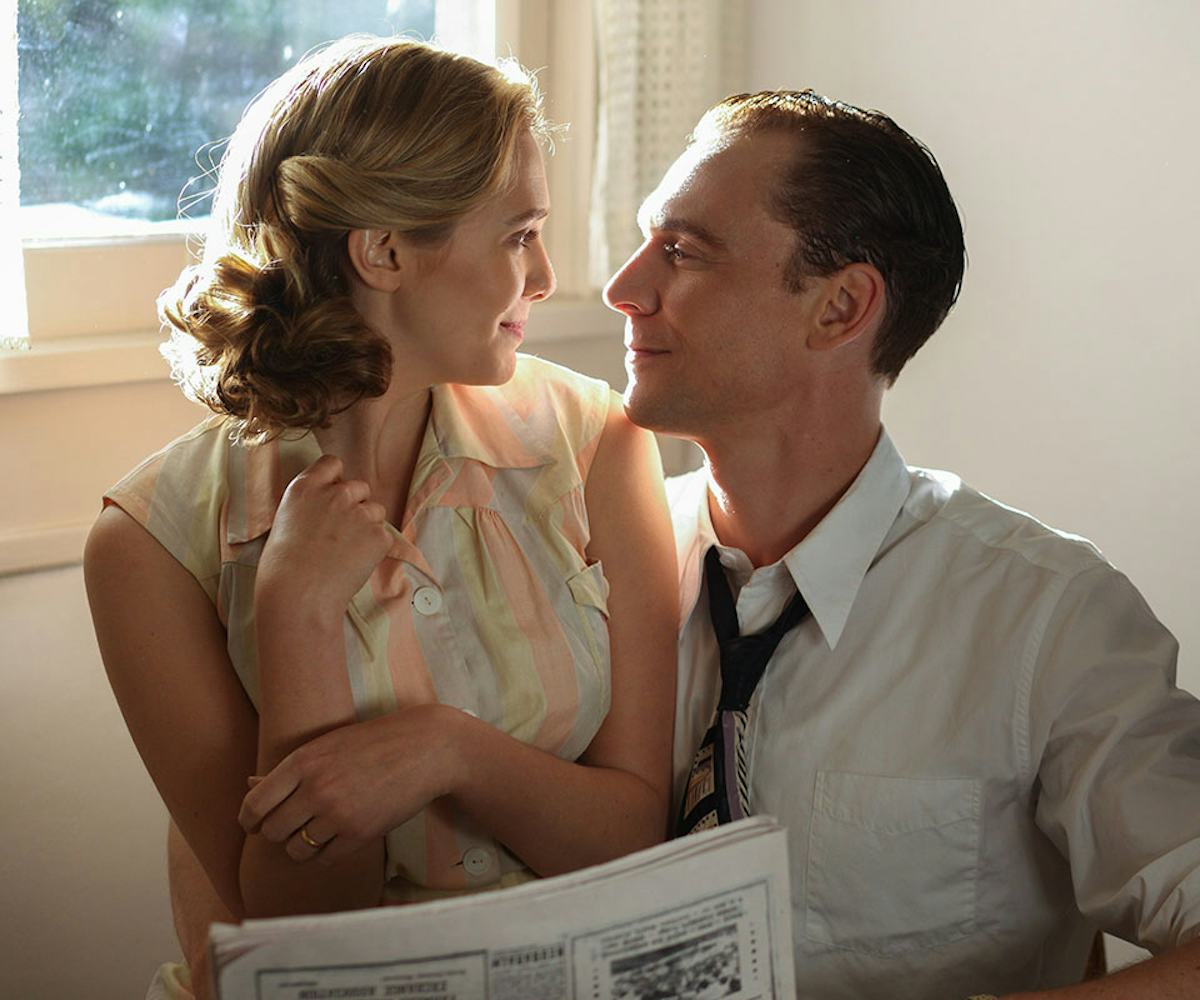 Photo courtesy of Sony Pictures Classics
Elizabeth Olsen Was Terrified Of Singing In 'I Saw The Light'
She Plays Hank Williams' Wife Audrey
After premiering at the Toronto International Film Festival late last year, Marc Abraham's Hank Williams biopic, I Saw the Light—a film that had all the makings of a major Oscar contender at the time—was met with lukewarm reviews, forcing the studio to push its release out of awards season and into the early start of a crowded summer movie season. Now, it will be Batman vs. Superman vs. Hank Williams, in a box office showdown that should render the country legend's tragic tale an afterthought among moviegoers, when I Saw the Light is released on March 25, opposite DC's superhero juggernaut. It's a shame too, since Tom Hiddleston as Williams, and Elizabeth Olsen as his first wife Audrey, deliver two of the best performances of their careers.
We sat down with Olsen after the film's premiere, to discuss what it was like watching her rumored beau transform into one of the most iconic singers in American history, how she reconciled her own trepidations of playing a historical figure, and just what to expect when a little movie called Captain America: Civil War drops this May.
How much did you know about Hank Williams before you signed on for the project?
I knew the songs that were the most famous, so I've heard Hank's name a lot. But I didn't really know much about him.
Strange, since he's considered one of the most influential songwriters ever, yet our generation just isn't that familiar with his work.
No, but my friends who are musicians were. One of my best friend's mothers, when I told her I was going to work on a Hank Williams film, she was like 'Are you joking?' It turns out her youngest daughter was named Audrey after my character. She told me that all of Audrey's boots were engraved with her name, so I asked our costume designer to make me a pair of Audrey boots, and now I have my own pair of Audrey boots.
Was Audrey an egomaniac?
When I went to the Country Music Hall of Fame [in Nashville], they had a vault of all of the Williams family's things that they were preserving, things like family photos, newspapers, collages, and in almost every photo, Audrey's dresses were embroidered with a big "A" and all of her boots did, in fact, say "Audrey."
What do you think that means?
Well, she always had a genuine expression on her face. She never seemed false. She was either truly having a joyful time, or she was just not having it. I think she's a business woman, and I'm sure she saw certain things as branding opportunities. So she took on the whole business, and Hank had none of that, so in a way she's very responsible for him having a career. They needed each other.
Talk to me about Tom's performance. What was it like watching him transform from an outsider's perspective?
I saw him singing first in the studio in Nashville. I was nervous at first because it was so intimidating. You're trying to figure out being the actor singing for the part, without having played the part, which is a very strange place to be. It felt a little crunchy for both of us. But once we got on set and into character, everything just seeped in. When we were doing our camera test, Tom was taking on the facial expressions, had the outfit on, and I just thought 'That is so gnarly.'
Does that kind of talent blow you away when you're watching it in real life?
Absolutely. He's such a detailed actor, and so highly skilled. He does all this work but it would all mean nothing if he were soulless. He took on all the emotional shit and lived with it every single day for the shoot. I had half the time off, so I'd hang out and be like, 'Cool, I guess I'm going to go explore Shreveport now! I have friends coming in!' But for him, it was unrelenting. It was pretty remarkable.
What do you think Hank would think about the current state of country music if he were still alive?
Our music supervisor said that he was happy that Hank never saw country become the new country.
Why do you think that is?
Because new country feels a little too much like pop music with a twang.
Why do you think so many of these young geniuses succumb to substance abuse?
I think a lot of it has to do with extreme pressure and attention. When you have extreme fame, that never stops going away, I can't even imagine what that's like. It's showing up on the road all the time. It's people telling you where to be, what to do. When you hear all those old Hollywood stories of actors being on contract with major studios, that's how all of them got their addictions. They were being shot up with shit just to give them energy, and that's where it comes from. They're in demand, they're tired, figure it out. They're in pain, they're sick, figure it out.
Were you able to draw parallels between Hank and recent artists who have suffered the same fate?
There's a moment in the Amy Winehouse documentary where she's under so much pressure to go to a show, and she just didn't want to go. But she goes to Serbia, and she's just fucked out of her mind. She's so high, she's so drunk, she walks on stage and she's just so sloppy, and she doesn't go near the mic. That's kind of what happens in this movie. It's a very modern thing that Hank was kind of the pioneer of.
Is that something you worry happening to you the more famous you get?
I have zero worry about that.
Your anonymity is kind of slipping away I'd imagine.
Not so much. I grew up in L.A., and I lived in New York. I'm pretty well aware of where to go and where not to go.
Do you remember what your first film festival experience was like for Martha Marcy May Marlene?
Back then I was literally like, 'What's a film festival?' I was at Sundance and thought 'What's the big deal? This is an isolated world. No one cares.' I didn't understand why everyone was putting so much pressure on me and telling me that my life was going to change. I was like 'We're in the middle of the mountains. Nobody gives a shit!' I was a theater kid and had no clue about the film industry.
Would you call yourself a seasoned vet at this point?
I think I'm just starting to understand things, and I'm just starting to know how to make the right choices. It took a while, but you figure it out.
When you agree to do films like The Avengers or Godzilla, is that a conscious choice to take your career to another level?
I definitely wanted to do them, that's for sure. When you have an opportunity like that, you think about it long and hard, and you try and make sure it's with the right people, the right, team, the right cast, and the right character, and then you just say, 'Yeah!'
Has it been hard to stay spoiler-free in the lead up to Captain America: Civil War?
I already screwed it up apparently in France.
I heard about that. You mentioned the villain's name, Baron Zemo.
I didn't say Baron Zemo! I just said that Daniel Brühl is an awesome villain, and apparently that was new information. Everyone knew he was playing Baron Zemo, so why would they assume he's a good guy?
Will he be wearing Zemo's trademark purple mask?
No. I don't know. No, he's not. I don't know. I have no idea. I've never had a scene with him, how about that? I had the whole film with him and then did nothing with him at the same time. We knew each other very well on set, and we never saw each other as well. How about that puzzle?