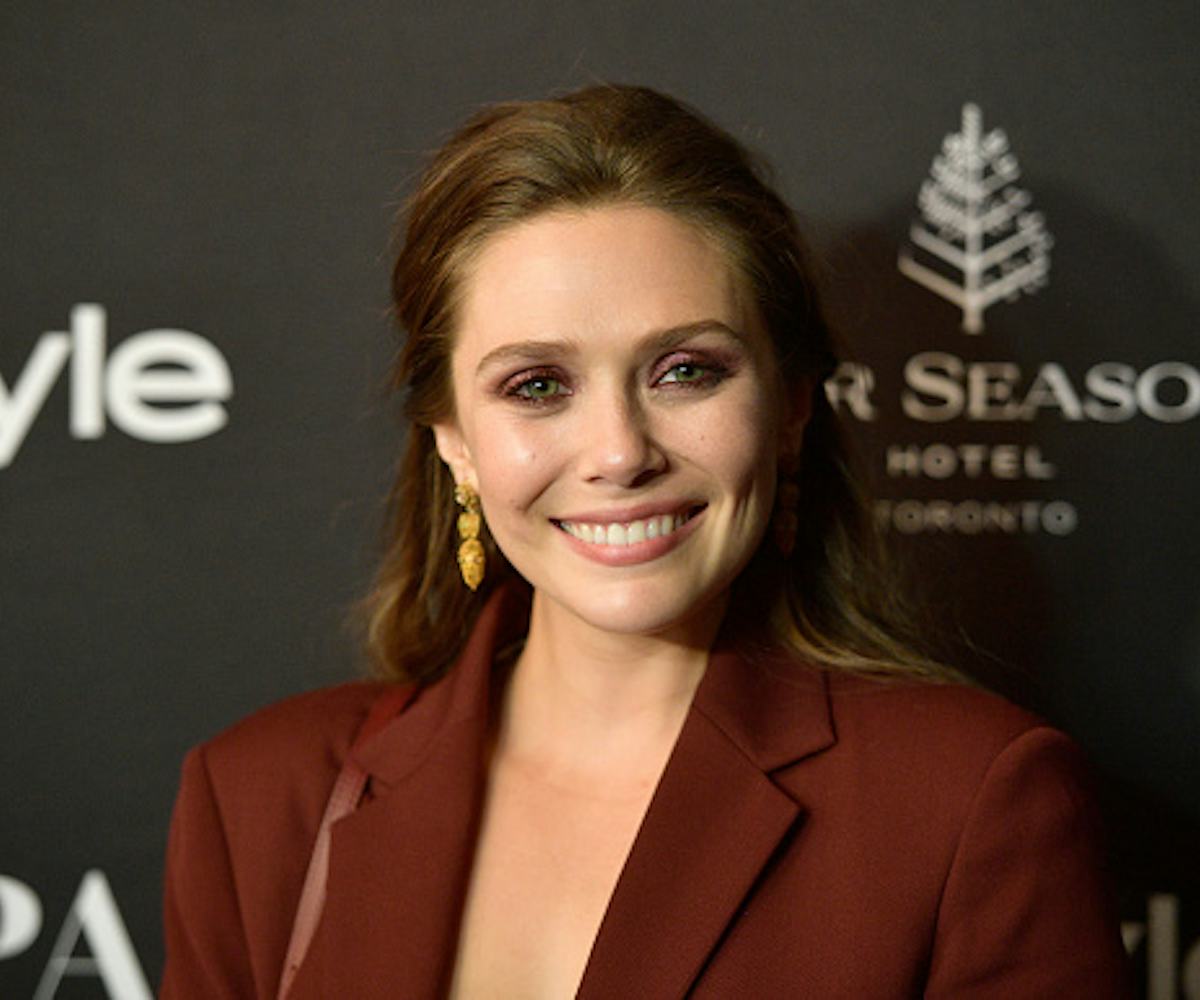 Photo by Matt Winkelmeyer for Getty
Elizabeth Olsen Really, Really Wants You To Know Her New Show Is Not Like 'This Is Us'
'Sorry For Your Loss' premieres tonight
Elizabeth Olsen can't be pigeonholed. Since her breakout performance in the deeply unsettling psychological thriller Martha Marcy May Marlene, Olsen has been on her own unique trajectory, bouncing in between massive franchises (the Avengers movies) and biting indie satires (Ingrid Goes West) with equal aplomb. Now she's trying her hand at television, in the upcoming Facebook Watch half-hour drama, Sorry For Your Loss.
In it, Olsen plays the newly widowed Leigh Shaw, a complex woman who's grappling with the sudden loss of her husband. While the mystery of how Leigh's husband died slowly unravels via flashback, the show's beating heart is its depiction of grief, something Olsen and I discussed at length at the Toronto International Film Festival, where it screened ahead of its September 18 premiere. Olsen admitted that though she's never experienced the kind of devastating loss that her character endures, she has been touched by grief, even peripherally, her whole life. In fact, we all have, which is what makes Sorry For Your Lossthe fall's first essential new show. 
Here's Olsen on how her show differs from This Is Us, what Joan Didion taught her about grief, and why working with Facebook is better than it sounds. 
There have been a lot of films and TV shows about the process of grief. What do you think sets Sorry For Your Loss apart?
I don't really know the TV shows or movies about grief. I don't watch This Is Us. I read this three years ago, so that show wasn't even a thing yet. But the thing that I love about what we're doing, or what we're trying to do at least, is looking at the mundane and the monotony of grief, not the dramatic. Obviously, things happen that are hard and difficult and even funny, but grief is a really lonely and isolating process.
And the experience can be different for everyone.
Yes, and we're trying to sort out how we remember things because we all do it differently. So the way we film it is different, we don't have to have continuity, we can overlap, so there's a nice freedom to it. The thing that I love about Joan Didion's The Year of Magical Thinking is that there's this cyclical nature of needing to hold onto memories and the details of memories because you don't want the person to die there, and you want to keep that person alive as specifically as possible. That, to me, was such a visceral thought, and that's what is so different about the show. 
It definitely avoids the melodrama that is sometimes inherent in these kinds of stories. 
There's no bells and whistles, there's no dramatics. There is a bit of a mystery with understanding how my character's husband died, but that's also an internal process. It's a personal experience to try and understand what led to someone's death, and it's one that makes you spiral. I've heard This Is Us has reveals, and that's just not what we're doing. That's not the story we're telling.
You talk about it being a personal process. Were you drawing on anything in your own life to help you understand what your character was experiencing?
I'm lucky that I haven't had that experience. 
Neither have I, which I find can prevent me from connecting with or understanding people that have experienced grief.
I know people who have experienced grief and sometimes I would think that maybe they don't want me to bring this up a few years later or check-in. Maybe somebody doesn't want that so you're just like, "This never happened." Again I haven't seen This Is Us, but I do know that movies that are about grief usually follow the formula of: "Oh, I just lost this thing, I'm going to go through all the stages, and then I'm going to be done with it." The metaphor that really helps me visualize the process is that everybody has this backpack that they carry around with them—this bag of weight that is the trauma they've experienced, the pain they've experienced, the losses they've had. It doesn't have to be the closest person in your life dying, it could be any of those things. We all walk through life with that. When you get a huge new adjustment and all of a sudden it becomes weighted down totally differently, you don't lose that weight, but you change the way you walk through life and you adjust to it, and that is a slow process.
I think some people may be surprised to see you do a show on Facebook Watch, considering how new and unproven it is in the streaming space. Were you skeptical?
Being a newbie with any kind of production company or network is not comfortable because there isn't a system in place, and I like the comfort of structure and knowing that there are boundaries. So we had to create that for ourselves by working with a production company that's made a lot of indie movies. That's how we approached it. And now it's about people hearing about the show. I think right now that's the challenge. 
What about Facebook's damaged reputation in the wake of Russian hacking and the rise of Trump?
All the political stuff that's happening there has nothing to do with our show. Our show actually makes sense for Facebook. If you use it even a small amount, you find out about people giving birth and you find out about people dying. I'm not on Facebook, but I remember someone told me that our old teacher died and knew when the service was and I was like, "How do you know that?" And it was Facebook. It is a community for people to have that network.
It also makes me paranoid in terms of privacy, or lack thereof. 
I would never say something on the internet or write something in an email and assume that there's not some third party watching. My friends and I were talking recently, and someone was talking about having a hard time going to the bathroom, and then they started seeing ads to help fix that. It's insane. I guess we should just accept that we're all being watched and listened to at all times.
Sorry For Your Loss premieres on Facebook Watch today.