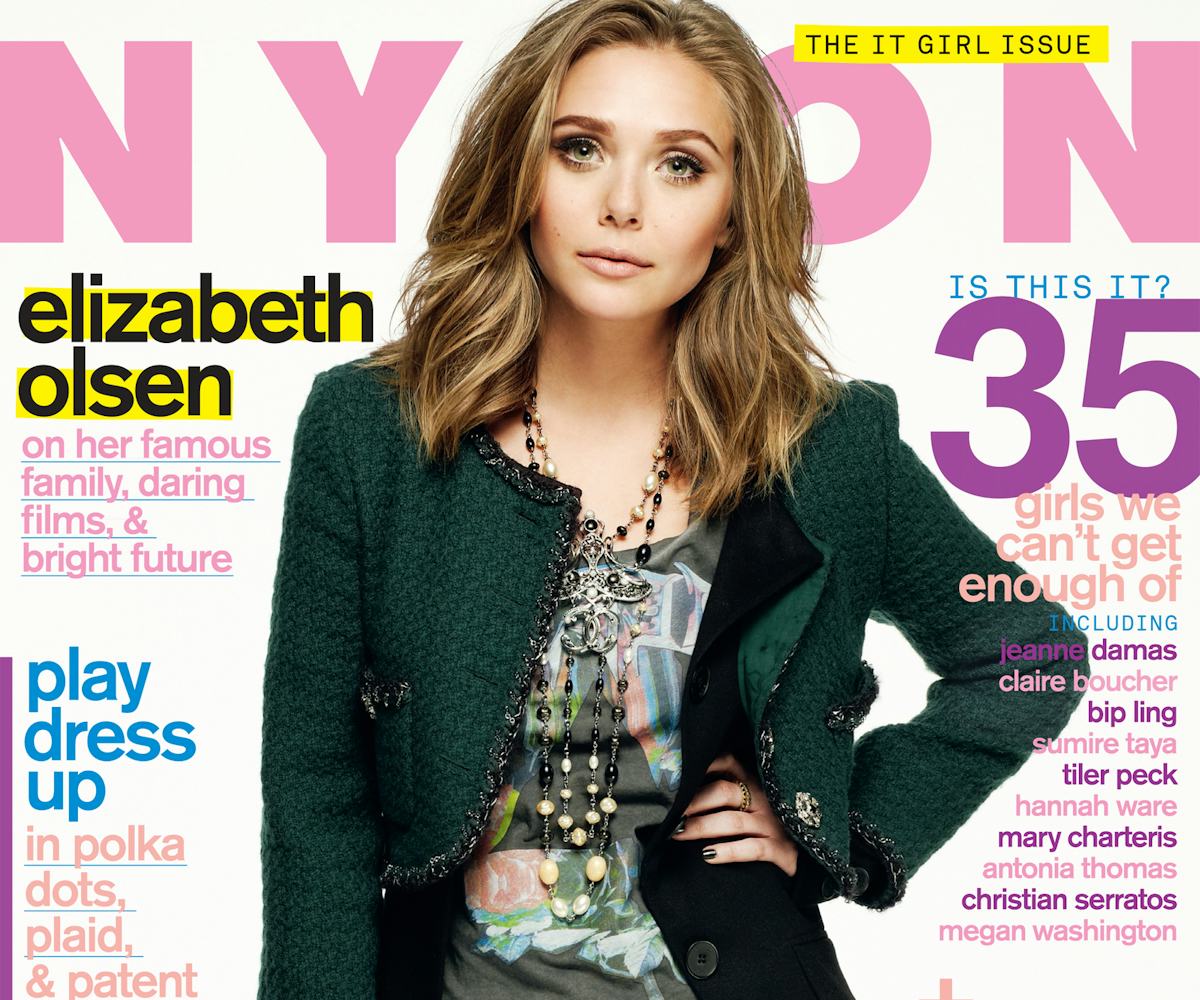 photos by marvin scott jarrett
flashback friday: born cool
reread our 2011 cover story with elizabeth olsen.
Our weekly Flashback Friday just got a whole lot cooler. We're still posting some of our favorite covers from past issues of NYLON, but now you can go even more in-depth with our faves by reading the cover stories in their entirety! Yep--consider this your really rad trip down memory lane. This week takes us to our April 2011 issue starring Elizabeth Olsen just before she made it big with Martha, Marcy, May, Marlene. She talked with writer Luke Crisell about Hollywood, acting, and growing up Olsen.
Considering it's so vast, and so beautiful, it's strange that more people don't know about the Hollywood Reservoir. Sunken in a gorge beneath the Hollywood sign, invisible from the top of nearby Runyon Canyon to the west and the Griffith Observatory to the east, the manmade lake is a bright, medicinal blue, a shock of contrast with the dry bowl it sits in, which is carpeted with cacti and other prehistoric-looking flora, like something out of... "Jurassic Park! Don't you think this looks just like Jurassic Park?" asks Elizabeth Olsen, pausing on the sandy trail to take in the view, and inhaling deeply. The air is fresh and clean, and this September afternoon is tinged with the fougère scents of the impending autumn. "Is this just not the craziest thing ever? I still can't believe it exists."
Olsen discovered this spot when director and actor Josh Radnor, who lives nearby, showed it to her when the two met to discuss Liberal Arts, the comedy in which she stars opposite Radnor and Zac Efron, due out in 2012. (The reservoir might be hidden, but Moby certainly knows about it: His grand, castle-like, white abode is on the top of the hill, next to where we parked.) Even though we're in the middle of the Hollywood hills--so close to the famous sign it seems as though we might be able to hit it with a rock--on a Saturday afternoon, we are the only two people around and the stillness is almost eerie. We're just a 15-minute drive from the vegan café where we met for lunch earlier, but we could be in a different country.
That anything in or around Los Angeles should come as news to the 22-year-old Olsen (who goes by Lizzie), is itself surprising. She was born in Sherman Oaks, a particularly affluent area of L.A. in the San Fernando Valley, and is a fourth-generation Angeleno ("On my mother's side--our family lived in Beverly Hills when it was farmland"), and grew up in the hills and valleys around the city as her parents moved between various homes before they got divorced when Olsen was seven. She has her favorite frozen yogurt flavor (vanilla, with almonds and cinnamon), she has a core group of friends, whom she has known since she was five years old, and she has a pile of quarters in her Range Rover (which she inherited after her older sister, Mary-Kate, moved to New York City in 2004--a fact betrayed by the blacked-out windows), ready to feed meters.
Although Lizzie moved to New York in 2007 and currently lives in a 300-square-foot apartment in the West Village, she radiates the sunny aplomb of a stereotypical California girl. She's exquisitely pretty, the kind of pretty that only gets prettier upon closer inspection of her tiny, pale face with large green eyes, set wide apart. Her hair is newly blond. Her clothes--a flowing chiffon cream peasant blouse from ASOS, an indigo waistcoat from the vintage store Wasteland ("Don't say it's vintage, though! It's just old!"), pin-stripe navy Urban Outfitters shorts, battered leather ankle boots that wouldn't look out of place on Peter Pan, and large tortoiseshell sunglasses--make her look a little like Joni Mitchell from the hippie heyday of Laurel Canyon in the 1960s. Her speech is peppered with the literary references you would expect from a student immersed in the theory of theater (as she is), but her intelligence never seems regurgitated--all the books and the plays and the lectures appear to just be sharpening an already especially erudite mind. Her demeanor is so bright it is occasionally dazzling. While her twin sisters, Mary-Kate and Ashley, famous almost since they could walk, are guarded and chary in conversation, Olsen--whose very existence came as a surprise to most people when she appeared at Sundance in January promoting two films, Martha Marcy May Marlene, out this month, and Silent House, out early next year--is practically effervescent. She laughs and smiles with the self-confidence of someone who, despite her privileges (which she happily admits to) and the number of doors ready to be opened for her, took her own path and arrived here, as one of the most talked-about actresses of the moment, with one of the breakout performances of the year, all on her own.
"My dad is so funny," says Olsen as we work our way down a dusty path between smatterings of spiky succulents. "When all the Sundance reviews were coming out and they were like, 'It Girl of the festival!' 'Came out of nowhere!' 'And she's an Olsen sister!' my dad would be like, 'Don't they know you've been doing this your whole life?! These people should be writing that you have been working on this forever!'"
Well, this is for you, sir: Lizzie Olsen has been working on this forever.
Her course to becoming an actor was set at a very young age. From four to 17, Olsen went to a private school in Beverly Hills, where she was surrounded by "super-creative kids," whose families just happened to have "floor seats for Lakers games."
"The weird thing is that everyone's family was a part of this industry," Olsen says. "Everyone is always like, 'What have you learned from your sisters?' But it didn't really have to do with my sisters at all. Like, my best friend's father [Rick Baker] is a makeup-artist with seven Oscars! Another one of my friends, her family created Days of Our Lives." As a kid, Olsen did musical theater and took dancing and singing lessons. When she was in sixth grade, she and her friends made a movie called The Bleach and held a red-carpet event for it at a house in their neighborhood. "We had a copy in our school for our class to watch when it was rainy and we couldn't go into the playground," she says, laughing. "We were obsessive." Olsen went on a few auditions but after one, for Spy Kids, nearly gave up acting forever. "Discipline is something I learned really early from my ballet teacher," she says. "I think you know discipline if you ever take ballet in your life." (Olsen's mother was a professional ballerina.) After lying to the director of Spy Kids that she had read the script ("I hadn't--it looked like the biggest thing I'd seen in my life"), Olsen was chastised by her ballet teacher for her casual work ethic and, on arriving home, announced: "'Dad, I want to stop acting.' I had only been on four auditions! He was like, 'OK, write a list weighing the pros and cons and make your own decision.' I was 10! What's really cool about my parents is that they've always been the same way with every person in our family. If you change your idea of what you want to do it doesn't matter as long as you give it your all. If you actually care about something, then you should try to be the best version of yourself in that situation."
Despite the setback, Olsen says "the idea of being an actor was always a realistic thing to me because of being in this environment," but as she grew up she began to become aware of the harsher realities of her sisters' lives. "That was when the media was what I found to be abusive to my sisters, and I thought I really didn't want to be in the industry," she says. "They turned 18 and what was going on in her life--I'm talking about Mary-Kate--was all over the news. They would follow us shopping and [Mary-Kate and Ashley] would almost get into car accidents because of the paparazzi, and I didn't want to be a part of it. I just thought, This is such bullshit." We've reached a dead end in the trail and because of the impracticalities of crawling under the chain-link fence ("Trust me, I totally would if I was wearing jeans," Olsen says), decide to head back up the hill to find another route around the water. "As I continued theater in high school, I had a teacher who got me really interested in the study of theater and the academic world of it and playwrights and history," Olsen says, tugging at her shirt to cool off. "You see this? Sweat stains! Gross."
From then onward, Olsen concerned herself with studying the craft of acting. "I just always thought that theater was different from being an actor in Hollywood for some reason," she says, laughing. "It was like this safe place where people aren't harassed. But I was apprehensive because I saw how brutal people can be when other people put themselves out there." Was the theater a refuge from public opinion? "Well, I tried to make myself safe, and theater just sounded safe," she replies.
In 2009, Olsen followed her sisters to New York University, to study drama at the Tisch School of the Arts. (Mary-Kate and Ashley enrolled at NYU in 2004, but suspended their courses after one semester). In the fall of that year, while still a junior, Olsen went to Russia to study for a semester at the Moscow Art Theatre School. "My teacher was teaching me the whole Stanislavsky training, and I love Chekov, so I really wanted to go," she says, running her hand through some grasses, sending the seeds everywhere. Then, more quietly: "I met a boy there, actually. I fell in love...."
We have hiked to an elevated outcrop, the burnt ochre dust a light film on our shoes and ankles. Brushing aside a few sticks, we take a seat on the soft earth, and Olsen starts playing with the plants, snapping the dry twigs and digging with them in the ground. "I could speak a little Russian, but I forgot it. I had the whole Rosetta Stone set, but I gave it up. We broke up and I was just like, This is depressing. This is going to remind me of him forever." She tosses a twig in front of her. We are high above the reservoir now, our feet dangling down the side of a slope that falls sharply away to the water below. We're so high, in fact, that we're able to look down on a hawk slowly circling beneath us, the tips of its wings moving minutely to take advantage of the currents of warm air. As we watch, a tiny bird begins to harass the hawk, dive-bombing it to try and drive it away from its nearby nest. "Oh my God, that's so amazing! It's like something on Animal Planet," says Olsen, delighted. "I've never seen anything like it!"
In the theater program at Tisch, sophomores train at one of seven different conservatories, and Olsen ended up in the prestigious Atlantic Acting School, a division of Atlantic Theater Company, founded in 1985 by David Mamet and William H. Macy, and the alma mater of a host of successful actors, including Matthew Fox and Rose Byrne. Olsen began auditioning for understudy positions for on- and off-Broadway shows and won a few parts ("I'd be sitting backstage or literally under staircases writing essays for school"), but was never called to go on stage. "I went through a phase when I first got into college where I was thinking if I don't get a manager or agent, I'll ask the girls [Mary-Kate and Ashley] to help me. I was OK with that idea, but I never needed it. It's like my brother"--Trent, a young screenwriter--"he really doesn't want to use any connections that he actually has." (To further establish her independence, Olsen actually got her New York State real estate license in 2008--it expired a year later and she hasn't renewed it.) One day, Rhonda Price, a Hollywood agent with a reputation for seeking out talented fledging actors, saw a performance of the Broadway play Impressionism and noticed Olsen's name in the playbill--she was an understudy. Coincidentally, Price represented the actress Kate Blumberg, who ran the Atlantic Theater Company at the time, and called her, asking to meet with the young actress. Price has been Olsen's agent ever since, and Olsen attributes much of her success to her.
Olsen first read the script for Martha Marcy May Marlene when she was in upstate New York filming Peace, Love, and Misunderstanding with Jeffrey Dean Morgan and Catherine Keener (it premiered at the Toronto International Film Festival in September). "It was a really interesting feeling, where I just felt like I knew how to approach this. That doesn't happen too often with me." In Martha, directed by 29-year-old Sean Durkin, a member of a Brooklyn-based trio of filmmakers called Borderline Films, Olsen plays Martha, a young girl who ends up in a cult, where she is drugged, raped, and held in a state of servitude with a number of other women who are shared between a group of men on a remote farm in the Catskills. When she escapes to a lake house rented for the summer by her sister Lucy (Sarah Paulson) and her over-worked architect husband Ted (Hugh Dancy), she is haunted by her time on the farm, unable to talk about the experiences, which are gradually revealed in increasingly horrific flashbacks. Olsen's performance is a tour de force and after the film premiered at the Sundance Film Festival in January (where Durkin won the U.S. Directing Award), word of it spread around Park City with the same fervor that news of Carey Mulligan's turn as Jenny Mellor in An Education did in 2009. Olsen is in almost every frame and inhabits the role with a quiet fragility that is as unsettling as it is mesmerizing. In its sheer emotional impact it's a performance that is reminiscent of Jennifer Lawrence's in last year's Winter's Bone and, like Lawrence, Olsen should receive an Oscar nomination, too.
The comparison is not lost on John Hawkes, who starred alongside Lawrence in Winter's Bone and plays the cult leader, Patrick, in Martha. "Near the end of filming I mentioned to Lizzie that I had worked with this other young actress, and for what it's worth, I felt like she was about to receive a lot of attention," he says. "Last week someone asked me about it, and I wondered what would happen if Jennifer Lawrence played Martha and Lizzie Olsen played Ree in Winter's Bone, and I think they're both such good actresses that they both could've shone in either role." Hawkes is not a man to waste words; he speaks slowly and deliberately and, on the subject of Olsen, almost rhapsodically. "I know that obviously people are interested in her family and upbringing, but something that seems so beautiful and sweet about that is that she seemed neither embarrassed nor encumbered by her past and family," he says. "It's truly unusual. She comes from a family that has some notoriety and infamy around them, and she handled that with grace and truth. She's a very, very authentic person. When you get someone like that in front of the camera, and they're able to not shut that part of themselves down, it's extraordinary. A lot of attractive women shut down a bit to the world, understandably so, after having their sleeve tugged on their whole lives. But she didn't have that at all. She's formidable."
Martha was filmed in upstate New York in two separate sessions (one on the farm, one at the lake house), and Durkin's steady hand ensures the intensity of the performances is matched in the mood, which trembles with tension from the first scene to its chilling denouement. When Martha swims in the lake, it is black and foreboding and the atmosphere is taut, almost frightening, even though she is a three-hour drive away from the cult's farmhouse and apparently safe with her family. "For me it's all about character and performance first and everything else is to create an atmosphere that enhances that," says Durkin. "[The part] is very delicate and very complicated, because she's in survival mode. There's a thin line between a performance being incredible and it going completely the wrong way, and I was very aware of that balance making this film. I always knew I wanted Martha to be an unknown actress--a face people hadn't seen before." At Olsen's first audition, Durkin knew she was right for the role. "From the outset, there was something different about her," he says. "She had more complexity and thoughtfulness. She could tell a lot with her eyes without trying hard."
"It all freaks me out a bit because I just got lucky," says Olsen. "It's so early in trying to get work. It's bound to go down...it's set this expectation. But I know that in auditioning, all that's in my control is to know the character and to know my lines. After that, it's not up to me. I could have the wrong hair color, the wrong look--I could be the wrong shape. So I went into the audition for Martha just believing I knew what I was doing, and Sean found that we met on the same page."
"The thing about Lizzie that's kind of remarkable given who her sisters are and what they've accomplished in the fashion world, is that she went to school and really studied the craft of acting," says Sarah Paulson. "She could have had an agent just by name alone, but she did it all on her own. It seems like she came out of nowhere, but she was spending a lot of time on being a really good actor. She's a person who wasn't looking for an easy way up, and I think that's why she's so incredible in the movie; she wants to have life experience and all those things that inform you as an actor. She's the real deal."
After dusting ourselves off, we head back down the path. It's so narrow the two of us can't walk abreast, and she goes ahead. "The idea of learning is really fun to me," she says, over her shoulder. "I'm never going to do something that you can't learn about yourself from." In addition to Martha, Liberal Arts, and Silent House--a low-budget horror film out early next year, which is supposed to look like it was shot in one take (it actually took 17, still a ridiculously low number; Olsen describes the experience as "hell")--she has Red Lights, a thriller with Robert De Niro and Sigourney Weaver due to open in 2012. Olsen is about to become very, very famous, but today she's just another emerging actress who happens to have a familiar last name. "[Martha] hasn't even come out yet!" she says, laughing. "It's not like everything has changed. It's still a struggle, just a different kind of struggle. Like, I'll tell [my agent] to tell someone that I'm really, really interested in a script, and they'll be like, 'Who is really, really interested?' It's a little different now in that I can look at [projects] that are bigger or scripts that you have to have watermarked copies of, but it just means that it's me versus all these other people who have a shit-ton more jobs than me."
As Martha continues on the festival circuit, Olsen has found herself under increasing scrutiny, with people eagerly latching on to the fact that her IMDb page includes credits in a few Adventures of Mary-Kate and Ashley videos from the mid-'90s, when Lizzie was about five. "The one thing that people say that annoys me is, 'It's her first time working since doing her sisters' videos,'" she says. "When I was younger, my brother and I were both in the videos because there are four kids in my family, so after school my parents would take us to the set so we'd all be at the same place. So while I was on set [Mary-Kate and Ashley] would be like, 'Hey Lizzie, do you want to be in this, since you're already here? They'd be like, 'Can we put gum in your hair?' And I'd be like, 'OK.' So it always bothers me when people are like, 'Why did you decide to start acting after your short acting stint when you were five?' I'm like, 'I don't even know what you're taking about."
We arrive back at the hand-me-down Range Rover, and I ask Olsen if she ever felt jealous of her sisters. "I have to attribute the way I have always looked at it to my father, because he was a really good influence on us," she says, getting in and turning on the AC. "It was always very important to him that his daughters be financially independent. He wanted us to know that we could take care of ourselves, because he never liked the idea of us needing a man. And witnessing how my sisters can take care of themselves financially was a great role model to have." She takes a sip from a warm bottle of Fiji water. "I consider myself very lucky to have such a normal family. No matter where you come from, the idea of not having a good relationship with your parents is something I can't imagine." And with that, she starts the engine, yanks the wheel, and we head off down the hill to West Hollywood, in search of some frozen yogurt. -- LUKE CRISELL