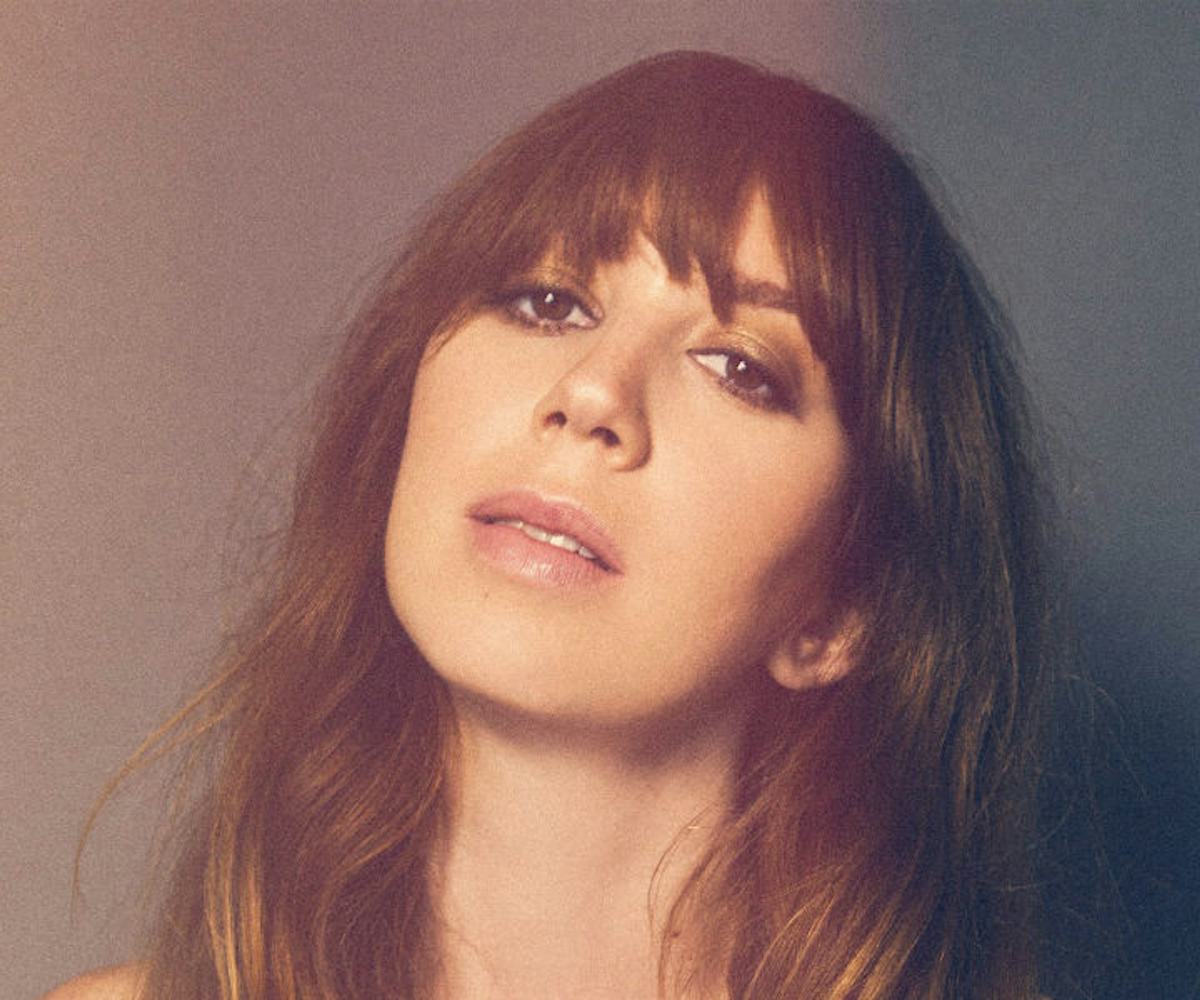 Photographed By Joanna Rentz.
Ella Vos Walks Us Through Her Debut Album, Track-By-Track
'Words I Never Said' is out today
For some, motherhood is a time to rest, bask in domestic pleasures, bond with your kin, or any of the other things society leads you to believe come with having a child. For musical artist Ella Vos, it inspired her to write songs.
The influence is all over her debut album, Words I Never Said, which covers subjects like postpartum depression, pro- vs. anti-abortion debate, and other issues related to women's reproductive rights. "It truly is words that I've been too afraid to say out loud—for fear of being too vulnerable, too feminine, too weak, or too emotional," she tells us about the project. "Well, I am all of those things! I'm proud of it, and I think we need more of it in the world today."
Vos had a baby boy nearly two years ago and has been steadily making a name for herself in the music space since, having been cited as an artist to know by Rolling Stone in 2016 and compared to Sia, Frou Frou, and Imogen Heap. She's young, by industry standards, but comes with the wisdom of a seasoned artist. The biggest lesson she's learned over the past two years? How important it is to talk—about our experiences, feelings, hopes, and fears. "It's the only way we can grow, change, evolve," she says.
Ahead, Vos walks us through the story behind every song found on Words I Never Said. In addition to the album, she also created 11 short videos to coincide with the tracks. You can watch those and read her words, below.
"White Noise" 
[This song] was the beginning of my journey. I was surrounded by noise, and everything was hazy. When I wrote this song, I was sitting in my five-week-old son's bedroom crying and hushing him to sleep. What should have been a happy moment was not.
"Words I Never Said (Part 1)"
These are the words I never said, for fear of being seen as too vulnerable, too feminine, too sensitive. "White Noise" taught me how important it is to share our experiences and gave me the courage to write this album.
"Rearrange"
This is about trying to change yourself in order to fit in or be accepted. I wrote this song after realizing how much time I'd wasted trying to explain myself to someone who was never going to understand me. Not just because I was different, but because I wasn't who they wanted me to be, and I never would be.
"I Know You Care"
Like my dad, I don't always talk openly about my feelings or often say, "I care about you." We assume that the people who need to know, already know. I have felt my dad's love, pride, and encouragement in all that I do. But since I've become a mother, I have felt the need to say these things out loud, every day, as well as a desire to hear them myself.
"Mother"
I had just left my friend's birthday party and realized my life was no longer the same. I had a young son to take care of, but I couldn't accept my new role as a mother. I wrote this song in the midst of this struggle, with one foot in the past and one foot in the future. This song, at its core, is a lullaby to myself.
"You Don't Know About Me" 
While I was struggling, everyone had an opinion about how I should live. This song is me realizing that everything is in my control and every decision is mine.
"Down In Flames"
This is about my relationship, and how it changed after we became parents. Nothing seemed to work the way it used to and, at times, I felt like giving up. I wrote this song to tell my partner how I felt because it was too hard to say it any other way.
"In Your Corner"
This is my follow-up to "Down In Flames." It is the realization that no matter what life throws at us, I will always be "there for you, in your corner."
"Little Brother"
I wrote this after my brother was in a life-threatening accident. We were close as kids but grew distant as we got older. As I was driving to visit him in the hospital, I wondered how long it had been since I'd told him I loved him, or if he knew that I cared about him. 
"Words I Never Said (Part 2)"
Although these songs are inspired/influenced by the people in my life, this album is really about me searching for a way to communicate my experience as a human in this sometimes confusing world.
"Suddenly"
This song is about finding the clarity I'd been searching for. It took 22 months to find peace in my new life. In "White Noise," I was suffocating, but with the birth of my son, came the birth of myself.