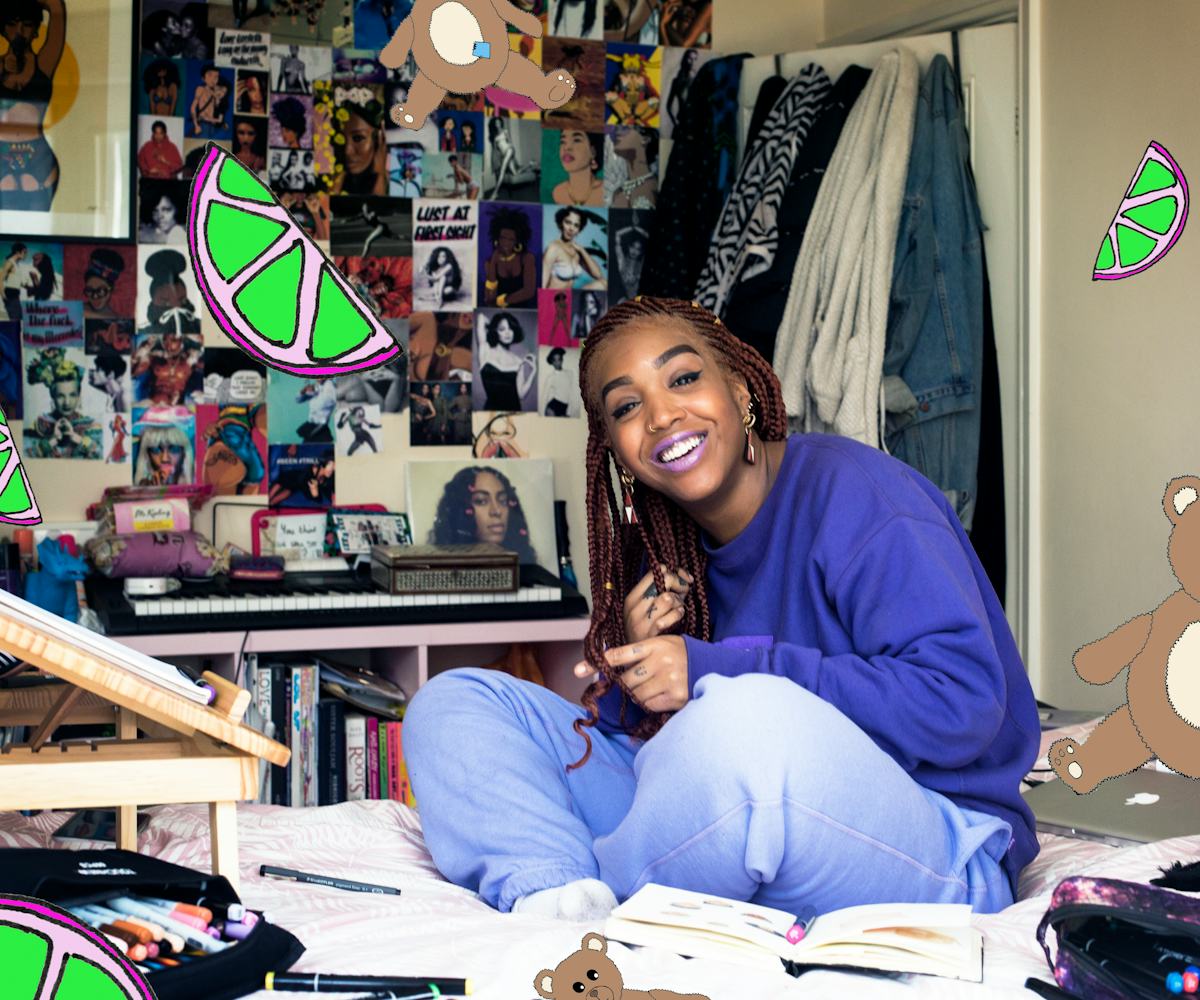 Photo by Almass Badat / Illustration by Elle/ Make Up & Styling Assistant: Musu Ofosu
Artist Elle Is Celebrating The Beautiful Experience Of Being A Black Woman
"My art is the fantasy of my best life"
Known only as Elle, the London-based artist who tags all her work #Ellestrations, first caught my eye with her illustrative dance between realism and dreamlike drawings. Though her work started off as personal doodles, it is now growing into a varied collection of drawings that envisions black femme freedom and serves as political commentary, while also referencing a childlike nostalgia. I recently caught up with Elle as she wrapped up her debut exhibition on her home turf in South London.
"My art is the fantasy of my best life," Elle explains. "I got a job in an office a while back, and it was the first time I'd had a job where I had to sit down all day. I was really bored and started doodling constantly, to the point where I was getting reprimanded, but I couldn't help it!"
But her art wasn't just a hobby, it was something that Elle looked to turn into a profession; by this past spring, Elle was already selling pieces to buyers. Elle has just premiered her characters to a live crowd and was able to meet her audience face-to-face for the first time. So far, she has only shared her art on Instagram, so it's a big moment; the young artist was really able to witness people interacting with her work firsthand. "Before the night, I was really nervous about the work itself," she reflects out loud. "Whether I'd produced enough work, if it was even good enough to exhibit, if my illustrations were cohesive and understandable—I really was stepping into the unknown." The evening ended up being a huge success with a great turnout and more than half of Elle's original work sold. "Once it was happening, I was relieved," Elle confesses. "I was asked some really poignant questions, and I enjoyed being able to connect around my experience as a black woman and loved hearing the commonality of a lot of those experiences."
Nearly all of Elle's illustrations are of black women. They draw from her lived experiences, both personal and what she sees around her, and serve to communicate her narrative through a new medium.
"I draw a lot of my girls in pairs because sisterhood is really important to me," she says. "In the natural hair movement, black women and girls are really supportive of each other, and it's something that I want to capture and be a part of."
Elle pays attention to skin tone, hair texture, and facial and bodily features, and her women are often dressed to the nines, because, according to Elle, being fabulous at all times is a given. She is the sort of person that will run to the local supermarket in a cute negligée, an off-the-shoulder fur throw, and Nike's latest sneaker drop.
"I've been told my illustrations all look like me!" she laughs, adding:
I would disagree, but I think they definitely have an aesthetic—the furs, the brows, and the nails are all me! I want to be like them; they're intentionally unapologetic black women and girls, and I gain confidence from looking at them. I've been asked by white people why I only draw black characters and the answer is, generally, because I want to, but more than that, I draw the world that I exist in, as well as the one I want to exist in.
Elle relates her journey with her identity, and how it often feels as though she is not afforded the option of being a multifaceted woman, something I have grappled with as well. "Women like Naomi Campbell, Eartha Kitt, Diana Ross, Janet Jackson, Grace Jones, and Dorothy Dandridge all achieved amazing successes in their careers, were pioneers for change, and exuded beauty and style. I try to put the attitude of powerful women into my work. They embolden me," Elle explains.
You only have to spend 10 minutes in her car listening to Elle's music collection to know that she is largely influenced by the iconic women of the '70s; though the inspiration may start with music, it quickly expands into fashion, film, and a deeper understanding of black and feminist history. As our conversation ventures into Elle's own representation of women in her work, she considers why her artistic eye leans toward illustrating confidently sexy women. "My final major project at university centered around Sarah Baartman, a Khoikhoi woman from southern Africa also known the Hottentot Venus," Elle says, adding:
Her body was displayed in freak shows in the early 19th century and used as an example to justify the notion that black women were promiscuous and hyper-sexual. That representation has persisted to the point where I feel black women often don't seem to have agency over our own bodies. It's either that we're 'too much' or undesirable, or we're sexually commodified and then reimagined on white bodies. My drawings are sexy because I want to show black women owning and celebrating their bodies independently of the negative connotations that are placed on us through racism as well as the male gaze.
As she comes off her first exhibition, Elle hopes to expand her illustrations onto stationery and clothing. In the meantime, Elle continues to advocate for the multidimensional representation of women and encourages conversation around black femme identity. I ask Elle where she feels most at ease in her own skin; her safe space is a solitary one—in the bath with Epsom salts and a face mask. "I'm still trying to find comfort in my own skin," she says. "The girls I draw in the garden represent being in a place where you can be your whole self. In real life, I think that place is a state of mind. Some days I feel close to it, but I'm definitely on a journey. In the meantime, it's important to be able to look at another black woman and acknowledge that because they're beautiful, I am too. That is what I want my art to reflect."
You can keep up with Elle's art on Instagram @ellemillz and #ellestrations.