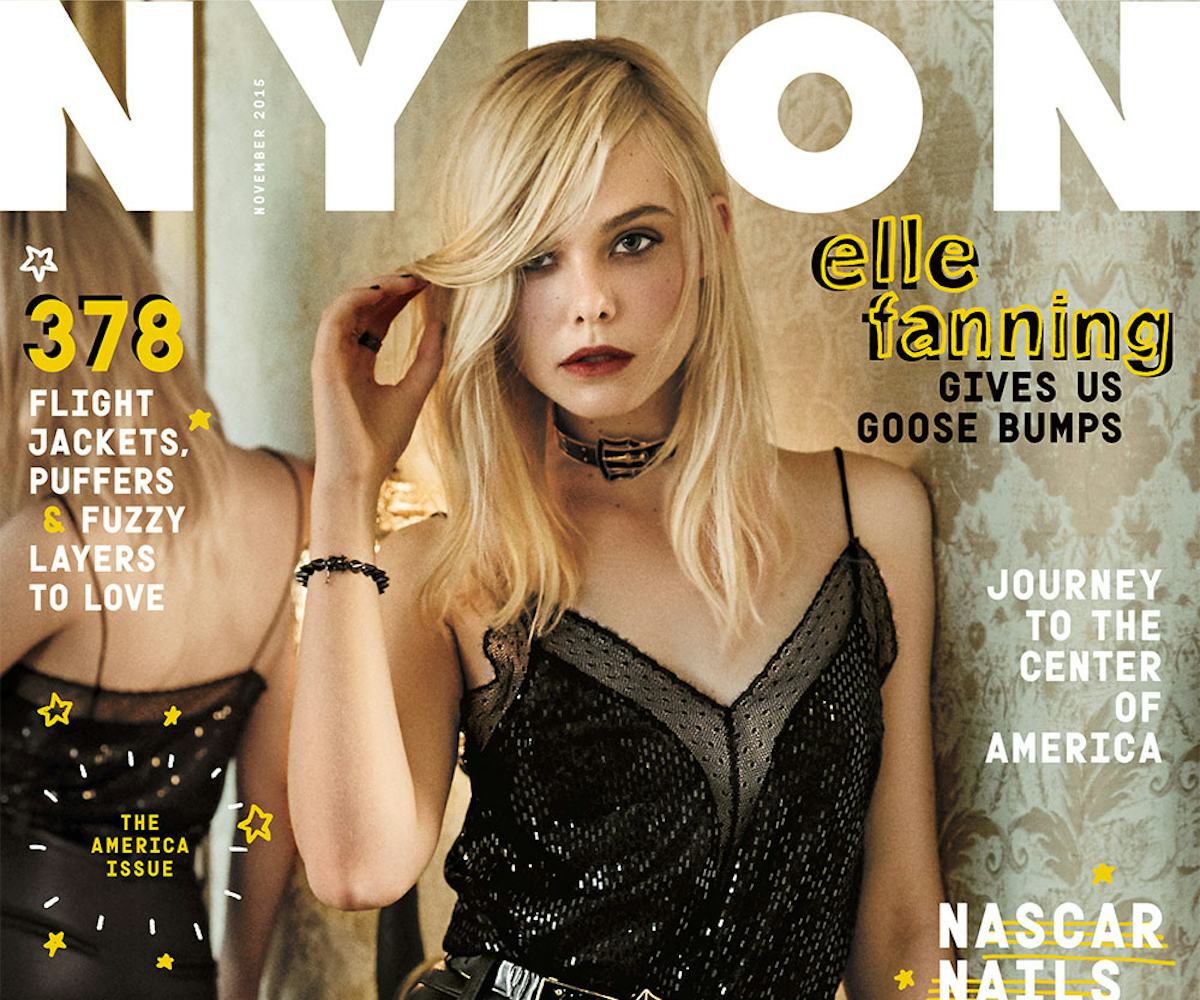 Photographed by Olivia Malone
Elle Fanning Is Our November Cover Star
check out the full cover story here
"I want a fairy garden!" says Elle Fanning, her hands moving through the air like butterflies. "Something magical!" We're standing in the cooler at Fleurish, a DIY flower studio in Los Angeles, picking out blooms to make our own arrangements. Fall is taking its sweet time to arrive in these parts, but Fanning seems happy to accommodate the 90-plus-degree temps in white Birkenstocks, white denim culottes, and a tiny, vintage floral crop top. Deep in the chill of the refrigerator case, though, it's more like mid-winter. The 17-year-old actress's skin is starting to prick with goose bumps, but she's absorbed in the task at hand, flitting around trying to take in all the textures and colors, from the same kind of flowers that grow in her garden at home (hydrangeas) to alien-looking thistles and ornamental kale.
Though she originally had set her sights on a wild bouquet, she's begun to rein it in, settling on green hydrangeas, hot-pink garden roses, pale-peach roses, and another pink flower that looks almost like a daisy. I ask our instructor what it is, and Fanning is delighted with the name. "Astro-mums?" she squeals. No, no, he corrects her—aster mums. "Oh," she says, only slightly disappointed, "I thought like, astronaut.…"
Fanning examines the fragrant assortment of polished pinks in her hand. "It's very rose garden," she says. And, yes, it is refined, but still magical, because everything Elle Fanning touches turns to pixie dust and spun gold. By the time she puts the finishing touches on her elegant, romantic bouquet—to which she adds a bit of last-minute whimsy with a spray of mini daisies—she's beaming.
As we leave the flower shop to grab a bite, she spies her driver (she recently got her license but is still too scared to drive alone—and in L.A., who could blame her?). "We made these floral arrangements!" she yells out to him, brandishing hers in the air like a trophy.
Click through the gallery to read the rest of Fanning's cover story.
Fanning first appeared on screen at age two, as a younger version of the character played by her older sister, Dakota, in I Am Sam. Since then, she has appeared in more than 30 films, an already staggering number that's rapidly increasing. This year alone, she plays the title role in About Ray, a film about a transgender teen, alongside Susan Sarandon and Naomi Watts, and Bryan Cranston's daughter in Trumbo, the story of a Hollywood screenwriter blacklisted as a communist. Both are high-profile projects with complex, grown-up roles that firmly establish her as an adult actress. To say that it's a big year is an understatement.