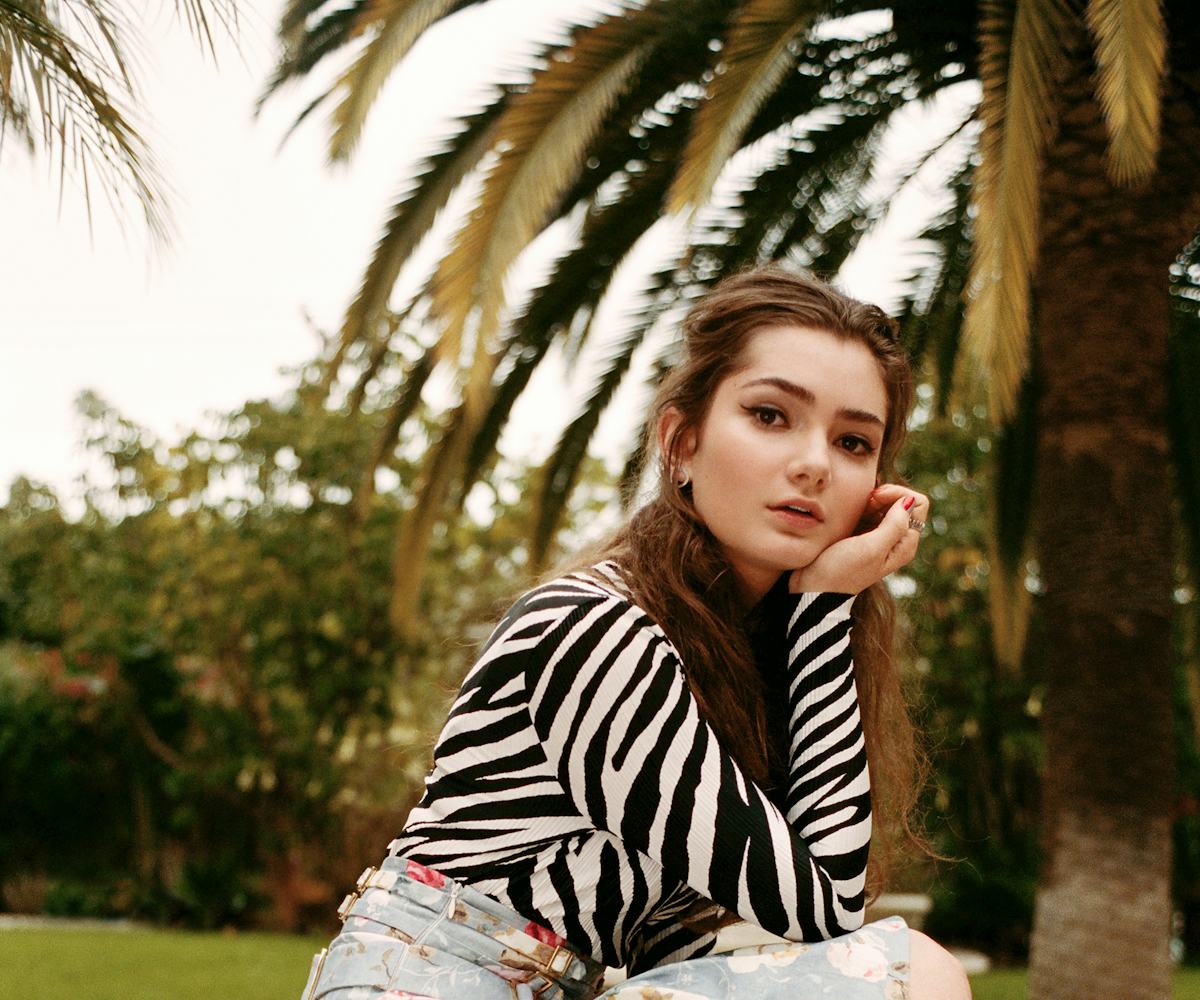 Photographed by Felisha Tolentino. Styled Dani Michelle. Top by Topshop, skirt by Zimmermann, shoes by Kurt Geiger, rings by Luv Aj, earrings by Aoko Su.
'Transparent' Actress Emily Robinson Is One Impressive Teen
Part-time social justice activist, part-time Young Hollywood royal
The following feature appears in the May 2016 issue of NYLON. 
Every year, we round up the brightest rising stars in film for our Young Hollywood Issue. Check in every day to get to know the actors and actresses who are set to take over the industry.
Emily Robinson is the definition of woke, and not only because she's on one of television's most groundbreaking shows, Transparent. The 17-year-old—who plays the young version of Gaby Hoffmann's Ali in season one, and the mother of the lead trans character (Maura, played by Jeffrey Tambor) in flashbacks in season two—is also an outspoken feminist and LGBTQ advocate. She recently raised money on Kickstarter to help finish a queer-questioning coming-of-age short film that she wrote, directed, and stars in, called Virgin Territory. When she's not filming season three of Transparent in L.A.—where the born-and-raised New Yorker now lives—she's been busy filming two movies, Going Under, a comedy with Bruce Willis, and Behold My Heart, a drama starring Marisa Tomei. In the meantime, she's looking forward to hearing back from Harvard: "I want to go so badly." 
Every once in a while I'm like, "Emily, why are you applying to college?" I'm already doing what I want to be doing in life, which is incredible. How many people can say that at age 17? 
When I was younger, I loved writing, but for the longest time I wrote stories from the male perspective. I finally realized, "No, you have to write three-dimensional female characters like the men are getting." We need stories of women that seem like us, that are messy and honest, wrong and real, good and bad, and everything in between. 
In my house "feminist" was never a bad word. I actually remember the first time I heard that someone didn't call themself a feminist. I was probably 11 or 12, and I was like, "Why?" It was a foreign concept. 
Hair: Johnnie Sapong for Leonor Greyl at Jed Root. Makeup: Tamah at The Wall Group. Manicurists: Reina Santos for Formula X at Nailing Hollywood and Brittni Rae for Formula X at Nailing Hollywood.