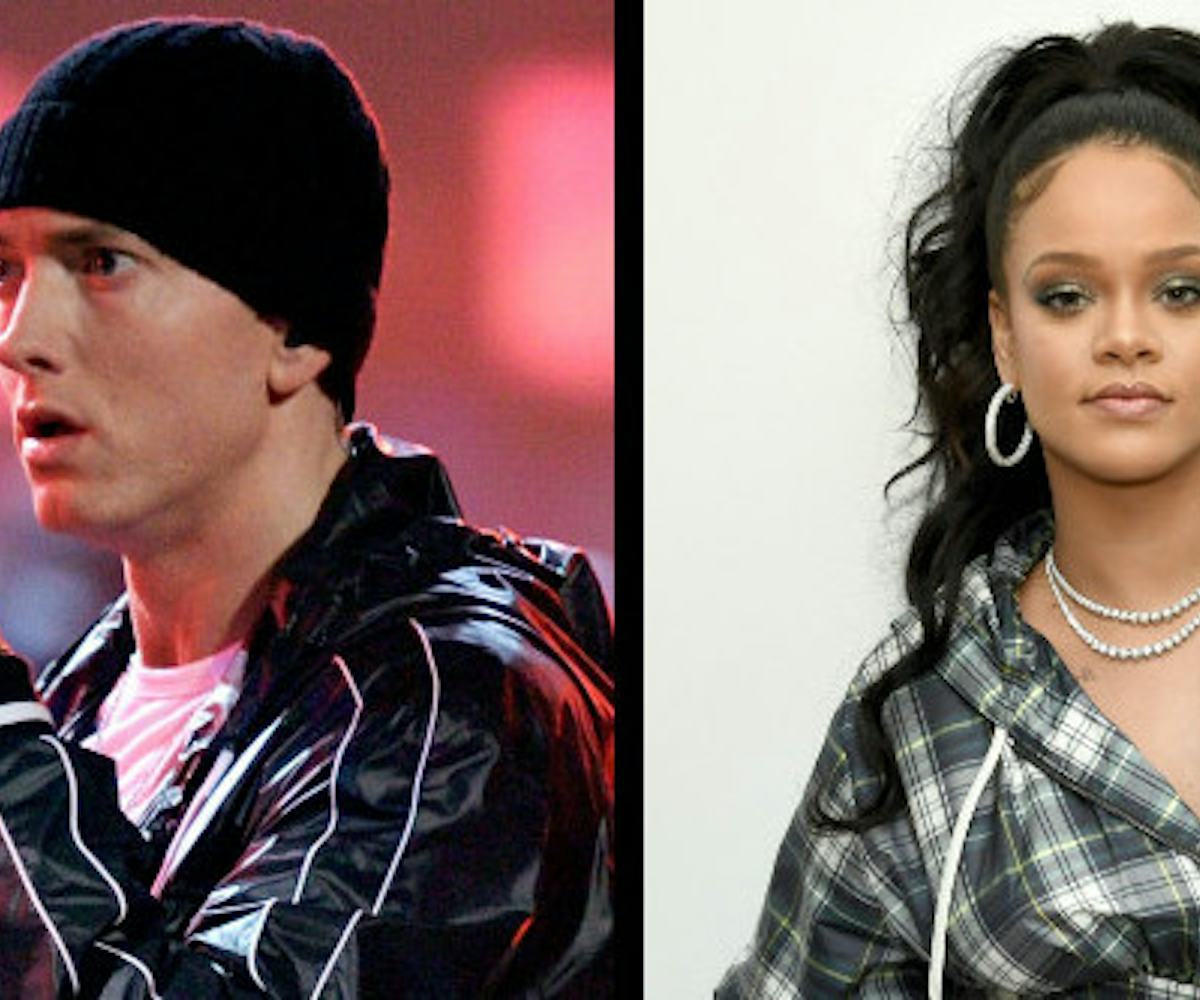 Photo By Kevin Winter & Dimitrios Kambouris/Getty Images.
Eminem Saying He Gave Rihanna A Hickey Is Getting A Hard Side-Eye
On his new diss single "Killshot"
Eminem is getting flack for dragging Rihanna into his beef with Machine Gun Kelly via a line in his new single "Killshot."
In case you haven't been paying attention, the two rappers have been locked in a pretty intense feud that started in 2012 after MGK tweeted that Em's (then-16-year-old) daughter, Hailie, was "hot as fuck." Fast-forward six years to Eminem dropping his diss-laden surprise album, Kamikaze—a record that also happens to contain a song called "Not Alike" with the line, "You already know who the fuck you are, Kelly/ I don't use sublims and sure as fuck don't sneak-diss/ But keep commenting on my daughter Hailie."
In response, MGK released "Rap Devil," which brought Em's friend and collaborator, Rihanna, into the mix by claiming that Eminem's "the type to be scared to ask Rihanna for her number." Eminem's response? A line on "Killshot" that goes, "Rihanna just hit me on a text/ Last night I left hickeys on her neck." Obviously, this bold declaration has led many Rihanna stans to freak out.
Not only that, but it looks like "Killshot" has also incited the ire of one of Rih's famous fans. As DJ Samantha Ronson told TMZ, "Rihanna's running an empire. She's busy. She's not putting hickeys on your neck." 
Rihanna herself has yet to respond.