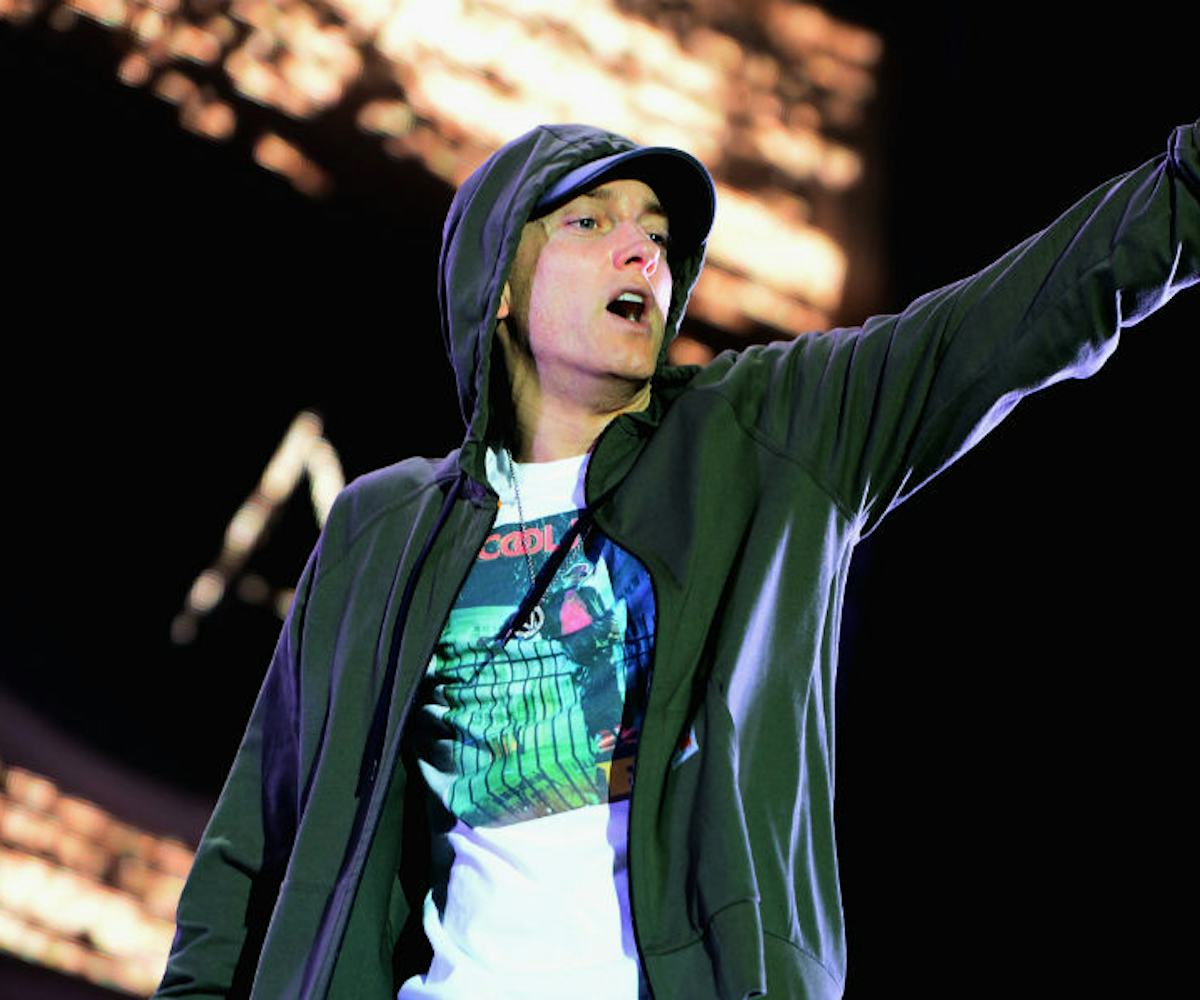 Photo by Theo Wargo/Getty Images.
Eminem Called Out For Homophobic Diss Against Tyler, The Creator
Eminem surprise-dropped an album last night titled Kamikaze. On the new project, he takes jabs at a number of rappers, including Lil Yachty, Machine Gun Kelly, Lil Pump, and Lil Xan. But it's his diss toward Tyler, the Creator that people are mad about. 
He raps on the song "Fall," which features Justin Vernon: "Tyler create nothin', I see why you called yourself a f***t, bitch/ It's not just 'cause you lack attention/ It's 'cause you worship D'12's balls, you're sack-religious." He censors the slur in the song (although it's pretty clear what he's actually saying), but that didn't stop people from taking offense—understandably so.
Lest we forget, both Tyler, the Creator and Eminem have a history of being homophobic and using the slur in their songs. There have been rumors that Tyler is actually gay, but the rapper has never come out publicly. Eminem tried to push back against accusations of homophobia in 2001 when he performed a duet with Elton John at the Grammys (John received backlash for the performance and said that, to him, the rapper was "never homophobic"). More recently, in a 2013 interview with Rolling Stone, Eminem explained his behavior further, stating that, in his battle rapping days, the word was "more like calling someone a bitch or a punk or asshole." He continued, "Not saying it's wrong or it's right, but at this point in my career—man, I say so much shit that's tongue-in-cheek. I poke fun at other people, myself. But the real me sitting here right now talking to you has no issues with gay, straight, transgender, at all."
It's worth noting that he never apologized for using the offensive term, nor did he vow not to use it again. Five years have passed since that interview, the rapper should know better at this point, but also realize that people aren't as forgiving these days.